SlashGear Weekly Roundup Video - May 29, 2011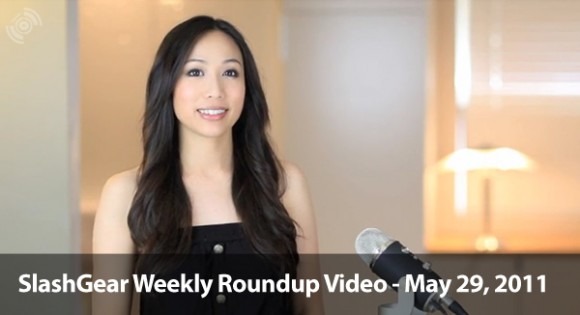 Perhaps the two biggest topics of the week, the Google Wallet announcement and Microsoft's Windows Phone 7.1 Mango unveiling, brought exciting new developments for the two mobile platforms. More speculation continued on what Apple has planned for next month's WWDC, where the company is expected to unveil the new iOS 5, OS X Lion, and possibly the iCloud—iTunes cloud music service. In anticipation, Amazon's been competing even more aggressively to campaign for its Cloud Drive and Cloud Player services. Continue after the cut for the roundup video and the pertinent links to everything covered in the video.
[vms b08456fc7f1e88812af3]
Google Wallet:
Google Wallet and Google Offers NFC Projects Announced by GoogleGoogle Wallet and Google Offers Partner with Citibank, Mastercard, First Data, and SprintGoogle Wallet Demoed on Nexus S
Google Wallet "Single Tap" Demoed on Point-of-Sale System
Google Wallet Objects to be the Backbone of the New NFC System, Partners Comment [Video]Google Wallet on Android: iOS and Windows Phone Must Be NextGoogle Wallet Will Work Even Without NFC-Enabled Phone Thanks To Special StickersPayPal sues Google over stolen Wallet secrets
Microsoft:
Microsoft's $150m Android windfall dwarfs Windows Phone revenuesSlashGear 101 : Windows Phone 7.1 MangoWindows Phone "Mango" official; Acer, Fujitsu and ZTE onboardWindows Phone 7.1 Mango multitasking explained [Video]Qualcomm "exclusive" Windows Phone 7.1 Mango chip supplierWindows Phone Mango Visual Search hands-on [Video]Windows Phone Mango Music Search Hands-On [Video]Windows Phone Marketplace Web Portal PreviewNokia: Our first Windows Phone will run MangoNokia To Release A Windows Phone Every Two Months?
Apple:
iOS 5 To Revamp Notifications And Introduce WidgetsApple wins early access to Samsung phones/tablets in copycat caseSamsung Legal Department Demands to See iPhone 5 and iPad 3Apple May Announce Back-To-School Deal At WWDC, Including $200 Off iPadsApple To Nuke Mac Defender Malware With OS X UpdateApple MacBooks Top All Notebook Categories On Consumer Reports [Updated]iPhone 4S/5 to have curved glass fascia?Apple iCloud could be MobileMe bundle, mirror even pirated tracks
Amazon:
Lady Gaga 99-Cent Album On AmazonLady Gaga "Born This Way" $0.99 again as Amazon takes second shotAmazon Launches Mac Download Store, Targeting Apple Mac App StoreAmazon's 7- and 10-inch tablets $349 and $449 this holiday?
ASUS:
ASUS Eee Pad Transformer To Get Android 3.1 Honeycomb OTA Next WeekASUS 'Padfone' Trademark Applied For Upcoming Tablet/Phone ComboASUS tablet tease tips new slate for Computex 2011ASUS docking tablet/phone combo and 3D slate tipped for Computex
Other news:
AT&T 4G LTE plans revealed: Five markets this summerSony Music Greece latest to suffer security hack: User data in the wildSony Music Japan Latest To Get HackedSony Ericsson's Canadian eShop latest hack victim: 2,000 user records stolenPlayStation Store Not Relaunching TodayBarnes & Noble NOOK: Smaller, touchscreen & $139 tagT-Mobile G2x Pulled Due to Quality Issues?T-Mobile G2x Disappearance Explained, Firmware Updates ExpectedT-Mobile G2x Price To Increase Tomorrow?T-Mobile G2x Internal Issues And Resolutions Document LeakedHTC Unlocking Bootloaders Across the Board [OFFICIAL]
Unboxings & Hands-ons:
LG Revolution Unboxing and hands-onHTC Trophy Hands-On and UnboxingDell XPS 15z official: Hands-on
Reviews:
Sony Ericsson Xperia PLAY Review – To Play or Not to Play?HTC Sensation ReviewHTC Flyer WiFi Review