Google Wallet on Android: iOS and Windows Phone Must Be Next

On May 26th, 2011, Google announced a partnership with financial groups Citi, MasterCard, and First Data, mobile networks like NXP, Sprint, and Samsung (the last two obvious since their hero device in this project is the Nexus S 4G,) and retail locations like American Eagle, Subway, and Macy's. These partnerships all converge on a single project: Google Wallet. This project is an NFC-based and will rely on several factors to be successful: the participation of major businesses, the ability to have manufacturers add compatible NFC chips to handheld devices, and the confidence of the population Google hopes will adopt the system. But wait a second – will this whole system collapse if it's only on Android phones? Let's have a chat about why Apple and Microsoft [plus RIM and Nokia] must be next on the docket or the entire project may be grounded before it even takes off flying.
In order for Google to become successful in changing the entire business ecosystem in the United States and abroad, they will certainly have to think about getting manufacturers to work with the other mobile platforms they produce phones with in order to attain a wide enough audience. This system of using cell-phones and other handsets for payment on a day-to-day basis has been a long time coming – the most basic difference between NFC and the system we use right now is the amount of metal and plastic we're using to carry around out account numbers. Of course there's a lot more going on with Google Wallet, but as soon as Google, Citi, Mastercard, and First Data get the population to agree to that idea, they're sold.
But when will Apple and Microsoft get on board? Will they get on board? Are they late to the party, or is NFC payment via mobile device a bad idea?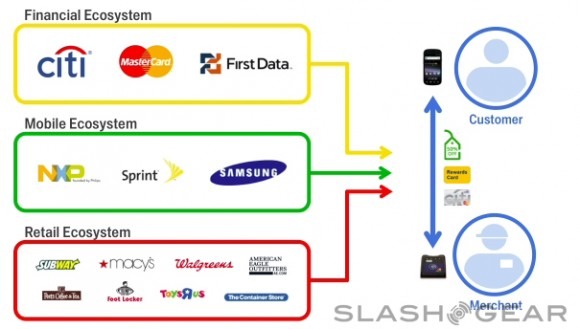 How it will be done at the beginning
Google Wallet will be represented by an app that users can download on their Android phone at the outset. It will connect to Google Offers, a system where people can access coupons and discounts from their web browser, (be it on their desktop, laptop, mobile device, wherever,) that they can transfer to their Google Wallet account, that "Offer" then instantly showing up wherever the user has the Google Wallet app open. They can then use that offer at the corresponding store.
When a person gets to a store and wants to pay for the product or service they desire or require, they simply touch their mobile device to the payment panel that the store has installed. This panel, in whatever form it takes, reads instantly everything you've got that corresponds to the store or particular product or service. This could be a coupon, it could be a rewards card, it could be anything.
Inside your Google Wallet you'll have at least one card, that being your Google Card – aka GCard, which will act as a sort of re-chargeable payment system that you can add money to and take money out of via the NFC system. In addition to this, you'll be able to add one or more credit cards, each of them then sitting in your wallet available for you to use or de-activate at any time.
There will also be Google Wallet Objects which will include your credit cards but will also include coupons, customer rewards cards, "puzzle pieces," and other special scannable items.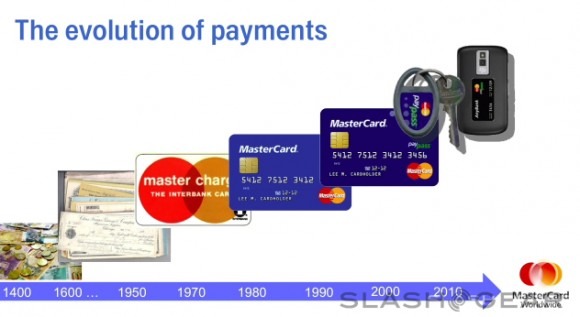 How it will be done in the future
Like all apps in the future, the concept of an "app" will have changed from platform-based to cloud-based, meaning that if you're able to access the internet, you're able to access the app. A good example of where this change has already happened is in Google Maps. Very recently Google Maps changed from where if you were using a mobile device and navigated to Google Maps in your web browser, you'd be re-directed to a download point where you were able to grab the app, which was separate from the web browser. Now they've re-worked their mobile functionality, allowing anyone with access to a web browser to utilize Google Maps from the web. Simple, and now universal, very simply.
Before this though, Google will rally to have the Google Wallet app available on other platforms such as Apple's iOS and Microsoft's Windows Phone 7 (soon to be Windows Phone 7.1 Mango.) They will not risk this ecosystem to fail simply because people are unwilling to use an Android phone. Once we figure out the technology to get this system working via web browser (or some sort of other method that allows every device to have Google Wallet, regardless of platform,) Google will move forward with it.
All this is assuming that Google can grab enough momentum here at the beginning to keep the ball rolling on into the future. If they can, we'll be Japan in no time.