Orange Quick Tap NFC payments hands-on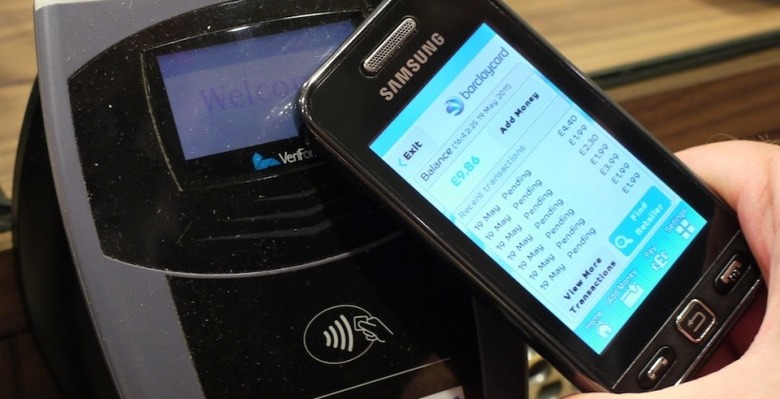 NFC payment systems on cellphones have been making headlines recently, with Apple, Google and others all tipped to be considering their own schemes, but carrier Orange UK has decided to go one stage further and actually launch a contactless payments service. Operated in partnership with Barclaycard, and working with over 50,000 stores across the UK already equipped with NFC terminals – from names including McDonalds, EAT, Subway, Boots and others – Orange "Quick Tap" will launch in an affordable Samsung phone, the Tocco Quick Tap. We caught up with the carrier for a very conveniently paid-for coffee to find out how the system works.
Rather than an NFC sticker fixed to the phone, or a sled the handset drops into, Orange's system uses a Gemalto-provided SIM-and-phone pairing for extra security. A Java app on the Tocco allows PIN-protected access to a virtual credit card – you can actually see the associated card number, expiry date and security code in the app – which can be loaded with up to £150 at a time (in increments from £5 to £100). Individual payments – which can be up to £15 in value, though that may change as Orange and Barclaycard see how the system is used – are made by holding the phone near to an NFC reader, with an on-screen receipt to show what you've spent. Optionally you can set the app to require the PIN before it approves the transaction.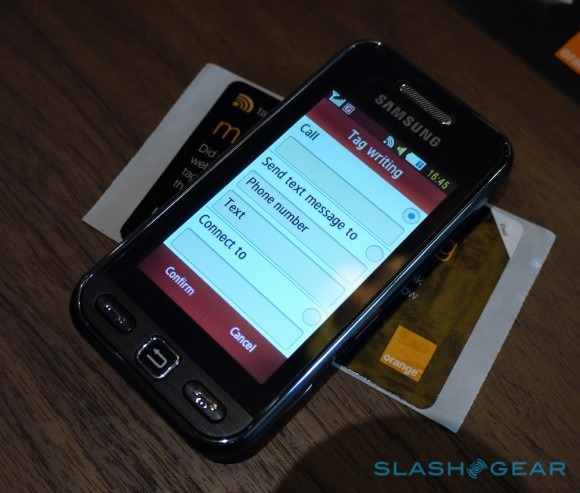 Orange will also be pushing NFC tags, which can prompt the phone to either open a new SMS with the number and a message preconfigured (the carrier plans to use it with its "Orange Wednesdays" movie deal), load a phone number ready to be dialed, or open an URL. That way you could top up your phone's credit simply by holding a tag near it, or get information on a film or concert by holding the phone up to a poster. A user-programmable tag will also be supplied: the phone offers to program it with a number, message or URL.
As far as we can tell, there are two main hurdles that Orange will need to get past if Quick Tap is to be a success. First off is the payment method: right now, users need to have either a Barclaycard credit or debit card, or an Orange credit card to use the system. The carrier tells us that around 20-percent of its roughly 16m UK subscribers have "some relationship" with Barclaycard, and anybody else will be encouraged to sign up to Orange's card which is apparently a "very streamlined" process in-store. Still, if you don't want a new bank account or a new card, currently there's no pay-as-you-go top-up option.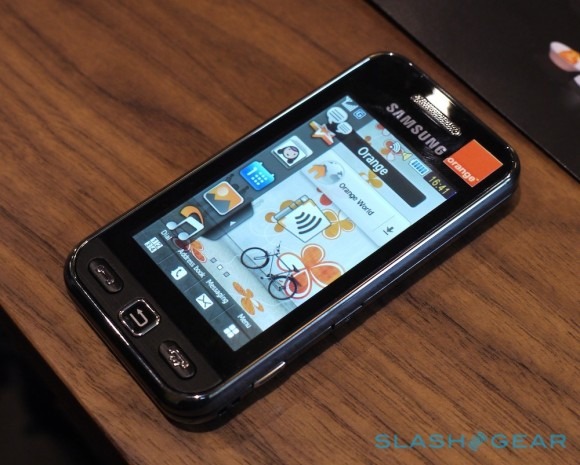 The second issue is the handset itself. Orange says the Samsung Tocco is one of its best-selling handsets, but it hardly has appeal among the early-adopters you'd assume would be keen to get on the NFC payments wagon. The carrier claims more phones – from a variety of manufacturers – are in the pipeline, but couldn't tell SlashGear when, exactly, they'd arrive. Interestingly, because of the SIM-and-phone NFC system Orange and Barclaycard have chosen, existing NFC-enabled devices like Samsung's Nexus S won't apparently work with it.
The Orange Tocco Quick Tap will be free on pay-monthly plans or as a £59.99 ($97) pre-pay handset. In time, Orange may well roll out the Quick Tap service to its Everything Everywhere partner, T-Mobile UK, though no timeline has been confirmed.
Press Release:
Orange and Barclaycard transform buying on Britain's high-streets with the launch of the UK's first contactless mobile payments service

• Orange and Barclaycard today launch 'Quick Tap' – the UK's first contactless mobile phone payments service, allowing consumers to make purchases on the high street using their mobile phone

• Customers can make purchases £15 and under nationwide by simply tapping their Quick Tap mobile handset against a contactless reader at over 50,000 stores

• Using Barclaycard's contactless payment technology, customers will be able to pay for items anywhere they see the contactless payments symbol, including shops and cafes like Pret A Manger, EAT. and Subway

• Quick Tap will use a secure SIM-based approach to mobile payments, providing a single point of contact for customer care as well as ensuring enhanced payment security for customers

20 May 2011, London: Orange and Barclaycard today launch 'Quick Tap', the UK's first contactless mobile payment service which allows consumers to make purchases on the high street using their mobile phone for the very first time. The landmark launch means that from today, in addition to using contactless cards or chip and PIN, consumers can simply tap their mobile phone on a contactless reader at tills in over 50,000 stores to make purchases £15 and under.

This entirely new, secure and convenient way to make payments is an evolution of how people pay and follows previous payment milestones such as the move from cheques to cards. Mobile payments will be accepted at stores nationwide including Pret a Manger, EAT., Little Chef, Wembley Arena, Subway, Wilkinson and McDonalds where contactless payments are currently accepted.

The service will be available to Orange customers who use a 'Quick Tap' enabled handset. Launching with a Quick Tap enabled version of one of Orange's best-selling devices, the Samsung Tocco Lite, the Samsung Tocco Quick Tap will be available on pay as you go and pay monthly price plans, with more handsets expected to follow from a selection of leading manufacturers. Barclaycard, Barclays debit or Orange Credit Card users can transfer funds of up to £100 simply and securely onto the handset's Quick Tap app, after which the phone is ready to make payments of £15 and under in a single transaction.

The user friendly payment app, which sits on the home screen of all Quick Tap compatible handsets, contains information such as electronic statements detailing Quick Tap purchases so customers can keep an eye on their spending and manage finances easily on the go. To support the launch, Barclaycard is providing Orange customers with £10 cash added to their account upon activation, and 10% cash back on all Quick Tap purchases made in the first three months.

Commenting on the announcement, David Chan, CEO of Barclaycard Consumer Europe, said: "This is the first time that customers can use their mobile to pay for goods and services in shops across the UK rather than using cards or cash. They'll be able to do this, safe in the knowledge that this is a secure technology brought to them by the biggest names in payments and mobile technology.

"Having a wallet on my phone has made it much more convenient to make purchases on the move and I like that it allows me to keep track of what I'm spending as I go. Barclaycard launched credit cards in the UK over 40 years ago and have been leading the evolution of payments ever since."

Pippa Dunn, Orange Vice President, said: "We no longer use our mobile phones simply for talking and texting – apps, cameras and music players allow us to use them for a lot more. So, making contactless payments with your mobile is a natural and really exciting innovation which we're pleased to be leading on in the UK.

Orange Quick Tap is the first of its kind, a service that allows you to pay for everyday items just by tapping your phone wherever you see the contactless payment symbol. It's going to start a revolution in the way we pay for things on the high street."

The launch will be supported by a marketing campaign that will promote the benefits of Quick Tap through a range of marketing channels. The fun and bold creative campaign will emphasise how Quick Tap represents a radical new way for people to pay for items using just their mobile, driving consumers to start a "new movement" with contactless payments.

Orange and Barclaycard announced their innovative partnership to bring contactless mobile payments to market in 2009, and believe this will be the biggest revolution in payments since credit cards were introduced in the UK by Barclaycard over 40 years ago. The new devices use innovative NFC technology, enabling consumers to make payments in a simple and secure way, and it builds on existing contactless payment technology with 12.9 million contactless credit and debit cards already in circulation, of which over 11.4m have been issued by Barclaycard and Barclays who have been pioneers in bringing it to market since 2007.

Mobile Contactless Payments from Orange and Barclaycard have been developed and rigorously tested to ensure customers' transactions and personal data will be protected and secure, with users having the option to enter a PIN on their handset before each transaction providing an additional layer of security. The launch proposition will use a secure SIM-based approach to mobile payments, providing a single point of contact for customer care as well as ensuring enhanced payment security for customers.

MasterCard will provide the payment capability for the contactless mobile transactions. Contactless transactions on mobile phones benefit from the same 100% fraud guarantee as standard Barclays and Barclaycard transactions nationwide. Since contactless mobile payments are processed online, if a customer cancels their phone because it is lost, damaged or stolen, no transactions can be completed.

For more information on Quick Tap please see www.orange.co.uk/quicktap