Apple To Nuke MacDefender Malware With OS X Update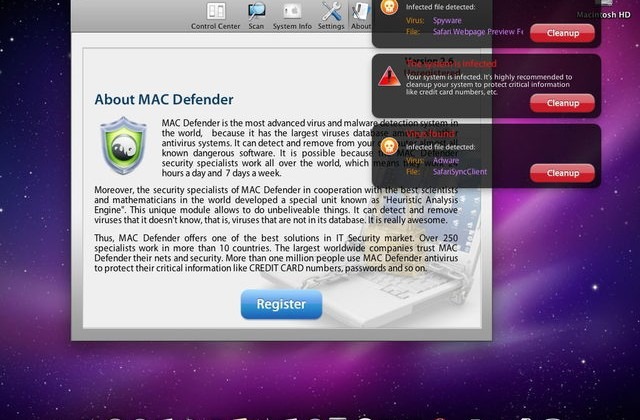 There's been a high alert recently regarding the Mac Defender and Mac Security trojans that have been fooling unsuspecting Mac users into handing over admin passwords and credit card information. And although Apple has remained particularly mum on the topic, it looks like they will be nuking the malware in an upcoming OSX update.
When AppleCare started receiving a high number of Mac Defender cases, it was leaked that Apple's reaction was to instruct its staff to not fix affected computers or even confirm with customers whether or not their computers actually had the malware installed. It was a strange way to address the problem, but apparently it was to keep the issue low key until Apple could further investigate.
Now, it seems Apple is ready to really fix the problem and will be releasing an update within the next week or so that will remove the malware automatically. An Apple Support knowledge base article had the following message:
"In the coming days, Apple will deliver a Mac OS X software update that will automatically find and remove Mac Defender malware and its known variants. The update will also help protect users by providing an explicit warning if they download this malware."
[via Cult of Mac]