Windows Phone "Mango" official; Acer, Fujitsu and ZTE onboard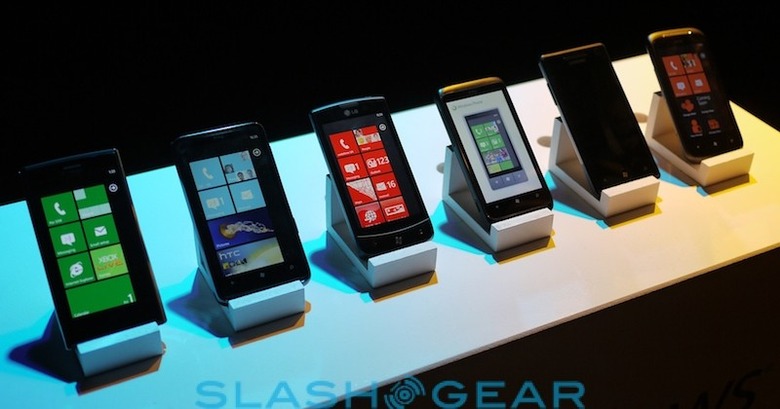 Microsoft's Windows Phone "Mango" announcement this morning has been prematurely blabbed by the company's Romanian arm, with a press release confirming that Acer, Fujitsu and ZTE have all come on board as new OEM partners. They've committed to getting new devices on the market before the end of 2011, while the developer SDK of Mango is expected within the next 24 hours. As for the update itself, it'll roll out to all Windows Phone handsets at the beginning of the fall (despite how Google Translate has mangled the Romanian press release after the cut).
As for what that new software will get you, there'll be threaded messaging that pulls in not only linked email conversations but SMS and Windows Live Messenger in the same thread, Groups – which can be linked to Live Tiles on the homescreen – and Twitter and LinkedIn support baked in at the OS level. Facial-recognition software will be used to streamline identifying people in photos for easier tagging on social networks like Facebook.
There's also native speech-to-text and, conversely, text-to-speech, along with inclusion of apps in search results for individual Hubs. The Live Tiles themselves will be "more dynamic" and show more information, and there's multitasking support (which we're guessing will be further detailed at the event itself). The updated Internet Explorer 9 will have access to the phone, location and camera, as well as apps, to better tie in web-based content with local content. It'll also get HTML5 and hardware-acceleration support.
There's plenty more to be found in the press release below, and of course SlashGear is at the Microsoft event this morning to bring back all the details.
[via WMPowerUser]
Press Release (translated):
Microsoft announces a new version of Windows Phone, Mango

'Mango' brings an intelligent and simplified approach to communication, and Internet Applications

Tuesday, May 24, 2011

Microsoft announced today the new version for Windows Phone called Mango that will bring over 500 new features that exceed the user experience of smartphones, communication, and Internet applications. The new version will be freely available to all terminals with Windows Phone and can be downloaded at the beginning of this summer. More details about scheduling updates for the terminal will be announced closer to launch. Also, Windows Phone will be available for new terminals, new partners from the manufacturers.

Andy Lees, President Mobile Communications Business, Microsoft Corp., "seven months ago, we kicked off this mission: to make smart phones smarter and easier to use by users. With Mango, Windows Phone is a big step forward in redefining the way users communicate, use applications and surf the Internet, so with half the effort now to get double results. "

Communication: connecting and sharing information is easier

Interaction with the smartphone can be complicated by a multitude of applications and accounts disconnected people trying to keep up with all the ways that communicate – from telephones, messages, emails, status updates, tweets, check ins, by tagging and posting photos. To help users cope with the complexity created, update Mango organizes information around a person or group that interacts with and not around application use.

• Threads. You can toggle between messages, chat up, and Windows Live Messenger, all in the same conversation

• Groups. Contact groups Tiles custom Live turns to see the latest statuses and quickly send a message to an email or instant message to the entire group, directly from the Start screen

• Better integration with social networks. Twitter and LinkedIn contacts are integrated into the card and can include up Mango check-in, also have available one nine facial detection software that makes it easy tagging your photos or posting them on the Internet

• Linked inbox. More email accounts in a secure inbox, conversations are organized so you can view the most recent mail

• Hands-free messaging. Built-in speech-to-text and text-to-speech, which allows writing messages and chat hands-free

A more intelligent applications

Windows Phone will change the way users look applications. Today, their usefulness is measured taking into account what can be done with the application, but its promise lies in how it can be integrated directly into the center of the experience with the phone. Besides that you can receive notifications and updates of applications directly on the home screen, Mango will add applications to the search results in Windows Phone Hubs. As a result, a useful application will be available where needed.

• Connect App. By connecting and integrating applications on their search results in Windows Phone Hubs, including Music and Videos and Pictures, applications are visible when and where needed.

• Live Tile's improved. You can get updated information without requiring applications to be open. Live Tiles are now more dynamic and can store more information.

• Multitasking. Applications can be rotated quickly and at the same time, others may run in the background, while retaining the performance and battery duration

Surfing the Internet beyond the browser

In addition to the inclusion of Internet Explorer, the update will connect the power of the internet Mango to the unique capabilities of the phone, and identify the location, camera and access to applications, to present a new way of browsing the Internet, which is now easier use and more relevant.

• Internet Explorer 9. The power of a PC browser-based IE9 support for HTML5 and support for hardware acceleration

• Recognize local (Local Scout). Providing local results and recommendations for nearby restaurants, shops and suggested activities, present in a user-friendly guide

• Bing Windows Phone. More ways to search the Internet, including Bing Vision, Voice and Music Search, so that decision making is easier

• Quick Cards (Quick Cards). When searching for a product, movie, event or place we provide a summary and relevant applications

Strengthening Ecosystem

Phone Windows ecosystem has increased steadily since the launch of Windows Phone 7 in October last year, with more than 17,000 applications available on the Marketplace, and Windows Terminal Phone available from a number of international partners and Microsoft, Nokia recently announced partnership . Mango will further expand Windows Phone ecosystem through partnerships with Acer, Fujitsu Ltd. and ZTE Corp.. Which were committed to produce devices with Windows Phone sites for various global markets until the end of this year. Moreover, a Beta version of Windows Phone free tools for developers, which will be used to create the next generation of applications and games Mango, will be posted on a public Microsoft site within 24 hours.

More about Mango for developers and a download link are available at: http://windowsteamblog.com/windows_phone/b/wpdev/archive/2011/05/24/developer-news-beta-mango-tools-available- today.aspx