Dell XPS 15z official: Hands-on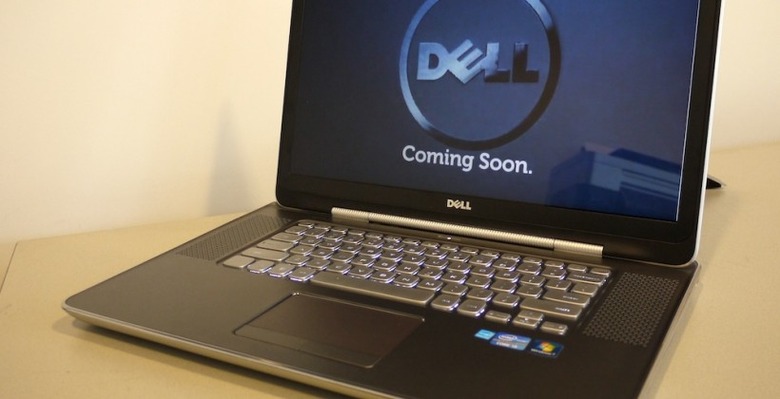 After teasers, leaks and Michael Dell himself getting ahead of the rumor campaign in his excitement, it comes as little surprise to see the Dell XPS 15z notebook made official this morning. A new 15-inch mainstream notebook – and the harbinger to a fresh design ethos from the company – the XPS 15z promises stylistic and construction lessons learned from memorable models like the Dell Adamo. We caught up with Dell for some hands-on playtime with the XPS 15z; check out our first impressions after the cut.
Although it often seems like all the attention is paid to slender ultraportables or super-fast desktop replacements, the 15.6-inch notebook segment is still where the money is. With pricing kicking off at $999 in the US or £899 in the UK, Dell reckons it has something a little different in the XPS 15z. According to EMEA director of product marketing Peter Winkle, the company used the lessons learned from the Adamo around crafting aluminum chassis and focused on bringing it down to a more affordable price point.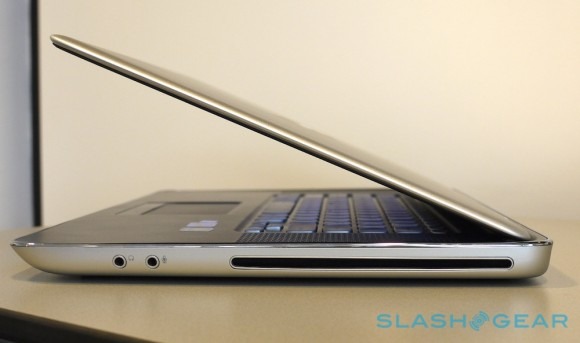 To that end, the XPS 15z has an aluminum outer casing with a magnesium alloy interior that frames a distinctive chiclet keyboard and larger-than-average trackpad.  The "hinge-forward" display – which basically means that the hinge section (one of the few plastic components) is pushed further toward the user, which Dell's focus groups apparently prefer, as well as shifting those hinges further out of the way of damage – is thinner than previous Dell notebooks, and in fact the 0.97-inch thick chassis makes it the slimmest 15-incher around. Nonetheless, it still packs a slot-loading DVD burner along with HDMI, Mini DisplayPort, eSATA and a pair of USB 3.0 ports. Inside is WiFi a/g/n and optional Bluetooth 3.0.
Borrowed from the MacBook line is a row of battery status LEDs – to let you know how far through the 15z's 8hr battery life you are – and there's an SD card reader and gigabit ethernet ports too. Two displays will be on offer: a standard 1366 x 768 200 nit panel, and an optional 1920 x 1080 Full HD panel running at 300 nit. While we asked Winkle whether Dell would be offering a matte finish option, he said the cost impact of trying to produce matte displays in suitable volume made it economically unfeasible. Instead, he suggested, backlights were getting brighter to compensate.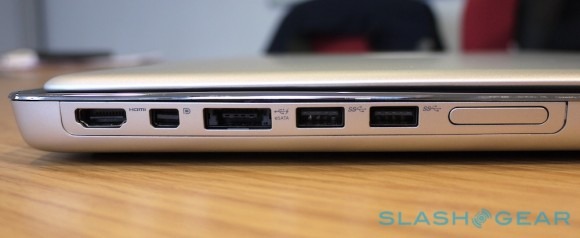 Inside there's the expected selection of Intel 2011 series Core i5 and Core i7 processors paired with up to 8GB of DDR3 RAM, up to 750GB of 7,200rpm hard-drive, and a choice of NVIDIA GeForce GT 525M 1GB or 2GB graphics with support for Optimus switching. The obvious competitor is HP's ENVY range, though Winkle insists that the X15z has a better mixture of performance and thin design. With ENVY, he suggested, HP had focused on sound (with the BEATS audio system), whereas Dell has a better level of power, pricing and screen quality. Dell is trying to avoid comparisons with the 15-inch MacBook Pro, and to be fair we can't blame them. The XPS 15z is targeting a different segment and is priced to match.
Hands-on and – while we were using a non-final model – the XPS 15z feels surprisingly solid for a mainstream notebook. The backlit chiclet keyboard and eye-catching patterned speaker grille may not to be everyone's taste, but it's easy to type on and the notebook is light for its size. We were able to pick it up single-handed and comfortably hold it, which is certainly not always the case for a 15-inch machine. Sales kick off today.
Press Release:
Dell Introduces the Powerful XPS 15z – One of the Thinnest 15-inch PCs on the Planet

 Less Mass, More Appeal: the Ultimate Blend of Style and Performance

 Uncompromising Performance with 2nd Generation Intel® CoreTM i5 & i7 Processors, Optional Full HD Screens and Up to Eight Hours of Battery Life

 First in a Series of New Thin, Powerful Laptops from Dell This Year

BRACKNELL, UK, May 24, 2011 – Dell today introduced the XPS 15z laptop, one of the thinnest 15-inch PCs on the planet , and the first in a series of new thin and powerful products from Dell to come this year. With the XPS 15z, everyone from mobile warriors to students and small-business owners now have everything they need to work hard and play hard in one stunning package.

A leading-edge combination of uncompromising power and stunning design, the XPS 15z offers 2nd-generation Intel Core i5 and Core i7 processors, optional 15.6-inch Full HD (1080p) display for superior entertainment and web-browsing experiences, a backlit keyboard with adjustable brightness and up to eight hours of battery life – all housed in a luxurious, eye-catching and elegantly crafted case that is less than an inch thick.

The XPS 15z is the first in a series of upcoming thin Inspiron- and XPS-branded products that deliver the ultimate blend of style and performance so you can pursue your personal passions.

"The XPS 15z delivers uncompromising performance in our most beautifully designed laptop yet," said Sam Burd, vice president of Dell's Consumer and Small/Medium Business product group. "It delivers all the must-have features — from next-generation Intel Core i processors for incredible performance to optional full HD screens that are up to 50 percent brighter than standard displays – all in a stunning form factor that makes it one of the thinnest 15-inch PC on the planet."

"The XPS 15z provides a glimpse into a series of visually stunning and powerful systems coming soon to our consumer and small-to-medium-business product portfolio," said Steve Felice, president of Dell's Consumer and Small/Medium Business group. "We're committed to introducing next-generation products that help people pursue their personal and professional passions."

Less Mass, More Appeal

A technology package perfect for pumping out spectacular, media-rich office presentations or watching the latest award-winning movies, the XPS 15z includes 2nd generation Intel Core i5 or i7 processors, a brilliant 15.6-inch WLED display with a Full HD option that has almost two times the HD resolution of standard HD displays, NVIDIA graphics with 3DTV play capabilities , built-in WiFi, Bluetooth 3.0, USB 3.0 and a backlit keyboard.

Despite its incredibly slim exterior, the XPS 15z delivers uncompromising performance, including NVIDIA discrete graphics with Optimus technology that automatically switches to power-saving integrated graphics under reduced workloads, helping the battery last longer on coast-to-coast flights and for movie marathons. In addition, it offers ample hard drive storage and a slot-loading DVD +/- RW drive for watching the latest movies or burning music to a disc. And the optional Full HD (1080p) display brings HDTV-type quality to the laptop screen.

Advanced wireless features make XPS 15z your go-to device from the road or the living room. Built-in Bluetooth and WiFi connectivity ensure it's fast and easy to connect with e-mail, websites, Skype and Facebook from almost anywhere . For at-home entertainment, the optional Intel Wireless Display feature enables videos and photos to be streamed wirelessly from your XPS 15z to an HDMI-equipped TV. And with the exclusive Dell Stage user interface, it's easy to access personal content such as music, photos and videos.

At first glance, the XPS 15z design, with its clean aluminium exterior, appears to float above the surface, and the polished, brushed finishes with sophisticated accents add to a luxurious appearance.

Priced from £899 including VAT excluding delivery, the XPS 15z, like all XPS computers, is designed and built from the ground up to provide a premium computing experience with the best materials, technology, performance and reliability Dell offers.

Availability:

The XPS 15z is available today from Dell's global online stores, including www.dell.co.uk in the United Kingdom, with retail availability to follow shortly.

Detailed Information:

 Thin (0.97"/24.68mm) laptop PC with Microsoft Windows 7 Home Premium; aluminium and mag-alloy enclosure

 2nd-generation Intel Core i5 and Core i7 Dual Core processor choices

 Standard HD or optional Full HD (1920x1080) WLED display

 Fast NVIDIA graphics options :

o NVIDIA® GeForce® GT 525M with 1GB graphics memory

o NVIDIA® GeForce® GT 525M with 2GB graphics memory

 Includes NVIDIA® Optimus™ technology; NVIDIA 3DTV Play technology

 4GB up to 8GB DDR3 1333Mhz memory options

 Fast 7200RPM hard disk storage, up to 750GB

 Built-in Slot load DVD +/- RW (reads & writes to CD/DVD)

 Backlit, Chiclet-style keyboard with adjustable brightness

 Optimized touchpad

 Built-in Intel Centrino Advanced-N 6230 802.11 A/G/N and Bluetooth 3.0 wireless connectivity

 Intel Wireless Display-ready

 Up to 8 hours of battery life with 8-cell battery

 USB 3.0 (2), USB/eSATA with PowerShare, HDMI 1.4, Mini Display-Port, Gigabit Ethernet and audio connectors

 Built-in 9-in-1 media card reader

 Built-in 1.3MP HD Webcam with dual array digital microphones and stereo speakers

 Dell Stage software for fast access to content like music, videos and photos

 Dimensions: Height: 0.97" (24.68mm) / Width: 15.15" (384.85mm) / Depth 10.25" (260.37mm); Weight: starting at 5.54lbs (2.51 kg)