T-Mobile G2x Disappearance Explained, Firmware Updates Expected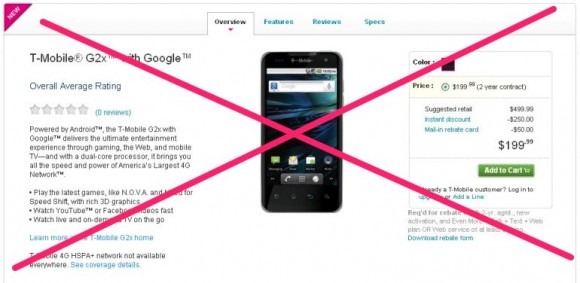 Yesterday, its was noticed that T-Mobile's G2x had mysteriously disappeared from the carrier's online store. A search for the device only turned up accessories but not the phone itself. TMoNews had first suspected that the device may have been pulled due to several quality issues that the phone has been experiencing since day one. However, this morning T-Mobile responded via Twitter with a different reason for the disappearance.
T-Mobile tweeted early this morning explaining that they pulled the G2x from their website due to a shortage on inventory. Their statement reads, "The T-Mobile G2x has been very popular and high demand has resulted in inventory constraints, which we are working to address. We are working with LG to address inventory constraints and expect to return to normal levels in the coming weeks."
However, another T-Mobile spokesperson admitted that "a small percentage of customers have commented about possible improvements" to the G2x. The rep also confirmed that T-Mobile is working with LG to deliver a firmware update to the G2x that should offer "some performance enhancements." This update may fix the random rebooting problem and hopefully arrive with the Android 2.3 Gingerbread update slated for this summer.
Once again, if you haven't already, you can find out more about the T-Mobile G2x from our full review.
[via Phonedog]