SlashGear 101 : Windows Phone 7.1 Mango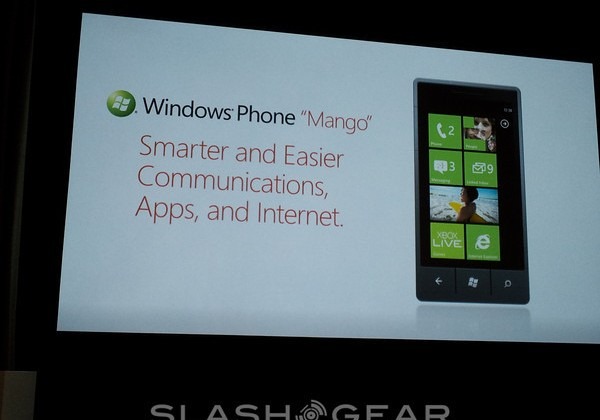 Welcome to SlashGear 101, a place where you're going to be able to learn everything you wanted to know about every little subject that matters most in the tech world. Today's subject is the brand-spanking-new Windows Phone version 7.1 Mango, a system that will be available for free to all eligible Windows Phone customers by the fall of 2011. This newest system improves the Windows Phone experience by Extending the App Experience, making "A Smarter Smartphone" with predictive features and multitasking, and adding Internet features that include Music Search, Visual Search (with photo recognizing abilities,) and Local Scout which shows you businesses and etc around the area you're physically located. Sounds great! Let's have a look!
Mango is Windows Phone's next step, Microsoft noting that they'd be working with a smarter approach to apps, a web experience that "goes beyond the browser," and communication features that make it easier to connect to your contacts. The first item they've added is Internet Explorer 9 built directly into each of the newest devices. In the video you're about to see below, they show off the speed of the internet browser on several phones competitors – something manufacturers are generally not so apt to do. A BlackBerry, an Android, an iPhone, and a brand new Mango phone are included.
Guess which one wins?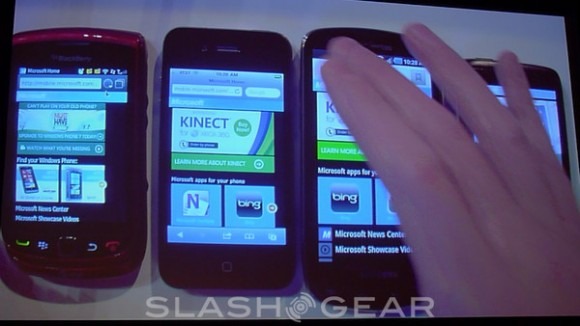 Check out this quick and easy breakdown of the key features, see the excellent videos below as provided by Microsoft, then head to the press release for any additional bits you may want to nitpick!
Bing Features
Next they work with "Local Scout," Bing-powered feature that finds local businesses for you based on your actual physical location. Eat and drink, see and do, and shop help you to understand your surroundings. Favorites collect which items you like the best, and highlights are picked for you. This is closely related to the next big feature that makes your experience less about typing and more about working with your interests outside of the phone: Bing Vision. What this feature does is take, for example, a book- photographing the book, recognizing the book from the cover, and linking to everything that could possibly go with the book like prices, e-versions of the book, and locations you can purchase the book in real life.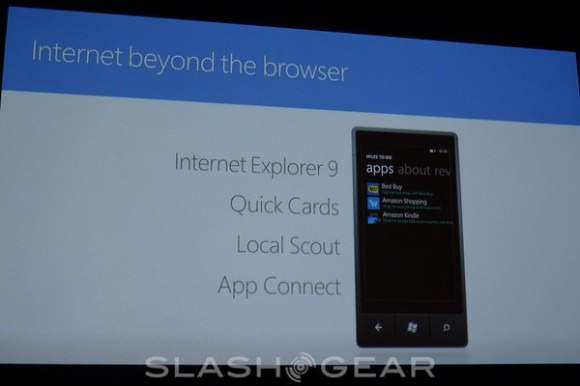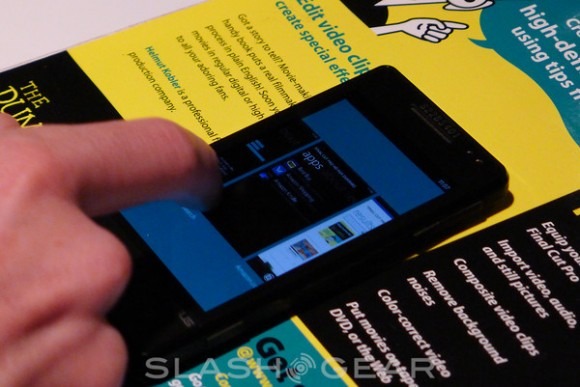 A Smarter Approach to Apps
Inside the games hub, multitasking is shown off. Built-in multitasking, as they say, will allow you to play a game and switch back and forth between other games and apps by simply holding down the "back" button. A list is shown for you, easily available for you to be flipping back and forth at will. Another bit of this is the new ability to "pin" apps to your homescreen. This ability not only allows you to have a shortcut to the app, but a shortcut, for example, to a specific product in an app such as Best Buy whose app is made to work with this new feature.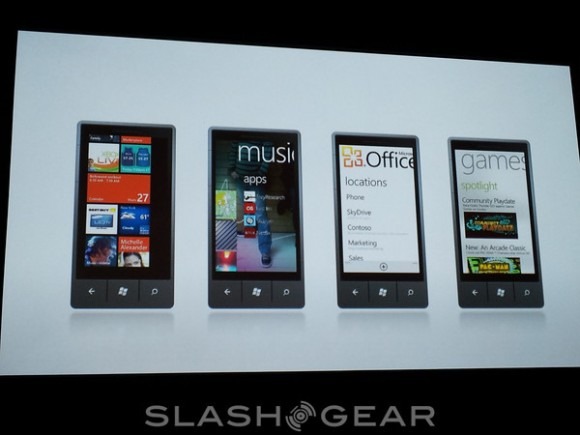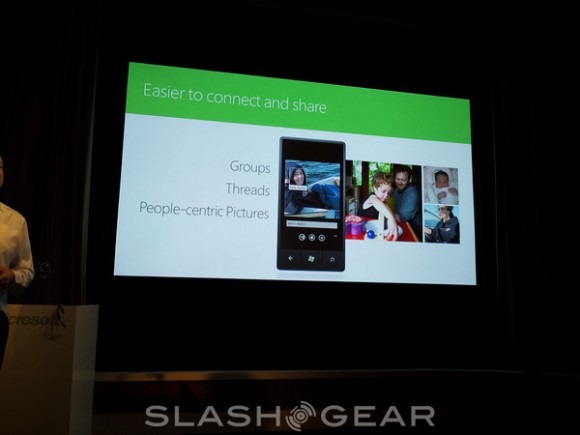 Communications Features
Inside email, you'll notice a whole new look compared to the older vision you're used to. This new system allows you to see emails back and forth as a conversation – instead of having a giant list of emails to and from a single contact, they're all collected in strings automatically. A new feature having to do with this is the ability to create Groups. This shows off not just when they're emailing you, but when they've updated their Facebook, Twitter, and etcetera. This is like having a "best of" friends app. Threads is a new feature that ties together text, Facebook chat, Windows Live Messenger via PC or Xbox. Everything tied together.
We've got a whole lot more on Mango from the origin event of this Windows Phone 7.1 Mango update announcement so stay tuned to SlashGear for full coverage!
REDMOND, Wash. – May 24, 2011 – Microsoft today provided the first official look at the next release of Windows Phone, code named "Mango." The new release includes hundreds of new features that will deliver smarter and easier communications, apps and Internet experiences.

See some of the features users can expect to see in the next major release of Windows Phone, code-named "Mango."

"When we looked ahead to the next release, we wanted to stay true to the principles of Windows Phone 7 – that software should get out of your way and quickly connect you to the things that matter most," said Greg Sullivan, senior product manager of mobile communications at Microsoft. "Mango builds on the work that we did in Windows Phone 7 and extends a lot of key scenarios around communications, apps, and Internet experiences – with even more capability and a deeper level of integration."

Mango will enable Windows Phone to expand into new markets and extend global reach and scale through support for a host of new languages and new partnerships with Acer, Fujitsu Limited and ZTE Corp. Microsoft said Mango will be available for free to all eligible Windows Phone customers when it's available in the fall.

Extending the App Experience

Sullivan said a key competitive differentiator for Mango lies in its smarter approach to apps. Today, he said, smartphones require that users rely solely on their brains to connect the dots between applications on their phones and any given scenario. Mango, however, relieves the burden on customers by assuming some of the burden itself. For example, the App Connect feature connects apps to search results and deepens their integration with Windows Phone Hubs – surfacing apps when and where they make sense.

For instance, if a user searches Bing for a movie, the search results, as you'd expect, provide information such as show times and theater locations. App Connect will take this further by anticipating the user's need to buy a ticket and automatically surfaces the Fandango app to give him or her the option to buy a ticket right there.

"It's like having a great butler or a valet that you've known for 30 years who can anticipate your every need instead you doing all the work yourself," Sullivan said. "Windows Phone stitches all of this together for you and connects the applications you have on your phone, or that we have in the marketplace, to the rest of what you're doing, in a way that's much, much deeper than any other platform. So you can go from Binging to buying in seconds."

A Smarter Smartphone

The predictive nature of Mango signals a more intelligent era for the smartphone. This intelligence doesn't simply benefit end users who need the right app in the right situation. Mango's improved functionality also benefits companies and app developers looking for a unique way to reach consumers and on the "buy" end of the "Bing to Buy" scenario Sullivan noted.

"We're really excited to be taking advantage the next release of Windows Phone and the new developer tools," said Howard Gefen, director of marketing and business development for mobile at Amazon. "We can continue to incorporate features that our customers will enjoy and use, and continue to get the best experience out of the device and the platform."

Other app features in Mango include:

• Improved Live Tiles, which provides even more real-time information to the home screen. Live Tiles on Mango can be more dynamic and contain more information.

• Multitasking allows users to quickly switch between recently used applications and pick up where they left off by simply pressing and holding the back button.

• Live Agents, which enables developers to create a number of multitasking apps for scenarios involving media, communications, augmented reality and more – all without compromising battery life and performance.

"Our Friends Are People – They're Not Apps"

For those who have seen the phone, you can see the light bulb go off. It's like they suddenly realize they should be expecting more from their smartphones.

- Greg Sullivan, senior product manager of mobile communications at Microsoft

Microsoft said its next release of Windows Phone – available to consumers in early fall – was designed and organized around the person or group of people users want to communicate with rather than the various apps used to reach them.

Just like Windows Phone 7 was designed and organized to make communication easier, so too is its Mango update, Sullivan said. For example, Mango's new People Hub will integrate all of the ways in which people interact. So, whether one is connected to a person on Facebook, Twitter, Outlook, LinkedIn, Windows Live Messenger or all of the above, these avenues to connectivity will be in one, easy-to-access location.

Additionally, if a user wants to send a message to someone, Mango will automatically detect if that person is online to the user can select the best method of communication. If the intended recipient is signed into Windows Live, Mango will provide the option to send an instant message (IM). If not, a text is sent instead.

The next release of Windows Phone also allows users to group and categorize people based on how they fit into their lives. This enables users to send group texts or IM conversations to entire groups of family, friends, coworkers and so on.

"Our friends are people – they're not apps," Sullivan said. "Mango makes it super easy to put people first then lets users chose the way they want to communicate."

Other communications features in Mango include:

• Personalized Live Tiles make it possible for users to easily access individuals or groups from the home screen. Individuals can be pinned to the start screen as Live Tiles, providing users with at-a-glance access to real-time updates from social network feeds and notifications without having to open multiple apps.

• Multiple email accounts can be combined and linked into one inbox.

• Built-in voice-to-text/text-to-voice functionality, which will allow for hands-free texting or chatting.

Smarter Internet

In Mango, Microsoft has added hardware-accelerated graphics and Internet Explorer 9 with HTML5. This, the company says, will enable a faster mobile Web experience that mirrors the desktop.

Unlike competing platforms, Sullivan said Web content in Mango doesn't return as a list of blue links the user must comb through. Rather, content is integrated, aggregated and presented in a more useful way.

"We take the Web beyond the browser," Sullivan said. "So you're not manually spelunking through websites to find what you're looking for."

Web browsing now also has an added layer that allows users to take advantage of functionality such as location awareness, the phone's camera and its microphone.

• Local Scout prioritizes hyper-local search results based on user preferences and recommends the closest restaurants, shopping and activities in an easy-to-use guide.

• Visual search enables users to initiate a Bing search by photographing barcodes, QR codes and Microsoft Tags (without using a third-party app).

• Music search allows users to search Bing and get detailed information about music (like song title, artist and album title) by simply holding the phone up to a speaker.

The addition of augmented reality in Mango – a technology that integrates computer-generated images and sounds on a user's screen to enhance their experience – is an excellent example of a better Internet experience. It has allowed some of Microsoft's partners to make significant improvements to their apps.

For instance, by utilizing Mango's new motion and camera API, developers at The History Channel were able to build History Here – an app that combines augmented reality, GPS, and The History Channel's multimedia content to create an interactive mobile travel guide. By simply pointing the phone at ones surroundings, the app will display an overlay of historic points of interest close by.

"The new real-time augmented reality view brings historical content to life in a whole new way," said Dan Suratt, executive vice president of digital media and business development at A+E Networks Digital (which owns The History Channel, Lifetime, Biography and other properties). "People can experience history in an exciting way, whether they've just stepped outside their home or travelled across the country."

"For those who have seen the phone, you can see the light bulb go off," Sullivan said. "It's like they suddenly realize they should be expecting more from their smartphones. I think we're set up to surprise a lot of folks with how big a leap we've taken with Mango."