Apple MacBooks Top All Notebook Categories On Consumer Reports [Updated]

That matte aluminum laptop with the white Apple logo is an all too common sight these days, be it in on campus, in a design studio, or at our next press event. And apparently it's popular with good reason. Consumer Reports, an advocacy group that tests and ranks various consumer products, has given all the top spots in its latest notebook rankings to Apple's MacBooks.
Apple was most dominant in the 13-inch category, with its MacBook Pro taking the top five of seven spots with Sony and Asus taking the last two. They also took the lead in the 15-inch category with the top three spots, but the competition wasn't as far behind. And with the 17-inch category, the MacBook Pro took the top two spots.
The MacBook Air 11-inch scored 62 out of 100, taking the top spot for the small laptop category, with Gateway coming in second with a score of 56, and HP coming in third with a score of 49. To see the full Consumer Reports rankings you will need a subscription, but you can take a look at our early-2011 15-inch MacBook Pro review here gratis.
Update: We actually have the rankings charts to share with you below. Also note that AppleCare took the top spot in readers polls for the 11th year in a row, scoring 25 points higher than the number two company.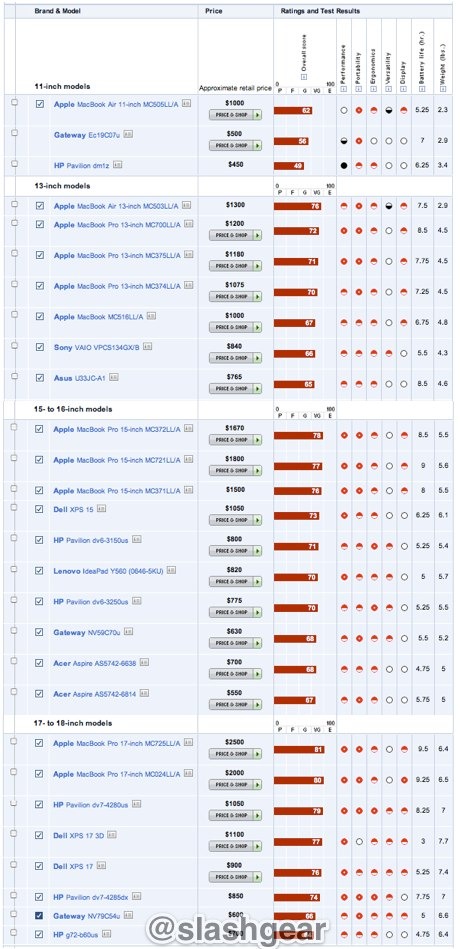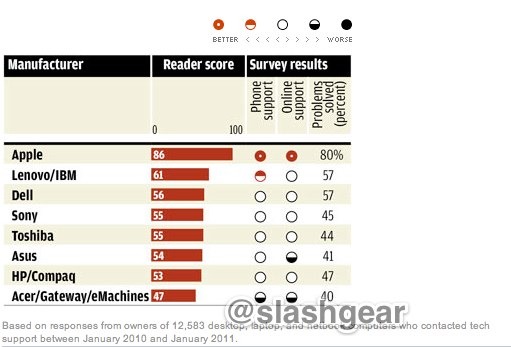 [via LoopInsight]