MacBook Pro 15-inch Review (early 2011)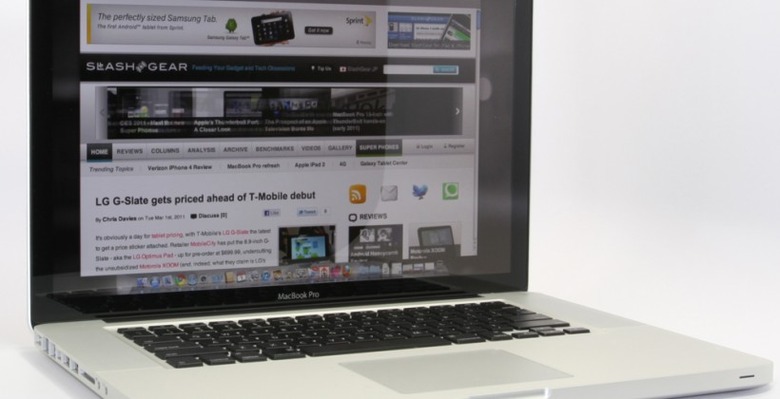 Apple's MacBook Pro refresh last week didn't get a press event with huge fanfare, but it's arguably the most important update to the notebook range in some time. Bringing in Intel's 2011 Core processor range across the board, and spicing up the larger models with AMD discrete graphics, the new versions may look the same but they promise a huge leap in performance. The high-end 15-inch MacBook Pro arrived on the SlashGear test bench last Thursday and we've been putting it through its paces ever since. Could this really be the best notebook around? Check out the full review after the cut.
Hardware
At first glance, there's little to differentiate this new MacBook Pro from the model it replaces. Apple has kept the unibody aluminum chassis, backlit keyboard and broad, glass multitouch trackpad, and the glossy display is the same 1440 x 900 resolution and 15.4-inch size. At first glance, even the ports look the same, thanks to Thunderbolt – more on which later – sharing the same form-factor as Mini DisplayPort.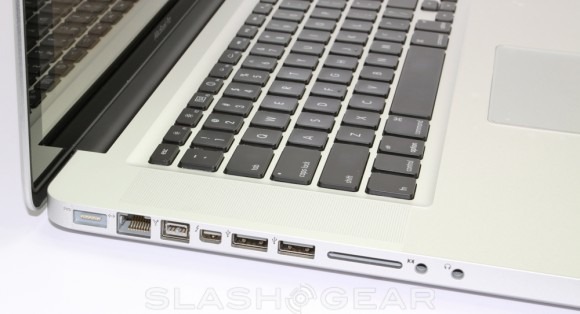 We can't complain too much, though. First off, Apple's MacBook Pro notebooks offer some of the best industrial design around, pairing high-quality materials, high build quality and good looks into something the generally plastic-shelled PC market still can't better. The 15-inch MacBook Pro tips the scales at the same 5.6 pounds as its predecessor, and measures a reasonably slimline 0.95-inches.

Second, and more important, is the considerable refresh that's gone on inside the aluminum casing. Sandy Bridge is the order of the day here, with the 13-, 15- and 17-inch MacBook Pro models all getting processors from Intel's 2011 range. The 13-inch starts off with a Core i5 as standard (and Core i7 as an option) but the 15- and 17-inch models both pack Core i7 chips from the off. In our review unit, the higher-specified standard configuration, that means Intel's 2.2GHz Core i7-2720QM. 4GB of DDR3 1333MHz memory is the minimum, with 8GB a factory-fit option.

Graphics have undergone a significant change as well, with NVIDIA's discrete GPUs replaced by AMD's Radeon 6000 Series paired with Intel HD Graphics 3000. Apple has obviously deemed Intel's integrated GPU sufficient for the 13-inch MacBook Pro, but the 15- and 17-inch models have a choice of the AMD Radeon HD 6490M (with 256GB of GDDR5 memory) on the entry-level MacBook Pro 15 or the Radeon HD 6750M (with 1GB of GDDR5 memory) on the higher-spec 15-inch and as standard on the 17-inch.
As in the 2010 range, OS X automatically switches between integrated and discrete graphics depending on your activity. For basic web browsing and document editing, then, the MacBook Pro will default to the low-power, energy-frugal Intel HD Graphics 3000 chipset; start gaming, or doing video processing in iMovie, and the AMD Radeon GPU will kick in. There's no need to log out and back in again to switch, as with earlier dual-GPU configurations.
Storage begins with 320/500/750GB hard-drives, depending on size and SKU, all running at a somewhat disappointing 5,400rpm. Faster, 7,200rpm HDDs are optional, as are SSDs up to 512GB. The slot-loading 8x SuperDrive is still present, while ports include gigabit ethernet, FireWire 800, audio in, audio out, an SDXC memory card slot, MagSafe power and, of course, Thunderbolt. Wireless options include WiFi a/b/g/n and Bluetooth 2.1+EDR; there's still no integrated 3G option. A microphone is hidden under the left speaker grille, and there's a new, 720p FaceTime HD webcam above the screen, more on which later.
Software
Apple may be previewing Mac OS X Lion, but these latest MacBook Pro notebooks still come with Snow Leopard pre-installed. There's also the usual iLife '11 suite, consisting of iPhoto, iMovie, GarageBand, iWeb and iDVD. The Mac App Store is pre-loaded, for access to a broad catalog of third-party software, as is the freshly-out-of-beta FaceTime for Mac app for holding video calls with other Mac owners as well as iPhone 4 and iPod touch users.
Performance
All the hardware changes would be for nothing if the new MacBook Pro's performance didn't stand up, but that's most definitely not the case. We started out with Geekbench as usual, a synthetic test of processor and memory, and the difference between the 2011 model and its mid-2010 predecessor was dramatic. The new MacBook Pro scored 10,932, while the Core i7-620M 2010 machine – running at 2.66GHz, and with 4GB of RAM – scored 6,309. That's a more than 70-percent boost in stepping up to the quadcore model.
[sgbenchmark id=133 show=score]
[sgbenchmark id=93 show=score]
We then turned to Cinebench, which benchmarks both CPU and graphics card performance, using a mixture of 3D renderings and OpenGL tests. It gives a good overview of how capable a computer will be at system-intensive tasks like video processing and gaming. Again, we compared the mid-2010 MacBook Pro with the new 2011 model.
Unsurprisingly, the new notebook outclassed its predecessor across the board. The four individual cores of the 2011 model scored higher in CPU testing, and the overall CPU performance was more than twice what the older model could manage. As for graphics, in the OpenGL testing the 2010 MacBook Pro managed 17.27fps, while the new model achieved 35.42fps.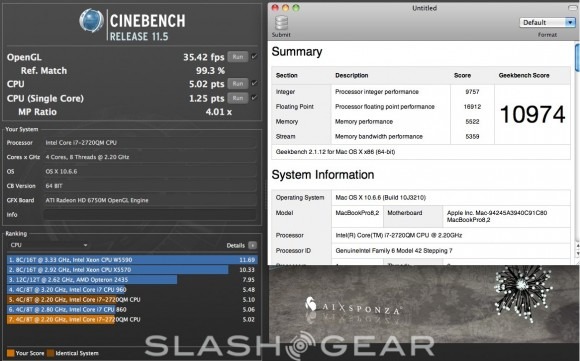 Finally, we looked to xbench, a combination of CPU, GPU, memory and drive testing. Again, the quadcore processor and fast RAM made short work of the 2010 notebook, with xbench's CPU, thread and memory tests coming out 14-percent, 68-percent and 71-percent higher respectively. Graphics, too, were comprehensively higher, with the 2011 MacBook Pro scoring on average 37-percent higher across xbench's various GPU tests.
In fact, the only element really holding the new MacBook Pro back was the hard-drive, its 5,400rpm speed proving underwhelming. xbench recorded sequential uncached write speeds of 111.13 MB/sec and read speeds of 28.56 MB/sec with 4K blocks, and write speeds of 83.25 MB/sec and read speeds of 77.54 MB/sec with 256K blocks. Random uncached write speeds reached 1.47 MB/sec and read speeds of 0.42 MB/sec with 4K blocks, and write speeds of 29.06 MB/sec and read speeds of 24.36 MB/sec with 256K blocks.
Contrast that with the speeds recorded from the third-party Samsung 470 Series SSD (review) in our 2010 MacBook Pro test unit, and the limitations of a traditional HDD become clear. In both sequential and random reads and writes, the SSD thoroughly bests the HDD: sequential write rates reach as high as 234.52 MB/sec (with 4K blocks) while read rates manage 210.36 MB/sec (with 256K blocks). The boost to random read/write performance is even more dramatic, the faster and more responsive SSD making a strong argument for bypassing HDDs altogether. Overall, with the standard-fit HDD the 2011 MacBook Pro scored 222.31 in xbench – versus the 312.47 of the SSD-equipped 2010 notebook – but that increased to 413.91 when we installed the SSD into the new model.
High benchmarking figures are one thing, but it's real world performance that makes the difference – and convinces someone whether or not to upgrade. We tested the 2011 MacBook Pro with high definition video exporting in iMovie, and the improvements are considerable. Exporting a 720p clip lasting 1m 31s on the new notebook took 1m 41s; in contrast, the 2010 notebook (with the SSD) took 3m 03s. When we switched the standard HDD for an SSD in the new MacBook Pro, that slimmed the export down to just 1m 33s.
We then ran the same test, with the SSD still installed, on the same clip but exporting at 1080p, and the 2011 MacBook Pro took 2m 55s. It's worth remembering that this is merely the final export process; the 2011 model also imported raw footage quicker than its predecessor, and was faster making cuts and edits as we modified clips.
FaceTime HD
Apple introduced FaceTime, its proprietary video calling system, with the launch of the iPhone 4, and since then it has spread to the fourth-gen iPod touch and, most recently, to OS X. With FaceTime HD, Apple marks the transition to a higher-resolution webcam, supporting 1280 x 720 video. It's certainly far clearer and crisper, a noticeable step up from the previous generation of MacBook Pro.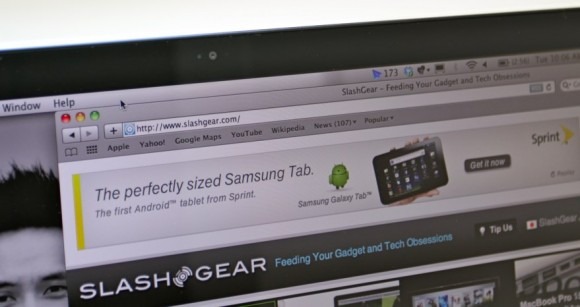 FaceTime HD makes the most sense between new MacBook Pro owners, given they're the only ones who will actually see the HD part. Previous-gen notebooks had VGA resolution iSight webcams, so won't be able to send (but will be able to see) 720p video, and the iPhone 4 and latest iPod touch each have VGA front-facing cameras themselves. We'd expect Apple to remedy the latter in future updates, and the iPad is expected to get a front-facing camera itself in its imminent refresh.
Thunderbolt
Arguably the most interesting feature of the new MacBook Pro is, frustratingly, the one we can't currently test. Thunderbolt is Intel's production name for Light Peak, the high-speed connectivity standard that hopes to replace USB, FireWire and various video ports along with way. Promising 10Gbps of bi-directional communication, along with 10W of bus-power and the ability to daisy-chain in strings of up to six peripherals, Thunderbolt makes its debut on the 2011 MacBook Pro line.
For the moment, though, the Thunderbolt port will generally only see Mini DisplayPort connectors plugged in: there simply aren't any Thunderbolt peripherals out there yet. It's backward compatible with your existing Mini DisplayPort hardware, so a current Apple LED Cinema Display will hook up without adapters required, but we'll have to wait until later in 2011 for the first Thunderbolt hardware. That's going to include external storage – LaCie, Promise and others are talking about RAID arrays, and Apple has shown us a dual-SSD high performance external drive targeted at video professionals – as well as A/V interfaces.
From what we've seen in private demonstrations with Apple, however, Thunderbolt has no shortage of promise. A 5GB file moved from the MacBook Pro to a Promise Pegasus RAID in a matter of seconds; meanwhile, the notebook could pull four, uncompressed HD video streams from the RAID, then push that back out down the same Thunderbolt pipe to an LED Cinema Display. In effect, there's 20 Gbps of bandwidth to play with – 10 Gbps for DisplayPort video and 10 Gbps for PCI Express data – with this particular demo pulling at around 7 Gbps from the RAID and then pushing at around 6 Gbps to the monitor. Apple tells us that, theoretically, a single Thunderbolt connection could drive two 27-inch LED Cinema Displays simultaneously. Since there's no daisy-chain Thunderbolt connection on the current Cinema Display line, however, they'd either need to be updated or users have a desktop hub.

Battery Life
As with previous iterations, the 2011 MacBook Pro range features integrated, non-user-replaceable batteries. However, it also marks a change in how Apple measures runtime estimates. Traditionally, manufacturers have promised the longest figures possible, leading to usage expectations far beyond what notebooks can actually achieve in everyday use.
Apple's switch, then, is to a more realistic model of testing, or what the company is calling "wireless web testing." That involves setting the display brightness to 50-percent and then browsing "25 popular websites" over a WiFi connection until the MacBook Pro expires.
The result is a shorter estimate, on paper, compared to previous generations of notebook, but one, which is more in keeping with what owners can legitimately expect. Apple suggests 7 hours is reasonable, and we've found that to be pretty accurate. The previous-generation model was rated at up to 9 hours using Apple's old-style testing, but we found 7 hours was a likely maximum in regular use.
With an HD video on looped-playback in the background, we exported seven 1m 31 second 1080p HD videos, import and edited numerous images in iPhoto, then browsed and wrote emails over WiFi; brightness was at 3 bars for around 45 minutes and then at 50-percent for the remainder of the time, until the notebook shut down after 3 hours and 15 minutes. It's still relatively early days for the new MacBook Pro, and so we'll revisit battery life after some more real-world testing over the next week or so.
Pricing and Value
The new 2011 MacBook Pro line starts at $1,199 for the entry-level 13-inch, though that rises to $1,799 if you want a 15-inch model. Our review unit – with the 2.2GHz CPU, 750GB 5,400rpm HDD and AMD Radeon HD 6750M 1GB graphics – is $2,199. The single 17-inch pre-configuration is $2,499. Making like-for-like comparisons with Windows notebooks is difficult, since availability and pricing for models using the 2011 Core Series processors isn't expected until mid-March at the earliest. Still, we'd expect Apple's machines to command a small premium though in return offer currently exclusive features like Thunderbolt connectivity.
As ever, there are a few points to bear in mind. Those replacing a previous-gen MacBook Pro won't be able to carry across any RAM upgrades, since the new model uses faster chips than the older versions, and Apple charges $200 for an extra 4GB. Still, with the right screwdriver head it's relatively straightforward to open the base panel and swap out the memory for a third-party 8GB upgrade.
While that bottom panel is open, it's worth considering an SSD. One of the more common questions we're asked is whether a solid-state drive makes for a practical and worthwhile upgrade in a notebook, and our answer is generally yes – as long as you can afford it. There's obviously a penalty involved in terms of both price and capacity; Apple's official SSD upgrades, for instance, are $200 for 128GB, $600 for 256GB or a whopping $1,200 – the same as a brand new 13-inch MacBook Pro – for 512GB. In comparison, the entry-level 15-inch machine comes with 500GB of regular HDD storage as standard (for a frustrating $100 you can upgrade that to a faster, but identically sized, 7,200rpm version).
Nonetheless, there are cheaper third-party SSDs out there, and they make a significant impact in performance and durability. A set of spinning platters preserving all your vital files is always going to be a potential liability, and while SSDs aren't immune to data loss, they're more resilient to the sort of knocks and bumps most laptops suffer in daily use. With some strategic data management and an external drive, road-warriors can generally work around the capacity limitations and benefit considerably from the speed boost.
Wrap-Up
Make no mistake, this is a dramatically faster MacBook Pro than its predecessor, and the bulk of the credit must go to Intel's Sandy Bridge processors. The combination of the quad-core CPU, fast memory and capable AMD Radeon GPU adds up to a notebook that's adept at media editing and should turn its hand to gaming as well, if that's your priority. Apple's 7 hour battery estimates obviously won't hold up if you're doing heavy-duty video processing, but the Intel integrated graphics hold up their end of the bargain and give the new MacBook Pro some legs when it comes to everyday tasks like browsing, email and Office apps.
Thunderbolt makes another speed promise, but it's too early to tell what impact the new connection will have. Even when peripherals using the port are on the market, they'll be of primary interest to media editing professionals with high expectations and deep pockets. Most everyday users will probably still be satisfied with the speed USB 2.0 or FireWire 800 offers, and prove unwilling to spend what first-gen Thunderbolt hardware costs. That said, each new port technology has to start somewhere, and Apple has proved at-times ruthless in its adoption of cutting-edge standards. You can bet the company has an eye on ditching FireWire, USB and the others in favor of Thunderbolt, just as it did before with parallel ports, serial ports and floppy drives.
The 2011 MacBook Pro range, then, does a solid job of building on the strengths of its predecessors while also introducing new functionality and speed. The Sandy Bridge processors make a compelling argument, and the dual graphics mean the notebook has a double life as a hardcore media cruncher and an everyday machine capable of lasting most of a workday on a single charge. Factor in OS X's usability, strong build quality, and the future-proofing Thunderbolt provides, and the 2011 MacBook Pro adds up to a near-perfect speed demon beautifully wrapped up in a timeless chassis. Rating: We're working out our metrics for rating so please check back for details. [visit Apple MacBook Pro website for more details]
MacBook Pro 15-inch (early 2011)
[sgbenchmark id=133 show=system]
MacBook Pro 15-inch with ThunderBolt Unboxing video:
[vms 3ba19df81a90f89d99bc]