iOS 5 To Revamp Notifications And Introduce Widgets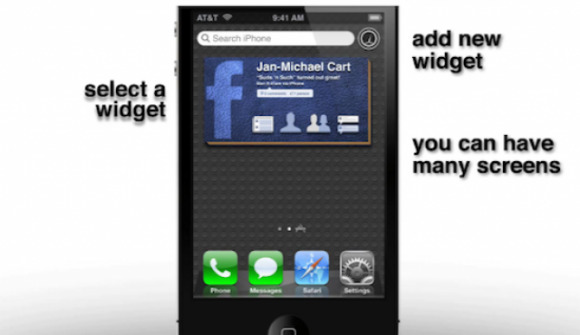 Apple's WWDC event next month is sure to bring many big announcements. Despite the swirling of rumors about all kinds of revelations to come, the only area that seems pretty dead set is firmware developments rather than hardware. The speculated iPhone 4S and iPhone 5 most likely won't be making an appearance. But, a demo of the new iOS 5 seems certain, and may now be bringing some major changes.
According to TechCrunch sources, iOS 5 will not only be adding Nuance voice recognition, but will also be completely revamping notifications and adding widgets to the interface. Apple's notifications system has long been a common complaint amongst users, feeling that its current state is intrusive and just overall badly designed.
However, adding widgets is an entirely different matter. It will be interesting to see how widgets will be implemented in harmony with the current iOS interface. Some concepts have suggested that widgets could be placed on the search page that you get when you swipe to the right. Or, perhaps it could be added just as another home screen page. What do you guys feel about the addition of widgets to iOS 5?
Also, here's the passage from TechCrunch that's asserting these developments to be revealed at the upcoming WWDC:
The second bit of information we have heard is about iOS5 itself. First of all, while we've been leading the reports of Nuance technology being fully baked into iOS 5, one place we've heard it won't be used (at least not yet) is Voice Control. That's odd since it's perhaps the most obvious usage. But apparently, in the builds of iOS 5 currently being tested, the little-used feature hasn't changed at all, we hear.

That could obviously change before the release (which is still likely months away, even though it will be previewed at WWDC), but apparently the Nuance technology is meant for bigger things more core to the OS than that one feature.

The other big news for iOS5 — and yes, I've completely buried the lede here, thanks for reading! — two things: completely revamped notifications and widgets.
[viaCult of Mac]