Apple wins early access to Samsung phones/tablets in copycat case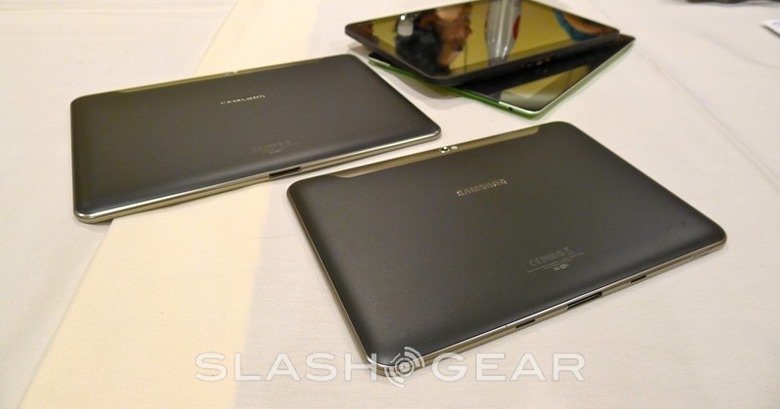 Samsung must hand over samples from its current and incoming smartphone and tablet range, along with marketing materials, to Apple's legal team as part of an "expedited discovery" process to see whether allegations of design similarity are accurate. That's the ruling of San Jose Federal Judge Lucy Koh, Courthouse News reports, who brought forward access to the Samsung Galaxy S II, Galaxy Tab 10.1, Galaxy Tab 8.9, Infuse 4G and DROID Charge after Apple "produced images of Samsung products and other evidence that provide a reasonable basis for Apple's belief that Samsung's new products are designed to mimic Apple's products."
However, contrary to some reports, neither Apple nor its in-house legal team will actually get to see any of the Samsung hardware. Instead, the judge limited access to "Outside Counsel Eyes Only" meaning it will be Apple's retained lawyers, Morrison & Foerster, who get to pick through the Samsung kit.
"In particular, the design and appearance of Samsung's forthcoming products and packaging are directly relevant to Apple's trademark, trade dress, and design claims. Because these claims are subject to consumer confusion and "ordinary observer" standards, the products themselves and the packaging in which they are sold are likely to be central to any motion for preliminary injunction" Court Order
Although Samsung argued that early access – even to an external legal team – could be "prejudicial" to its own sales success, Judge Koh highlighted the company's Google I/O Galaxy Tab 10.1 Limited Edition giveaway and "evidence that Samsung has already released images and samples of its forthcoming products to the media and members of the public."
Samsung now has 30 days to hand over product samples, packaging and package inserts, though Judge Koh stopped short of deposing the company's executives. That's despite Apple citing Samsung exec Lee Don-Joo who admitted the company was taking its tablets back to the engineering labs to "improve the parts that are inadequate" – particularly the thin build – when compared to the then-new iPad 2.
[via Electricpig]