SlashGear Weekly Roundup Video - June 26, 2011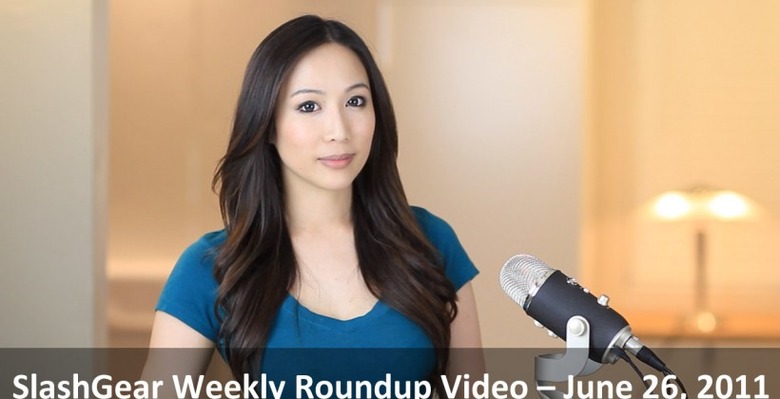 New hope for the Nokia and Microsoft partnership came this week with the unveiling of the N9 MeeGo handset and the Windows Phone Mango version of it dubbed the "Sea Ray." The N950 sports a similar styling but will have a larger screen, slide-out QWERTY keyboard, and be deemed a developer-only device. All in all, a positive week in developments for Nokia, but not so much for RIM. The BlackBerry maker began layoffs this week and further cut back sales estimates of the PlayBook tablet.
Various budget-friendly Android tablets are on their way, including the Vizio 8-inch tablet, Acer Iconia Tab A100, Archos G9 series 8-inch and 10-inch tablets, and the Huawei MediaPad. Various smartphones are either on their way or have just launched, including the Motorola TRIUMPH, Droid 3, and Droid Bionic. There's also the AT&T LG Thrill 4G and the T-Mobile myTouch 4G Slide. Some Apple news rounds out this week's review. The full video and list of pertinent links can be found below.
[vms b1c1c49d7c3d79c60d00]
Nokia:
Nokia N9 official: 3.9-inch MeeGo smartphone
Nokia N9 on sale "within a month"?
Nokia N9 Android app support promised with Alien Dalvik
N9 camera fastest around boasts Nokia; NFC image transfers supported
Nokia N9 Sweden Release September 23rd, Gorilla Ice Cream in Tow
Nokia Windows Phone gets demo: N9-a-like shows Microsoft love [Video]
Nokia unveils new accessories for its smartphones
Nokia N9 and NFC Nokia Play 360 speaker hands-on [Video]
Nokia N950 confirmed for MeeGo devs: 4-inch QWERTY slider
Nokia N950 arriving with MeeGo developers now
RIM:
RIM Forcing Half-Baked BlackBerrys On To Carriers?
Seesmic App Drops BlackBerry Support, Other Apps To Follow?
RIM Starts Layoffs After Dismal BlackBerry News
RIM slashes PlayBook sales goals for Q2 2011
Upcoming budget-friendly Android tablets:
Vizio 8-Inch Android Tablet Demoed In Hands-On
Acer Iconia Tab A100 Hits Walmart For $349
Archos G9 Android 3.1 Tablets Get Dual-Core Fast, 250GB Storage, 3G Ready, And Low Price
Huawei MediaPad brings Android 3.2 on 7-inch 1.2GHz dual-core
Android 3.2 Honeycomb update in "next few weeks"; Huawei MediaPad tipped for August
Smartphones:
Motorola TRIUMPH Pre-Orders Start Today At Best Buy For $299
Motorola Droid 3 To Arrive At Best Buy July 13?
Motorola Droid Bionic Still On Schedule
LG Thrill 4G For AT&T Officially Unveiled
T-Mobile myTouch 4G Slide caught in wild ahead of July 6 release
Apple:
Apple Final Cut Pro X released
Apple Final Cut Pro X To Get Updates Every Six Months
Samsung denied early iPad 3/iPhone 5 access but Apple sales injunction hopes fade
Apple files patent infringement suit against Samsung in South Korea
Apple granted iPhone multitouch patent: Lawyers prepare for action
iOS 5 Beta 2 Now Available To Developers
Mac OS X v 10.6.8 update now available
New AirPort Extreme and Time Capsule details emerge, launch imminent
Apple Time Capsule gets 3TB storage boost [Ouch: $499!]
Apple AirPort Extreme gets tiny blip of an update
Mac Pro and Mac Mini August refresh tipped: Sandy Bridge, Thunderbolt and Lion
iPhone 5 to be an August game-changer?
Hands-on/Reviews:
LaCie Little Big Disk with Thunderbolt hands-on [Video]