Nokia N9 And NFC Nokia Play 360 Speaker Hands-On [Video]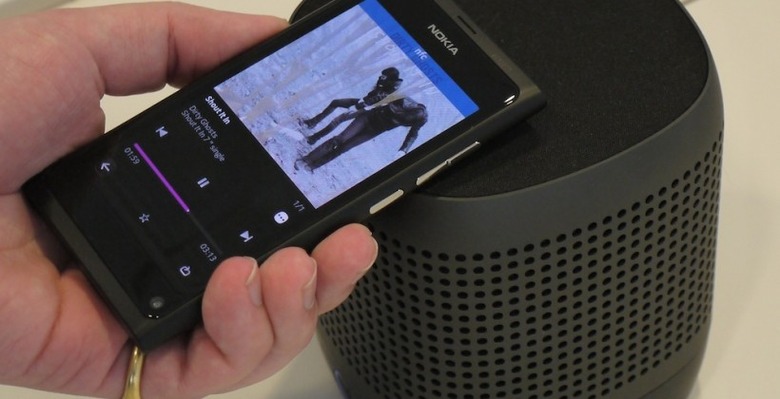 The Nokia N9 joins one of the relatively rare groups of smartphones with NFC built in, and rather than worthy-but-dull applications like wireless payments, the company is using it for easy accessory pairing. The new Nokia Play 360 speakers use Bluetooth A2DP for their wireless connection, but pair with the N9 using NFC. Check out our demo after the cut.
Switch on the media player on the N9 itself, and then tap it against the speaker, and an NFC pop-up at the top of the display shows that the two are paired. Within seconds, the audio is re-routed across via the Bluetooth link.
[vms e6a358a81dee52493dd0]
If you want to restore it to the phone, tap it again and the speaker deactivates. You can also switch to Nokia's new Bluetooth headset, the BH-111, by using the same tapping process. The MD-310 Wireless Music Receiver – which plugs into a 3.5mm input on your stereo or another media player – also supports NFC pairing.
The Nokia Play 360 is pretty impressive in its own right. Larger than previous Nokia speakers, it's battery powered and packs 50W of amplification. If you have two of them, you can tap them together to pair – again, via NFC – and then use them as two halves of a stereo pair. They'll go on sale in Q3 2011, pricing details here.