Nokia N9 Sweden Release September 23rd, Gorilla Ice Cream in Tow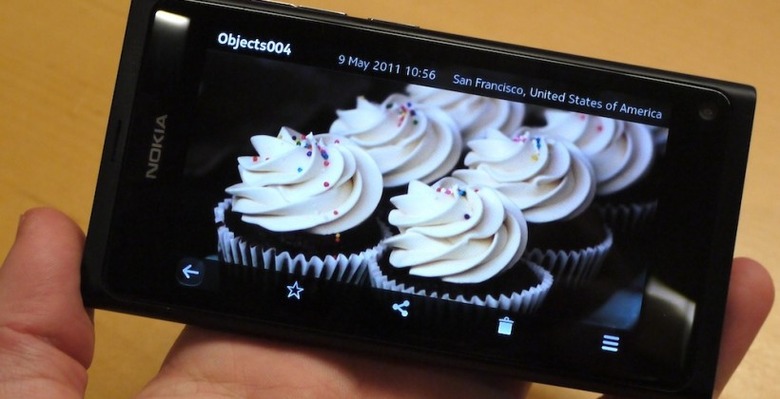 Yes indeed, there is still a collection of imperfect translations inside the Google translate world, even if you take the text your translating out of the webpage and jam it right in to the translator in its home. Thusly did Gorilla Glass become Gorilla Ice Cream and "delicious" stylings. Actually that's probably translated correctly, I personally use such tasty descriptors for reviews all the time. That said, there's a release to be had here, a release of information that states the Nokia N9 will be coming out September 23rd on 3 in Sweden.
This device is one garnering quite the large amount of attention as of late since it's release late yesterday, what with its lovely and awe-inspiring AMOLED screen, buttonless facia, and MeeGo packed brightly colored hardware. We've head previously that this device wold be on sale "within a month" but it seemed too good to be true then and it seems too good to be true now. Instead we'll have to wait for a final version of this device (at least in Sweden) for a stack of weeks instead. This information came from this press release which, if you translate like we've translated, gives you some Dian Fossey word magic.
Now for the coverage we've got, because it's a lot, and you've got to know! Back on the 20th we saw the world's first leaked press shots of the N9, and almost immediately afterward we saw the official release of the device in a post called Nokia N9 official: 3.9-inch MeeGo smartphone. Then there was a whisper of a developer side device, the Nokia N950, a QWERTY slider. Not for the public! All this was sort of interrupted by the news that Symbian Anna would be on the N8, E7, C7, and C6-01 by the end of August.
Ohh, then there was some pretty fabulous accessories announced including some cool can-like speakers. Of course then we were amongst the very lucky few to get a hands-on look at the Nokia N9, also being able then to have a hands-on with the NFC Nokia Play 360 speaker – aka the can. Our man in England Chris Davies who's been bringing all of this to you and I wrote then a column by the name of Why Nokia's N9 leaves me confident about Windows Phone, and the comments did rush in!
Nokia noted at this point that their camera is the fastest around and can transfer images via NFC, while the Nokia N950 gets a full video tease. Finally, or last up until this release here and now, a reiteration of the fact that the Nokia N9 will be supporting Android applications via Alien Dlvik. Wild stuff!