Nokia N950 confirmed for MeeGo devs: 4-inch QWERTY slider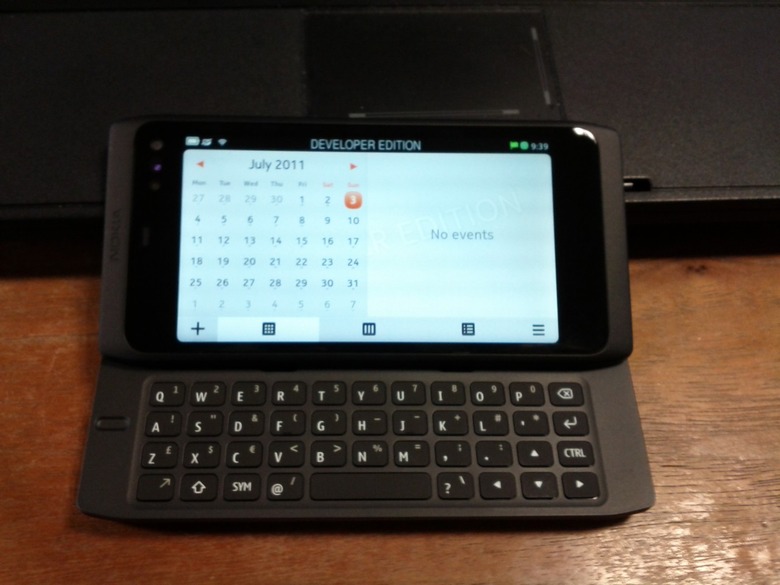 Nokia's N9 certainly looks like the device to reignite complaints over the company bypassing MeeGo, but what if you're a developer and you want some physical QWERTY goodness too? The Nokia N950 developer device has also been quietly announced, a 4-inch LCD TFT 854 x 480 slider with a tilting screen, the same 1GHz OMAP3630 processor and PowerVR SGX530 graphics as the N9, and what we're guessing is a form-factor very similar to the much-leaked photo shown here.
Unlike the N9 there's an aluminum chassis rather than polycarbonate, and NFC is missing. There's also a 1320 mAh battery, smaller than the N9's 1,450 mAh. The camera also comes in at 8-megapixels, but is apparently a different unit to the consumer-focused device (though of "very similar image quality"). The N950 gets Bluetooth 2.1 whereas the N9 supports Bluetooth 4.0, and has a "slightly more sensitive" digital compass and ALS.
Although the temptation of QWERTY will be hard for many to avoid, Nokia is pretty resolute that the N950 is a developer device and not intended to be an everyday phone. Construction will be of "beta quality" according to the specs, and there will be no warranty or support to fall back on. This is definitely one for the developers to cook up MeeGo apps on, rather than for you to carry in your pocket.
No word on pricing or availability at this stage.
Update: Photo of the final developer edition handset above courtesy of Brendan Arndt.
[via My Nokia Blog - thanks Andy!]