LG Thrill 4G For AT&T Officially Unveiled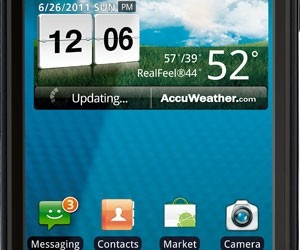 AT&T today confirmed that the LG Thrill 4G will be arriving this summer packed with 3D content. The LG Thrill 4G looks familiar because it's essentially the LG Optimus 3D but now tied in with AT&T. We first got our hands on the 3D-capable smartphone back when it was announced in February and now it will be ready for the summer with 4G HSPA+. LG's partnership with Gameloft will also bring more 3D content and games for the device.
What's nice about the LG Thrill 4G besides supporting 3D image and video capture with its dual array 5-megapixel rear-facing cameras is that it will come with plenty of 3D app support. It will ship with YouTube 3D along with 3D games such as Asphalt 6, Let's Golf 2, and NOVA. More 3D games can be had from the Gameloft 3D store while 3D movies can be downloaded from mSpot.
The LG Thrill 4G features a 4.3-inch display that supports glasses-free 3D viewing. It has a 1GHz dual-core processor and its dual-array cameras can record 3D in 720p and 2D in 1080p. It will ship with Android 2.2 and support AT&T's HSPA+ 4G network on launch. If you're in the market for a 3D smartphone, you might want to take a look at our comparison between the LG Optimus 3D (LG Thrill) and the HTC EVO 3D.
[via Android Community]