LaCie Little Big Disk With Thunderbolt Hands-On [Video]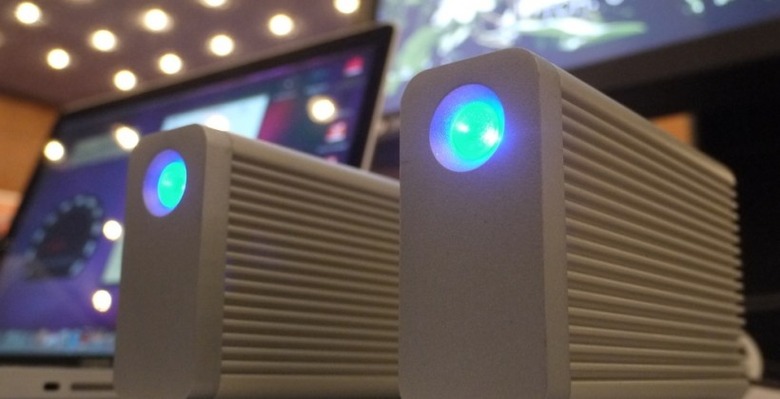 Apple's 2011 MacBook Pro laptops have been on the market for several months now, and there's one port that has resolutely refused to be used in the way it's intended. Devices bearing Thunderbolt ports – Intel's high-speed connectivity standard co-developed with Apple – are yet to hit the market, but SlashGear caught up with LaCie for a pre-launch demo of the new Little Big Disk. The name might be daft but the performance is anything but: over 825 MB/s read speeds.
LaCie had two Little Big Disk units on hand, each packing a pair of 160GB SSDs set up in RAID 0 configuration for speed. The first drive was hooked up to a Core i7 MacBook Pro, and then a second Little Big Disk was daisy-chained off that, with the two external drives set up in a second RAID 0 configuration. Off the back of the second drive was a 24-inch Full HD LCD display.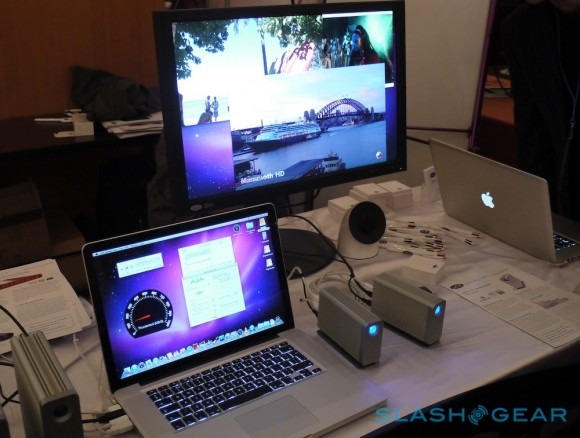 The first demo was a raw speed test, reading and writing to the drives with 4GB files. As you can see in the video, the MBP was able to write at up to 352.5 MB/s, while read speeds reached 827.2 MB/s. The company told us that the same setup had hit 870 MB/s peaks in their own testing.
[vms 8bc0ae9b13a1aa71add7]
The second test was playing back three simultaneous video files stored on the drives, each coming in at 1080p Full HD resolution. Again, as in the video, playback was stutter-free whether windowed or full-screen. We were also able to scrub back and forth through the clip – with the two others running in the background – with no lag or pauses.
LaCie tells us that, as well as the SSD Little Big Disk, there'll be an HDD version pairing two regular hard-drives. That should be more affordable – the company isn't saying exactly how much the Thunderbolt drives will cost, but a pair of SSDs is never going to be cheap – though with some inevitable impact on overall performance. The SSD version will drop sometime over the summer, with production starting soon; there's no public timeline for the HDD model.