Acer Iconia Tab A100 Hits Walmart For $349
More affordable Android tablets are starting to crop up, with the most recent being the Acer Iconia Tab A100. It's the 7-inch little brother to the 10-inch Acer Iconia A500, which we've reviewed and spent some time with. The A100 was slated to arrive back in May, but got delayed possibly due to incompatibility issues of Android Honeycomb with the smaller 7-inch screen. But whatever the problem was, it seems to have been worked out because tags for the tablet have been spotted today at Walmart.
The Acer Iconia Tab A100 will come running Android 3.0 Honeycomb on a 1GHz NVIDIA Tegra 2 dual-core processor. It sports 512MB of RAM and 8GB internal storage with the option to expand up to 32GB via the microSD slot. Its 7-inch display boasts a 1024x600 resolution and it will have a 5-megapixel rear-facing camera along with a 2-megapixel front-facing camera. Supports both Wi-Fi and Bluetooth.
The A100 was delayed and even at one point thought to be scrapped altogether. But early this month, the tablet passed through the FCC signaling it's imminent arrival to store shelves. And indeed, the snapshots of the Walmart tags prove it's about definitely here and with a very affordable $349 price tag. Another similarly priced tablet on its way is the Vizio 8-inch slate that should hit Walmart within the next two months.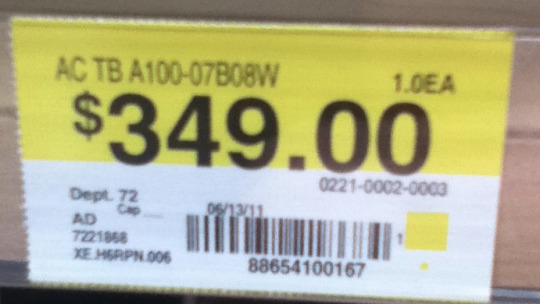 [via Android Community]