Windows Phone 7.1 Mango Technical Preview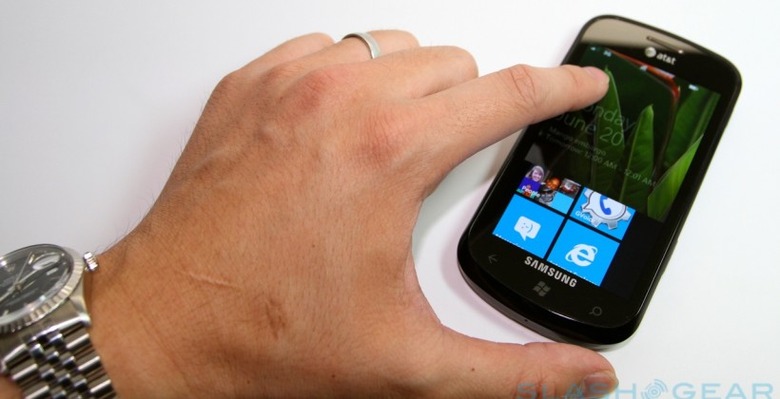 It's been eight long months since we reviewed our first Windows Phone 7 handset. Microsoft's rebooted platform launched with a bang at the tail end of 2010, promising not only a new start from the Windows Mobile days of old, but a fresh interpretation of what a smartphone should be like. A tentative hit with reviewers but less so among consumers, however, Windows Phone's impetus fizzled out as new devices failed to appear. Now, Windows Phone 7.1 "Mango" is coming to fill in some of the gaps, tidy up some of the loose ends and – Microsoft hopes – make the platform a more realistic competitor to iOS and Android. Check out the SlashGear review after the cut.
The Story So Far
Microsoft's original plan for Windows Mobile was iterative, an update rather than a total reboot, but the company sensibly decided to start anew rather than attempt to drag its aging platform (complete with a less than glowing reputation) up to date. The first Windows Phone 7 handsets arrived in Europe in late October 2010 and in North America early the following month, with ten devices from HTC, Dell, Samsung and LG.
The platform had obvious promise, not least because Microsoft had stepped away from the existing paradigm of gridded icons and instead adopted a dramatically different "live tile" system and themed hubs. Windows Phone 7's UI looked unique and clean in comparison to rivals, and a regimented minimum specification mandated to each OEM left handsets smooth and consistent.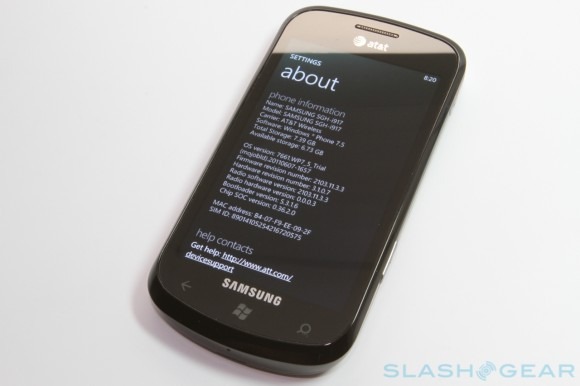 However, consistency was only part of the problem. Compared to the by-then established Android and iOS, Windows Phone 7 missed obvious features like copy & paste, multitasking, voice-prompted GPS navigation and universal search. Microsoft's constraints around hardware choices left all of the first-gen handsets very similar, with little to recommend one from the other, and with neither an entry-level "beginner's Windows Phone" nor a class-leading flagship to aspire to.
The "NoDo" update addressed some of the software shortcomings toward the end of Q1, with copy & paste among other things, but it's Mango that may well make or break Windows Phone. Set to arrive this fall, we've been using a pre-release version of v7.1 – 7661.EP7_5_Trial to be exact, on an AT&T Samsung Focus – to get an idea of how well it addresses the gaps in the Windows Phone experience.
Twitter and SkyDrive
Microsoft is claiming around 500 new features in Mango, though many of which won't be noticed by everyday users. It's also worth noting that, in its pre-release form, there are some aspects still non-functional. The much-anticipated Twitter integration – which follows a similar path as the existing Facebook system, in adding tweets to the People hub as well as hashtags, @-mentions and link support – is missing from our test build.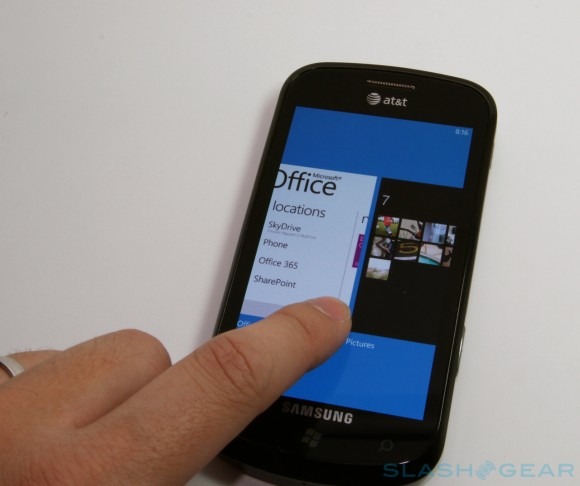 Similarly, Microsoft's SkyDrive integration – which will see users storing photos, video and documents in cloud storage, including background uploads, remote access as if the content was local, easy sharing and access to files shared with you by others, and support for cloud searching – is also not yet ready for us to test. We'll revisit these features when a commercial Mango device is available.
Multitasking and Live Tiles
Like iOS a few versions back, Windows Phone 7 launched without multitasking support. Rather than jumping between apps, users had to return to the homescreen and then navigate back out again. Mango changes all that: a long-press on the Back button and a side-scrolling list of recently-used apps are shown, each with a preview of their last state. Unlike the default Android switcher, which shows the six most recent titles, every app used is presented; similar to webOS' cards, you get a useful preview, though this isn't "live" as on HP's phones.
Rather than allowing software to run of its own accord in the background, as on Android and webOS, Microsoft has followed a more structured path like on the iPhone, with apps left in a "frozen" state when not at the fore. This means a reduction in unnecessary power consumption and no CPU-hogging, though it does mean developers need to implement Mango's new Live Agents and APIs if they want key background elements of their apps to continue operating while the user does something else.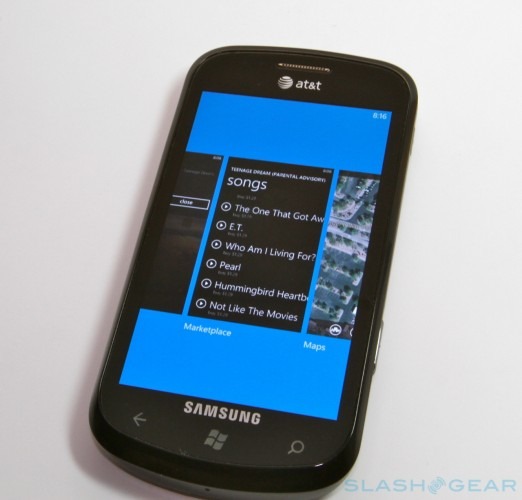 Currently, these Live Agents include support for background audio – continuing to play music while the user does something else, including integration of playback controls and track ID into the Music hub – along with the camera, GPS, the accelerometer, compass and gyroscope. In addition, there are APIs for boosted notification support – such as setting Windows Phone alarms and reminders from third-party apps – together with the handset's calendar and other local content.
It works, and for a consumer-centric device – rather than, as Android arguably is, something with half an eye on the technically-minded – Microsoft's decision to give developers a more structured environment does make sense. Unfortunately, it also demands that they work their apps to suit the multitasking system, which meant the titles we tried from the Windows Marketplace didn't necessarily support it.
Still, there's considerably motivation for developers to go to that effort, not least because Microsoft has opened up its Live Tiles system to greater third-party integration. Live Tiles, a key element of the Windows Phone homescreen, are dynamically updating, customizable blocks that can show notifications, image previews and other content. In Mango, the flexibility of that dynamic updating has been extended, and third-party apps have a similar range of options to the core software on the phone.
So, now you can have a weather app with a Live Tile that shows the current conditions, evolving as the day goes on and as you move around. Or, retailers can offer promotional Live Tiles, with the latest discounts flagged up. The system was one of our favorite parts of the original Windows Phone 7, an interesting hybrid of widgets and icons, and we're glad to see Microsoft capitalize on that. There's also more native functionality for them, which we'll cover in a moment.
Email
One thing you could say about Windows Mobile: it handled Exchange integration very well. Still, with both being the handiwork of Microsoft that should come as little surprise. In the meantime, though smartphones have evolved from being the preserve of enterprise to consumer devices, and most consumers don't come to the table with a single Exchange account.
Out of the box there's the usual support for multiple POP, IMAP and Exchange accounts, with presets for Gmail, Yahoo! and other providers. Using Gmail's ActiveSync support, you can have push-email as on an Android device, too. Of course, Microsoft would prefer you to have a Windows Live email address, and you'll still need a Live account to use features like the Marketplace.
New to Mango is the Linked Inbox, and it's a great addition. Rather than limiting you to either separate inboxes – one per account – or combining every account into a single inbox, Windows Phone 7.1 allows you to group different selections of accounts individually. So, if you have a number of personal email addresses, as well as a handful of work addresses, you can link the former and the latter independently, viewing only the amalgamated personal inbox or the work inbox.
We already liked the way Windows Phone 7 handled email – the layout is clean and clear, the app swift and triaging a heavy inbox is very straightforward – and the Linked Inbox makes it even better. Another useful addition is Conversation View, which pulls together threaded conversations for easier reading. Multiple inboxes can be pinned to the homescreen as Live Tiles, with unread message counters.
For those who do use Exchange, Microsoft has added some more enterprise-friendly abilities, like control over Out of Office messages and the ability to search the email server. There's also support for synchronizing to-do lists and multiple Exchange calendars. It's unlikely to make much of an impression on regular consumers, but it should help Windows Phone reclaim some of its market in businesses.
Messaging
Windows Phone always allowed you to pin individual contacts to the homescreen, showing previews of their latest photo uploads, Facebook status messages, missed calls and more. With Mango, that's enhanced to support Groups: linked sets of contacts. A "Family" group is automatically created, based on those people with the same surname as the user – great if you have a distinctive last name, but "Smiths" should probably expect to do some pruning – but you can create multiple groups of your own, such as work colleagues or school friends.
Just as with individual contacts, groups show combined status updates from Facebook and Twitter, and photos they've uploaded. They can be pinned to the homescreen, too, and you can fire off a group email, SMS or IM over Facebook Chat or Windows Live Messenger (the latter supported by Xbox consoles as well as PCs and phones, of course). Unfortunately there's no way to send Twitter direct messages to a group of people.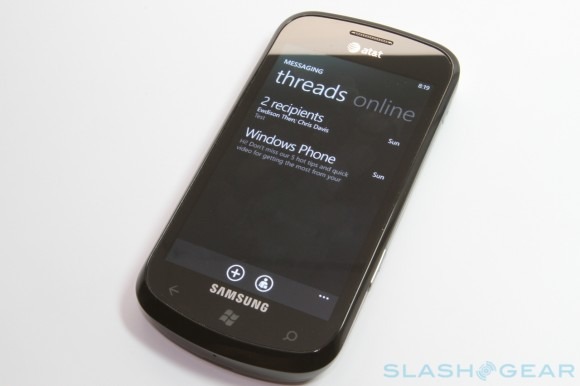 Messaging overall has had a boost in Mango, with the new Threads feature. Rather than having a separate page for each method of IM – SMS, MMS, Live Messenger or Facebook Chat – your conversations are merged into one. As before there's a chunky speech bubble UI, only now each update shows not only time/date but also the route by which it arrived on your device. By default, your reply uses the same route as the most recent message, but you can switch in-line to different phone numbers, to Live Messenger or to Facebook Chat. Status updates for the latter two services are included, so if your friend logs out of Facebook then you can ping them over SMS instead. Again, the only frustrating omission right now is Twitter direct messaging.
What's still unclear – and what could make the difference between Threads being a real selling point or not – is whether Microsoft will allow third-party apps to integrate too. SMS and MMS are common standards, but there are plenty of people using Google Chat or other IM systems rather than Windows Live Messenger and Facebook Chat. Meanwhile, there's recent Microsoft acquisition Skype to consider, itself offering IM alongside VoIP. It's obviously far too late for Microsoft to comprehensively integrate Skype into Mango, but we'd like to see some commitmentit' to including it – and other services like it – into Threads. As it stands, it's a great way to handle communication across a number of platforms, but it'll only ever be as useful as the services it supports.
Internet Explorer 9
The IE7-based browser in the original version of Windows Phone was solid but lacked support for increasingly common web standards like HTML5. For Mango, Microsoft has switched to the same Trident/5.0 layout engine as in IE9 on the desktop, adding in support for hardware acceleration taking advantage of the increasingly powerful GPUs on mobile chipsets.
That engine update means IE9 on Mango plays nicely with HTML5, CSS3, SVG, DOM, XHTML, ECMAScript, HTML5: Video, audio, geolocation, canvas, local storage and more. There's support for sites that access the phone's location services, camera, microphone and local apps, along with easy sharing through whichever social networks you're logged into.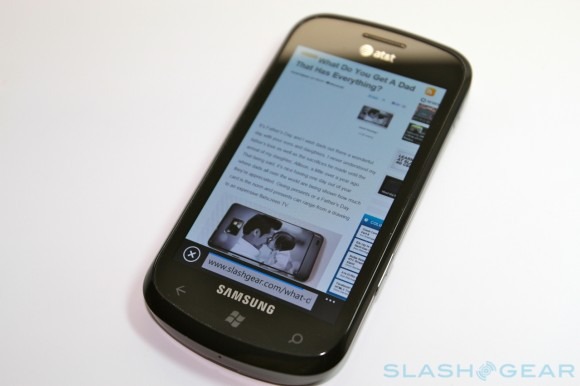 Like the desktop version there's Protected Mode and Hang Resistance, the latter promising to prevent crashed sites from taking down the rest of your tabs. We did find IE9 on Windows Phone was difficult to crash, but while the browser seems faster than the version it replaces, page loading still lagged in side-by-side testing with an Android handset. Once loaded, pinch-zooming was smooth and panning lag-free. There's no Flash Player support still.
Search, Maps and Shopping
Microsoft has always been keen to stress Windows Phone's ability to not just offer up the same content you'd find on the desktop, only on a smaller display, but to better format information so that it's easier to consume on the move. There's speech-to-text, with reasonably accuracy (though requiring a data connection in order to work) to trigger voice-prompted searches, and then text-to-speech to read the results back out to you. IE9 gives the full web, but Local Scout offers search results from within a 25 mile radius of your location. Operating, at Mango's launch, in the US, UK and France, Local Scout splits activities down into three categories – "Eat+Drink" for restaurants, "See+Do" for nearby attractions, and "Shop" for stores – together with a "Highlights" list of the top ranked from each category.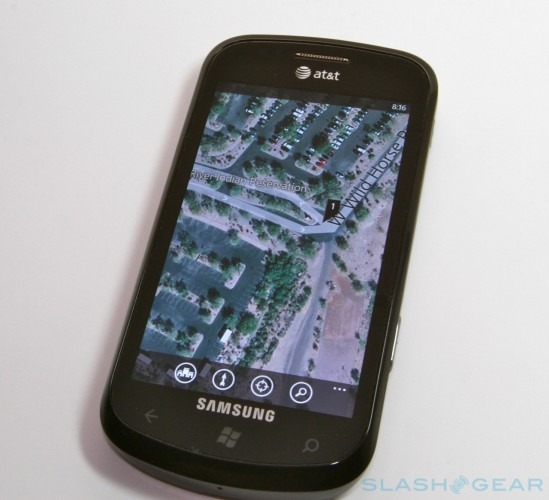 Individual records get a new Quick Card view – as do apps, movies, events and products – which combines various sources of information into one easily-scanned pane. Content depends on what, exactly, you've looked up; for a restaurant, say, you might get a breakdown of ratings, a list of reviews both by regular customers and any "expert" content Bing can find online. There are also options to favorite or share the information with others. At launch, Place Quick Cards and Movie Quick Cards will be US-only, while Product Quick Cards will work in the US, UK and France.
It's obviously only as successful as the data it uses, and we did find some omissions during testing where we knew there was a restaurant or cafe nearby but Bing didn't. Local Scout ties into Bing Maps, through which you can pull up a list of directions though not the same turn-by-turn navigation as Google offers free on Android devices. If you have OpenTable or Fandango installed from the Marketplace, the Places and Movie Quick Cards will offer the option to book restaurant tables or tickets using App Connect, Microsoft's system to pull together relevant content from across the Windows Phone device.
Finally, there's Bing Vision, perhaps the most eye-catching of Microsoft's additions in Mango. In reality, it's camera-based searching as we've seen in similar forms on other platforms, only baked into the core OS. Scan a barcode on a book, CD, DVD or magazine (in the US only, at launch) and Mango will pull up relevant information like reviews and online shopping results. QR codes (or "2D barcodes") and Microsoft's own Tag system can also be used. Meanwhile, there's a translation system which can recognize printed text in English, French, Italian, German or Spanish using the Windows Phone's camera, and translate it on-screen.
In practice, it all works though it lacks some of Google Maps' flexibility. It's not just Google Maps Navigation: the Android mapping app now has Latitude support for tracking friends' locations, Places for reading and leaving POI reviews, custom layers, public transport information and other niceties that, while the UI isn't perhaps as minimalistically slick as on Mango, still offer greater functionality.
Change, though, is afoot. As part of Microsoft's deal with Nokia, Windows Phone will gain access to the NAVTEQ mapping system and Nokia Maps, the Finnish company's comprehensive navigation, POI, review and recommendation system. Nokia handsets have already been enjoying turn-by-turn navigation with voice guidance for walk, bike and drive journeys, Trip Advisor and Lonely Planet content, and even offline mapping to avoid roaming fees while abroad; at some point, many of those abilities will come to Windows Phones, and not just those bearing the Nokia brand.
Apps and Sharing
Third-party software arguably remains Windows Phone's Achille's Heal. Microsoft claims there are now over 18,000 titles in the Marketplace, a far cry from Apple or Google's well-stocked app stores. Part of the problem has been Windows Phone's minimal footprint in the market, something analysts suggest will change over the next 3-5 years, and the addition of Nokia as a hardware vendor should help certainly increase that. The new APIs, meanwhile, and things like App Connect and background processes should pave the way for more imaginative titles.
Microsoft isn't resting on its laurels while that happens, though. There are some neat touches like face detection and easy tagging, which is compatible with both SkyDrive and Facebook galleries, and the same system extends to any online photo too. The Marketplace is also more sensibly laid out than the somewhat overwhelming Apple App Store and Android Market (perhaps aided by its relatively sparse content, of course) with content-filtered searches that are contextually sensitive.
For instance, starting a search from the games Marketplace automatically presents the results from the gaming pivot, figuring that's the filtering you'll likely be wanting. Music search results are flagged up by artist, album, song or playlist. There's also a Web Marketplace, set to launch by the time Mango hits devices, which will allow for online purchases from your desktop browser.
Games and Multimedia
Mango takes the fledgling Xbox LIVE integration from the original Windows Phone, and makes it more graphically impressive overall. A player's Xbox Avatar is now 3D, and links into the Avatar Marketplace announced earlier this month so that they can be dressed up in exclusive clothes and otherwise customized. Meanwhile, Achievement records and the list of recently played games are brought to the fore, and it's easier to compare those Achievements with other Xbox LIVE gamers. Friends' statuses are shown, and you can read LIVE messages and respond to friend requests.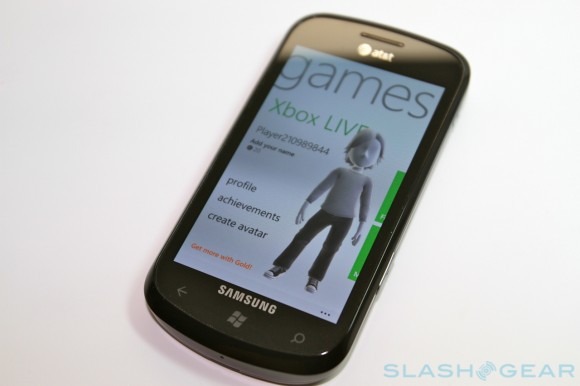 Nonetheless, there's still a sense that there's still a lot of untapped potential for Microsoft with its Xbox implementation on Windows Phone. Sony Ericsson has already shown, with the XPERIA Play, how gaming and mobiles can mix, with dedicated controls and a catalog of challenging (if in many case retro) titles.
Microsoft's new APIs will hopefully encourage developers to make exclusive titles for Windows Phone, rather than sluggishly port across existing games that have already made a splash on iOS and Android.
Hopefully those developers will also explore the potential for cross-platform gaming with titles that integrate Windows Phone and Xbox 360 somehow, whether that's pushing mini- or casual-games to the phone, using it as a peripheral controller, or otherwise augmenting the gameplay. What we're yet to see is a true integration between gaming on a phone and gaming on an Xbox 360: in short, a compelling reason for a 360 owner to make a Windows Phone top of their list when they're shopping for a new handset.
Zune is Microsoft's other big entertainment brand, and the company continues to push music and video on Windows Phone. Mango brings background playback for third-party streaming apps like Slacker, which goes a long way on its own to boosting usability. Smart DJ, meanwhile, takes a single "seed" track and then – by analyzing its mood, tempo and other components – builds a playlist of similar music stored locally on the handset. It'll be available in Zune Marketplace locations (US, UK, France, Spain, Italy and Germany) at launch. If you have a Zune Pass subscription – available in the US, UK, France, Spain and Italy – then Smart DJ will not only comb through local music but the entire Zune catalog online, creating a streaming playlist of themed tracks. Unfortunately there's still no native DLNA support to stream those creations to nearby speakers.
Podcasts can now be managed directly on the handset, rather than having to sideload them via the Zune software on the desktop. A new Podcasts option in the Marketplace hub offers downloads sorted by popularity, featured, freshness or genre, as well as a search option. There's also the ability to filter between audio or video podcasts. Similarly, there's the option to download music via the Windows Phone Marketplace, including a Bing track-ID search which can identify the currently playing song and then automatically take you to its download page (if available).
Office
Whether or not consumers are swayed my Microsoft Office support on their potential smartphone is an ongoing argument, but WIndows Phone continues to offer perhaps the most complete out-of-the-box experience if creating and editing documents is a priority. We were unable to test SkyDrive synchronization as the cloud service was not yet ready for action, though by the time Mango hits retail handsets it will allow photos and documents – including OneNote notes – to be stored online and accessed from your PC and other devices.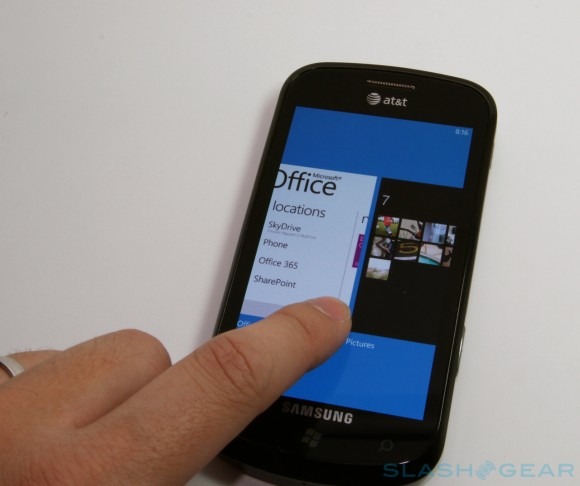 Word, Excel and PowerPoint support is present, as before, but Mango adds Office 365 to the array. The subscription-based online app suite automatically keeps Windows Phone up to date with contacts, calendar, email and Sharepoint files, while a Lync app – not yet available to test – will do the same for online meetings and intra-organization IMs.
Hardware
Mango will only take Microsoft so far; the company needs a broader range of hardware if it wants Windows Phone to succeed. Thankfully that looks to be in the works as well. The second wave of devices – which manufacturers have been holding off until Mango arrives – should benefit from more flexibly hardware guidelines, allowing a more attractive range of form-factors and functionality that will hopefully mimic some of the diversity we've seen with Android.
Nokia will play a huge part in that. While the abandonment of Symbian and marginalization of MeeGo has prompted no shortage of angst among the Nokia faithful, the Finnish company's strengths in hardware design, existing carrier relations and cost-effective production should give both it and Windows Phone a considerable boost. Vitally, that will include not only the range-topping handsets – with high-resolution cameras, sturdy metal chassis and superlative connectivity like pentaband UMTS/WCDMA – but entry-level models giving Windows Phone a foot in the door of the low-cost market where Android is currently flourishing.
Wrap Up
Back in October 2010 we described Windows Phone 7 as a solid first effort, but one that would likely take three or four iterations to catch up to its rivals. Whether it could afford to take that long, with iOS and Android hardly holding back, was the lingering question.
Mango has certainly shifted Microsoft's game forward considerably. The social networking integration and elements like Smart DJ, Conversation View and the Quick Cards have been slotted in without detracting from the overall design ethos, while essential additions like multitasking and the usable task-switcher help Windows Phone from feeling passé in comparison to its more established rivals. There are even elements where Android and iOS could do well to learn from Microsoft's example, such as the conversational Threads.
Where the Windows Phone proposition falls short is in third-party app support and compelling hardware. The former should get better given time, and will likely be given a boost as Nokia – among others – weighs in later this year. From Microsoft, meanwhile, we'd like to see more made of its obvious strength: Xbox LIVE integration. Neither Google nor Apple are shy of maximizing on their unique abilities, and given Microsoft's Xbox reputation is perhaps the jewel in the company's crown, it could easily become Windows Phone's unique selling point.
Until then, Windows Phone 7.1 Mango goes a reasonable way in bringing the company's mobile strategy up to competitive speed. It lacks the ecosystem and polish of iOS and the flexibility and openness of Android, but offers instead a distinctive UI and some functionality that's very usable day-to-day. For Microsoft's target audience of first-time smartphone upgraders and mainstream users that may well be enough.
Windows Phone 7.1 Mango Technical Preview hands-on
[vms ef39c48e5b73b5d61ea6]