Nokia N950 Teardown Revealed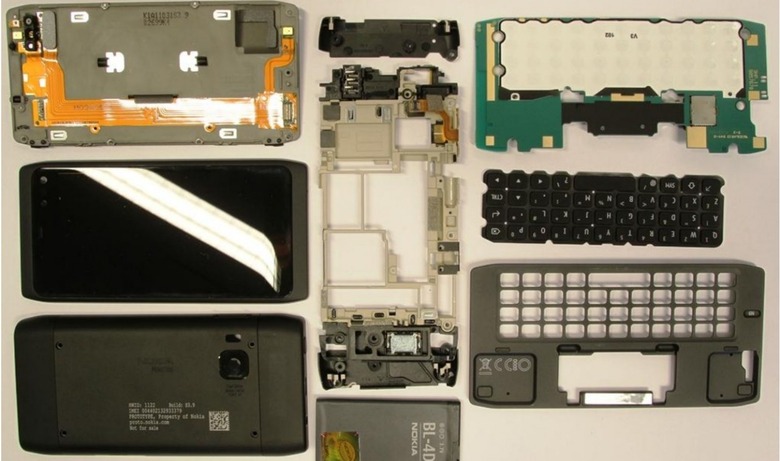 Back when the Nokia N950 cleared the FCC in mid-May, confidentiality requests meant we couldn't see the guts of what we now know to be the MeeGo developers version of the Nokia N9. With all those details official, however, the full listing has opened up and revealed the teardown shots of what's going on inside the N950. Among the entrails, confirmation that the N950's camera is indeed a 12-megapixel unit, rather than the 8-megapixels in the N9.
A beefier camera had been suspected from the start, with Nokia coyly saying that the N950 was "capable of" the same resolution shots as the N9 but leaving wiggle room for something higher-resolution. Other differences include a slightly larger display using an LCD TFT panel rather than the N9's AMOLED Clear Black display. The N950 obviously has a slide-out QWERTY keyboard, too, whereas the N9 is one solid, "pillowy" block of polycarbonate and Gorilla Glass.
The non-user-accessible BL-4D battery – confirmed by the teardown shots – is lower capacity than the N9, at 1,320 mAh, but then again Nokia doesn't really intend the N950 to be anybody's daily device: it's a developer handset, after all. The first units started arriving with coders late last week.
[via MyNokiaBlog]