What Apple did for smartphones, Google will soon be doing for headsets. What you're about to see was born, in part, in the development of Google Glass. It's wearable, but it exists in the virtual realm. Google has begun development of a headset that will be able to map the world around you as you walk through the world. With this headset, you'll enter a second reality, cultivated in Google Cardboard, developed in Project Tango.
Project Tango's developer documents have made no secret about being prepared for the inevitable onset of the VR market and environment. As Google's documentation suggests, "these applications use the Project Tango device as a camera into a virtual world that you can move through in the physical world."
Google's description of its "Virtual Reality / Motion Tracking Apps" for Project Tango continues, saying, "We use Project Tango's motion tracking technology to understand the device's relative position and location from where the application starts."
Below you'll see one example of Project Tango working on a tablet in a way that'll translate VERY easily to a VR headset.
It's simple.
It's an app that has you moving boxes through 3D space.
It's using spacial tracking provided by Google's Tango technology inside the tablet. This technology can be small enough to fit inside a phone, as you'll see in the following articles:
• Lenovo Project Tango Phone
• Intel Project Tango Phone
• Qualcomm Project Tango Phone
None of these phones are available as consumer-ready pieces of hardware yet. You can purchase one as a developer looking to expand on the software and make your own "Tango" apps.
That's it. So far.
Back when Project Tango was first revealed back in 2014, hardware was being used with VR headsets right out the gate.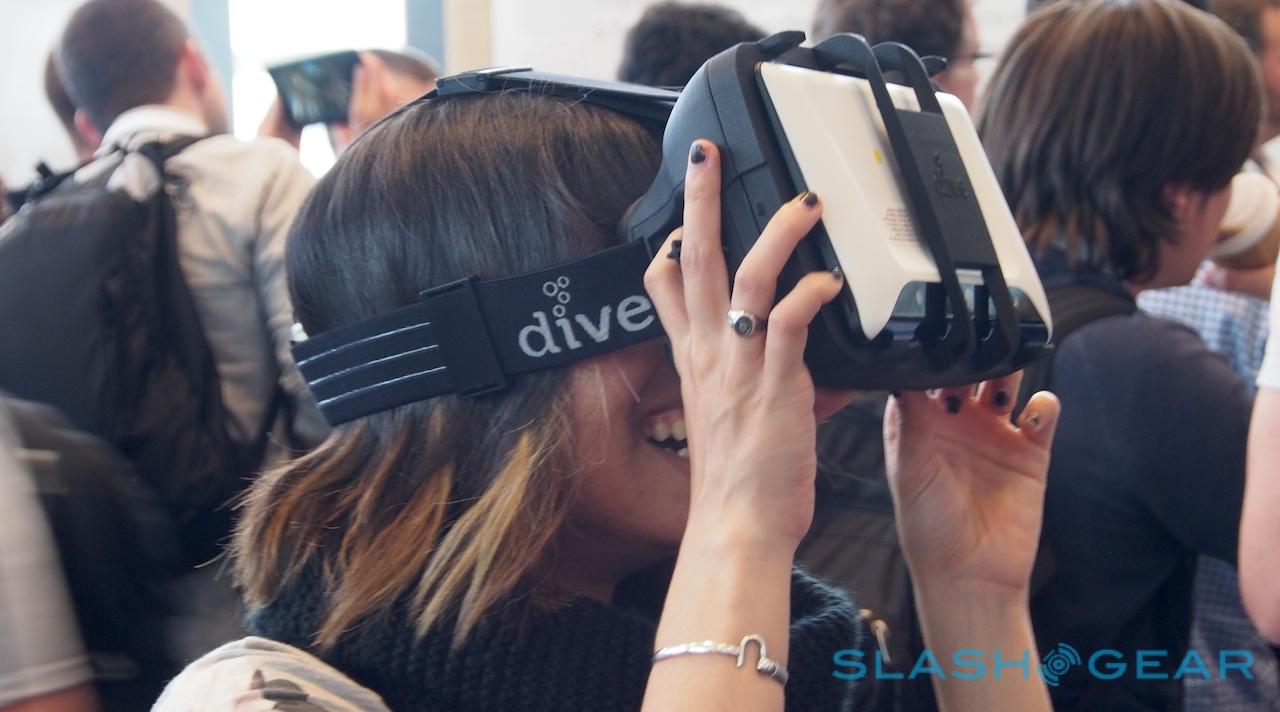 Above you'll see Google's first Project Tango tablet working with a Tango VR app inside a Durovis Dive (Google Cardboard precursor) headset.
Below you'll see a Project Tango demonstration from all the way back in 2014 – head to around 5:30 to see VR being shown as a very early piece of development.
One year later, (May of 2015), just before Google I/O (the company's developer conference) we hypothesized that Google would be releasing their next-generation software for Cardboard.
• Google VR is coming to Google I/O 2015
As it turned out, they sort of did do that, but they kept the name the same. It's still called Google Cardboard, but in the past year we've seen some relatively big leaps.
• Cardboard v.2
• Google JUMP for VR cameras
• VR enabled in YouTube
• VR enabled in Google Street View
• Google Cardboard camera
• Spacial Sound added to Android for VR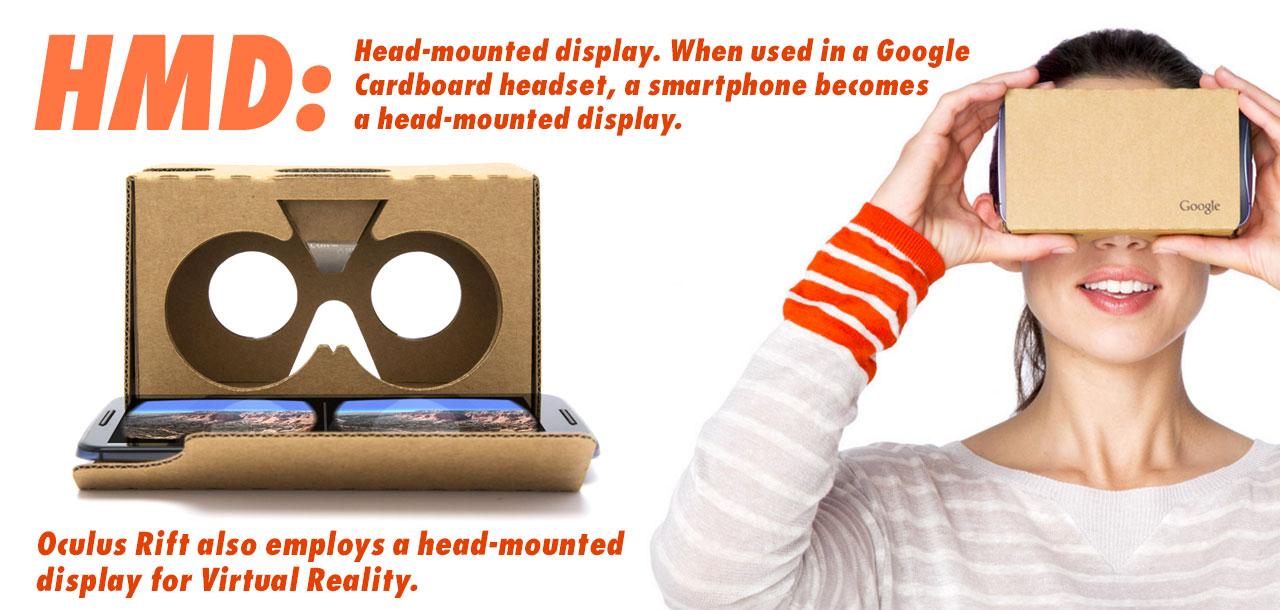 See Oculus Rift up close to see the PC side of this quickly expanding ecosystem.
Just this month Google's aspirations for virtual reality have come to the rumor mill. Instead of just surprising the world with a free Cardboard headset like they did back at Google I/O 2014, the company's plans are appearing through anonymous sources before they're made official.
• Google Android VR tipped to take on Oculus, Gear VR
• Google VR headset: self-contained, Android likely
Of particular interest are the rudimentary blueprints for this headset, as redrawn from what we're to understand are the official original plans for Google's next piece of hardware.
Google recently released several job postings for Virtual Reality positions, including those for Software Engineer – Virtual Reality Camera Systems, Software Engineer – Virtual Reality Media, and Software Engineer – Mobile Applications Cardboard and Virtual Reality.
That last listing includes the following text:
"Virtual Reality (VR) is rapidly evolving as an important new area in personal computing. The Google VR team is a fast moving group of engineers, designers, and research scientists tasked with building the foundations for great VR, developing VR apps and prototyping novel, delightful user experiences. The project started as a 20% project with Google Cardboard. It has since evolved into a vibrant team of full-time VR enthusiasts at Google."
There's also a listing for Software Engineer – Device Calibration Project Tango. In that listing you'll find the following:
"The goal of Project Tango is to give a human-scale understanding of space and motion to mobile devices. This includes phones, tablets, and virtual reality headsets."
One more listing is for Software Engineer – Tilt Brush. That listing has responsibilities which include the following: "Develop VR apps and prototype novel, delightful user experiences."
We've only heard about Tilt Brush in how it relates to Valve's HTC Vive, a virtual reality headset that works with a PC.
Above you'll see the camera walking through paintings made in 3D space by Tilt Brush. Below you'll see another demonstration.
Remember that this app was made by Google, and thus far has been demoed on the HTC Vive, another VR headset.
You'll find the following on the Google Tilt Brush homepage: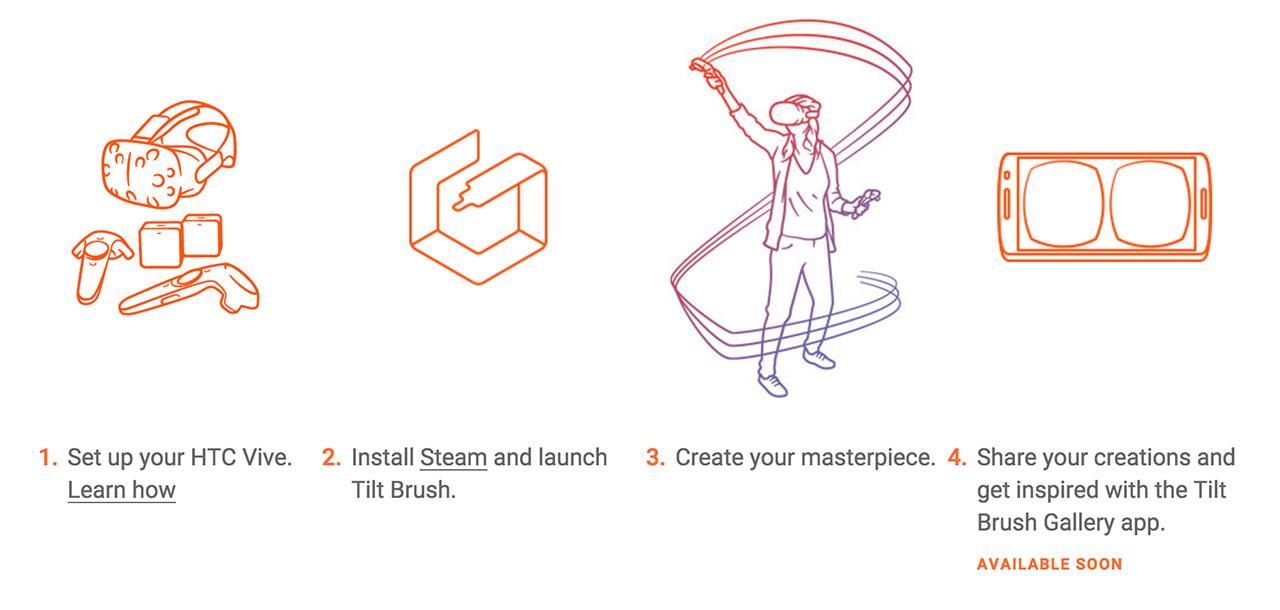 Notice the incoming app.
If that app is only going to work on Android for viewing paintings made with an HTC Vive, exclusively, I'll eat my hat.
Also of note is Leap Motion's reveal of Orion for VR. This update of their motion-detecting device family is aimed directly at virtual reality devices.
In Leap Motion's release for Orion for developers, they suggest that "the Orion beta is just a first taste of what we have on the horizon, as we're working directly with OEMs to embed Orion hardware into VR headsets."
We spoke with a Leap Motion representative who also said "We're working directly with OEMs to embed Orion hardware into VR headsets that will hit the market later this year."
We asked: "Are these OEMs that already have VR headsets made public, or new products we've not yet seen?"
Our Leap Motion representative responded, "And to answer your Q, new products — Stay tuned for more on that, later this year." (Emphasis added by SlashGear.)
That could mean anything, really, but here are the facts:
1. Leap Motion works with Android, requiring only that the target Android device has a Qualcomm Snapdragon 800+ processor inside – as their Android SDK Hardware Requirements says.
2. Leap Motion Orion has the same Android hardware requirements.
3. Leap Motion developers have made working Android phone VR headsets with Leap Motion motion/gesture detection.
While no formal connection has been announced between Leap Motion and Google's Project Tango, their functionalities are extremely complimentary to one another, and we would not be surprised if Google has spoken with the Leap Motion regarding Tango/Android before now.
Above you'll see a Leap Motion demonstration – this is using the new Orion technology announced this week. Notice the similarities between what we saw with Project Tango and what we're seeing here. Blocks for basics.
Google's HMD
Google is chomping at the bit to become a go-to source for entry-level virtual reality. The company's next move should be to provide an all-in-one solution that, like smartwatches (Android Wear), provides another way for users to make Android a part of their lives. Another wearable portal into the smart world.
Tango and Leap Motion? Maybe.
Tango and Virtual Reality? Of course!
It's absurd to think that Google wouldn't have at least tested Project Tango as a dedicated virtual reality headset already. Whether or not that means the next piece of hardware they reveal will be using that technology remains to be seen.
The potential is here.
Expect something radical from Google soon. Keep your eyes peeled.