Top Home Warranty Companies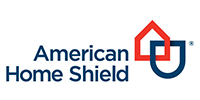 American Home Shield
Pros
Three service call fee options
Covers multiple appliances of the same type
30-day workmanship guarantee
Up to 21 items covered
Cons
No coverage for stand-alone freezers
Fee for canceling after 30 days
American Home Shield covers up to 21 home systems and appliances. You can select a plan to cover appliances, systems or both, and you can choose a service call fee of $75, $100 or $125. AHS also offers add-on coverage for pools and spas, guest homes on the property, a septic pump, a well pump and electronics. Plans start around $40 per month at the time of publishing and are available in every state except Alaska. There's a waiting period of 30 days before coverage starts unless you purchase a plan during a real estate transaction.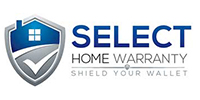 Select Home Warranty
Pros
Free roof leak coverage
Multiyear coverage discount
Two months free
Three levels of coverage
Cons
Unavailable in Nevada, New York, Washington and Wisconsin
May require three-year maintenance history before repairs
Select Home Warranty offers three levels of coverage: Bronze Care, Gold Care and Platinum Care. Customers on ConsumerAffairs.com say the plans provide good value for the price. At the time of publishing, the company is discounting all plans by $100, adding free roof coverage and including two free months of coverage. We received a quote for its Platinum Plan, which covers 17 systems and appliances, for $564 for one year for a home in Kansas City. Select Home Warranty plans have a 30-day waiting period.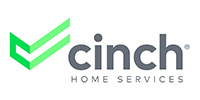 Cinch Home Services
Pros
Flexible plans
Covers unknown preexisting conditions
180-day workmanship guarantee
24/7 customer service
Cons
Limited add-on coverage
No advertised service call fee amount
Cinch Home Services has an Appliances plan, a Built-in Systems plan and a Complete Home plan. Each plan comes with a 180-day workmanship guarantee, coverage for unknown preexisting conditions, rust and corrosion coverage, discounts on new appliances and a free water sensor to detect leaks. At the time of publishing, plans from Cinch start at $27.99 per month and have multiple deductible options. There is a waiting period before coverage begins, and customers can pay monthly or for a full year upfront.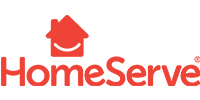 HomeServe
Pros
High number of plans
One-year guarantee on repairs
HomeServe app
No service call fee
Cons
No coverage for appliances
Availability varies by location
HomeServe home warranty plans cover heating, cooling, electrical and plumbing systems. You can select from multiple plans for each system or choose a combination plan. Prices at the time of publishing range from several dollars a month to around $60 a month. Check for maximum benefits for each system, a maximum total annual benefit and a separate waiting period for water heater replacement. HomeServe guarantees repairs for one year. Its app gives users access to manuals, warranty information and how-to videos.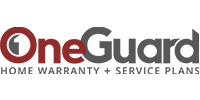 OneGuard Home Warranties
Pros
Home maintenance services included
Many additional coverage options
30-day repair guarantee
Short waiting period
Cons
Only available in Arizona, Nevada and Texas
No standard protection for undetectable preexisting conditions
OneGuard Home Warranties' plans, available to residents of Arizona, Nevada and Texas, cover more than just systems and appliances. Whether you choose the ApplianceGuard, SystemGuard or combination HomeGuard plan, the contract includes carpet cleaning, window cleaning, dryer vent cleaning and pest control treatment (with a service fee). More than 15 optional coverages are available.
At the time of publishing, plans cost from $30 to $60 per month and have a $69 trade service fee. On one sample contract for Arizona properties, OneGuard Home Warranties specifies a 10-day waiting period, which is shorter than most companies' waiting periods. A cancellation fee applies after 30 days.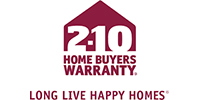 2-10 Home Buyers Warranty
Pros
Starts at $19 per month
Company pays 97.5% of claims
Appliance Replacement Offer program
Payment options
Cons
Higher service call fees
No easy plan comparison
2-10 Home Buyers Warranty sells home warranties to homeowners for as little as $19 per month at the time of publishing. It offers a Simply Kitchen plan that covers kitchen appliances, an Essential Home package that covers systems and appliances and a Complete Home plan that provides the company's most comprehensive coverage. The company states on its site that systems-only and appliance-only plans are available, as are optional coverages for roof leaks, a stand-alone freezer and other items. Customers can pick the service fee they want; service fees range from $85 to $125.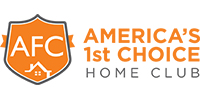 AFC Home Club
Pros
Four plans
Ability to choose your own technician
Lifetime work guarantee
Free credit monitoring and ID protection alerts
Cons
Unavailable in California, Hawaii, Nevada and South Carolina
$75 cancellation fee
AFC Home Club sells four home warranty plans: the Systems Plan (systems only), the Silver Plan (appliances only), the Gold Plan (systems and appliances) and the Platinum Plan, which includes everything in the Gold Plan and adds coverage for plumbing stoppages, a built-in microwave and an ice maker. Additional coverages are available.
AFC has several standout features. It lets you choose your own technician if you want to go outside its network as long as they are licensed, bonded and insured. It also guarantees repairs for the lifetime of the plan. We received a quote for comprehensive coverage for $550 per year for a Kansas City home. AFC offers a choice of service fee: $75, $100 or $125. There is a 30-day waiting period. Check the terms for excluded components of covered items and payout limits.
How We Chose the Best Home Warranty Companies
We started with a list of 25 home warranty companies. To narrow it down, we eliminated companies without at least 30 verified reviews on ConsumerAffairs over the last year. We then excluded companies with an average online rating of less than 3 out of 5 stars based on a sample of reviews and ratings from ConsumerAffairs, Trustpilot, Facebook, Google, Yelp and Yellow Pages. To make the final selections, our research team took into consideration each company's coverage options, costs and availability.
Compare Home Warranty Costs
| Provider | Starting cost* | Service call fee |
| --- | --- | --- |
| American Home Shield | $40 per month | $75, $100 or $125 |
| Select Home Warranty | $41 per month | $60 to $75 |
| Cinch Home Services | $27.99 per month | Varies |
| HomeServe | Under $10 per month | $0 |
| OneGuard Home Warranties | $30 per month | $69 |
| 2-10 Home Buyers Warranty | $19 per month | $85 to $125 |
| AFC Home Club | $40 per month | $75, $100 or $125 |
*As of publishing date; pricing varies by location
What to Consider When Buying a Home Warranty
The home warranty company and plan you choose should provide the coverage you need at a price you can afford. Consider getting quotes from multiple providers. Here are a few things you should compare as you're making a decision:
Coverage options: Most companies offer multiple plans. It's common to see appliances and systems split into two separate plans and a combination plan covering both. Then there are add-ons, including pool, hot tub and roof leak coverage. Think about which of your systems and appliances are most likely to fail from normal use and which are the most expensive to repair as you sort through the options.
Pricing: Don't just look at the prices listed on this page or on the companies' websites to compare affordability. To get an accurate quote, you need to tell a provider where you live, the size of your home, what type of plan you want and your service call fee preference. Note how long the contract lasts — it's usually 12 months — and how you make payments. Is there an option to pay monthly? Do you save if you make an upfront payment for the full term?
Terms, limits and exclusions: It's critical to read the fine print in the contract before you purchase a home warranty. That's where you can find out when breakdowns are covered, what components of each covered item are excluded from coverage and the maximum amount the company will pay out for a repair or replacement. You can also verify how long the waiting period is, how much your service call fee is and whether you can cancel or transfer the contract.
Customer service: A home warranty isn't useful without good customer service. The claims process should be simple and available 24/7, and the company should have a large network of licensed contractors. Read reviews to find out if customers are satisfied with how prompt the company is when responding to and approving claims. Look for a guarantee to send a technician back at no charge if a repair doesn't work.
Bottom Line: Should You Get a Home Warranty?
Buying a home warranty is a good idea if you worry about the cost of unexpected repairs on your major home appliances and systems. The purchase could pay for itself after just one or two expensive repairs.
These service contracts tend to be most popular among new homeowners, owners of homes with older appliances and systems, and sellers who want to make their property more attractive. If you decide a home warranty is right for you, compare companies' plans, fine print, prices and customer service. Remember: As with any service contract or insurance, there's a chance you pay for it and never use it. Millions of home warranty holders, though, have decided the financial security is worth that risk.
Frequently Asked Questions About Home Warranties
A home warranty is a service contract that pays for repairs or replacements of specific household appliances and systems that break down from normal use. It is different from homeowners insurance, which covers loss of or damage to household items after events such as fire, lightning strikes or theft.
If a covered system or appliance fails and you have a home warranty, you file a claim online or by phone. The home warranty company then sends a contractor from its network to your home. You pay a service call fee — usually from $65 to $125, depending on the terms of your contract — for the contractor to diagnose the problem. If the contractor and company determine that the breakdown is covered, the contractor repairs or replaces the item, and you pay nothing further. Home warranty contracts usually last one year. There is generally no limit to the number of claims you can make — keep in mind you'll pay a service call fee each time — but there are payout caps for individual items as well as other limitations and exclusions.
Home warranty plans typically cost from $300 to $700 per year. The price varies based on where you live, the size of your home, the type of plan you choose and the service call fee amount.
Home warranties cover essential household appliances and systems that break down from normal wear and tear. Items that are often in home warranty plans include refrigerators, ovens, stoves, dishwashers, washers, dryers, air conditioning, heating, plumbing and electrical systems. Most companies offer add-on coverages for things like pools, hot tubs, septic systems, well pumps and roof leaks.
Home warranties don't cover items that are not specifically named in the contract. They also generally don't cover preexisting conditions, failures due to improper maintenance or misuse or items that are still under warranty from the manufacturer. Check the contract to see if more than one type of the same item is covered.
A home warranty is not the same as homeowners insurance. A home warranty covers the cost to repair or replace an item that fails in the course of normal use. Homeowners insurance protects you financially in case your physical home or contents are damaged or lost as a result of a fire, lightning, vandalism or theft. A home warranty is not a required purchase, while homeowners insurance is required if you have a mortgage.
A home warranty can potentially save you hundreds of dollars in repair and replacement costs. Instead of paying 100% out of pocket, you pay a service call fee each time you make a claim — usually $65 to $125 — and the home warranty company covers the rest.