Top 18-Inch Car Subwoofers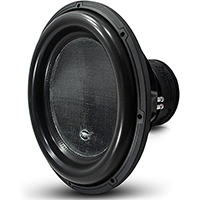 Harmony Audio
Pros
Interwoven tinsel leads for increased durability and performance
Large slotted vents allow quick cooling
Spring-loaded push terminal for excellent connection and power transfer
Cons
Requires ported cabinet for best performance
Expensive
Ideal for deep and heavy bass tones, Harmony Audio's HA-ML182 Monolith subwoofer stays cool, even as volume levels climb. High temperatures can wreck your subwoofer, but the engineers at harmony designed the HA-ML182 with a heat sink that directs high temps away from the sub's voice coil.
An integrated spring-loaded push terminal makes hooking up this sub to an existing system simple. A competition-grade paper cone, strong tinsel leads and high-roll foam surround make this one of the most well-built subs on the market.
As of publishing, this Harmony Audio sub costs $399.95 on Amazon.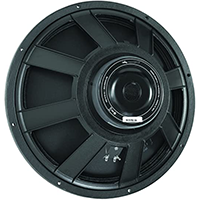 Eminence
Pros
Ideal for small vented boxes
Versatile: handles frequencies from 37 Hz to 0.2 kHz
Cast aluminum Eminence chassis is strong yet light
Cons
Not ideal for larger setups
Eminence Professional Series subs come with a cast aluminum chassis that's tough but not heavy. With a high motor strength and low stray magnetic field, the Delta Pro-18A 18″ Pro Audio Subwoofer produces the low sounds expected from a sub of this caliber.
Each chassis in the Eminence Professional Series comes with an epoxy-acrylic finish on the all-metal components. EPS uses a proprietary in-house e-coat process to achieve a superior durable finish. Eminence Professional Series subs are assembled and designed in the U.S.
As of publishing, this Eminence Professional Series Delta Pro subwoofer costs $209.99 on Amazon.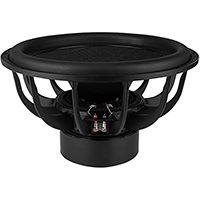 Dayton Audio
Pros
Best for clean bass sound
More than 2 inches of cone travel
Distortion-free
Cons
Works best with a car setup that matches the manufacturer's specific recommendations
The Dayton Audio UM18-22 18″ Ultimax DVC subwoofer is built to produce reliable low-frequency output. This sub works best in vented or sealed enclosures. The UM18-22 can withstand up to 1,000 watts of bass without succumbing to thermal fatigue.
A rigid cast aluminum 12-spoke foam provides unfailing stability no matter where you mount it. This model provides a tremendous bass sound by utilizing its powerful triple stack of ferrite ceramic magnets.
As of publishing, this Dayton Audio Ultimax DVC subwoofer costs $356.98 on Amazon.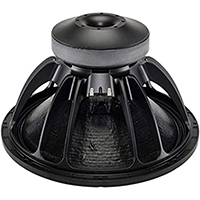 B&C
Pros
Under-spider venting allows for maximum power handling
Professional level sound; big sound from small boxes
B&C tests each subwoofer before shipping it to the customer
Cons
Must adjust to range in user manual to achieve efficiency
B&C stands behind its full line of professional-grade electronic sound system components. The 18TBW100 18-inch car subwoofer has a response range of 35 to 1,000 Hz with an aluminum demodulating ring that tempers very low distortion.
A ventilated voice coil gap reduces power compression, and the 4-inch split winding copper voice coil contributes to the superior low sounds produced by this sub.
Preferred by professional DJs, B&C is an excellent choice no matter which sub or speaker you need to complete your car audio setup.
As of publishing, this B&C VC subwoofer costs $369.46 on Amazon.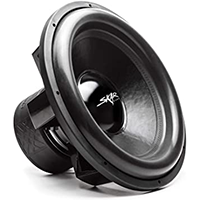 Skar Audio
Pros
Superior frequency response
Durable driver
Voice coil can withstand high temperatures
Cons
High price
Best mounted in ported cabinet
Skar Audio's ZVX-18v2 D2 offers 3,200 watts at peak power. The RMS is 1,600 watts, which outpaces many comparable subs on the market today. A well-constructed triple-stack magnet and high-temperature voice coil make this a sub that you can depend on to produce the low and loud sounds you crave.
Advanced airflow cooling lets you listen louder and longer without overheating. High-roll foam surround and competition-grade paper cones make this a well-built sub that you'll use for years to come.
As of publishing, this Skar Audio ZVX-18v2 costs $479.99 on Amazon.
How We Found the Best 18-Inch Car Subwoofers
For this article, we compared 11 18-inch subwoofers available for sale on Amazon. As of August 19, 2021, our top five subwoofers each have a customer star rating of at least 4.4 out of 5 stars. Prices fluctuate frequently, so check the included links for updated pricing.
Compare 18-Inch Car Subwoofers
To recap, here are our picks for top 18-inch subs this year:
| Brand | Model | Star Rating* | Cost* | Prime-Eligible |
| --- | --- | --- | --- | --- |
| Harmony Audio | HA-ML182 | 4.7 | $399.95 | Shop now |
| Eminence | Delta Pro-18A | 5 | $209.99 | Shop now |
| Dayton Audio | UM18-22 | 4.4 | $356.98 | Shop now |
| B&C | 18TBW100 | 4.6 | $369.46 | Shop now |
| Skar Audio | ZVX-18v2 D2 | 4.7 | $479.99 | Shop now |
*On Amazon, as of publishing
What to Consider When Buying 18-Inch Car Subwoofers
Large 18-inch car subwoofers may require a warm-up period before they produce the maximum deep and loud sounds.
Finding the right subwoofer for your system is a matter of evaluating the specs of each model. Here are some tips for choosing the best car subwoofer for you:
Power: RMS power ratings measure output and continuous power handling, providing a more realistic measure than peak power. Find out your amp's output power and buy a sub that can accommodate that amount.
Frequency range: Sub performance depends on many variables, but frequency range gives you a clue about how low the sub's sounds may go.
Voice coils: The number of voice coils indicates how much flexibility you'll have in wiring your sound system. Dual voice coil (DVC) subwoofers provide two coils with separate connections connected to one cone.
Woofer size: Big subs are typically capable of providing louder and lower sounds than their smaller counterparts. Large subs can take up a lot of interior space in a vehicle, so it's important to balance size with the need for low and loud sounds.
Impedance: You'll need an amp that matches your subwoofer with respect to impedance. Most subs are rated at 2-ohm, 8-ohm or 4-ohm impedance.
Enclosure type: Sealed boxes generally provide crisp and low sounds when compared with open enclosures, but a band-pass or ported enclosure may provide more volume.
Sensitivity: Higher sensitivity ratings require a smaller amount of power to produce equal sound to a sub with a lower sensitivity rating.
Bottom line: What Makes a Good Subwoofer?
Your sub should fit in with the rest of your system, producing neither too much nor too little power. It needs to fit into your budget as well. The sub shouldn't cause distortion, but whether it produces a pleasing sound is entirely subjective.
A good subwoofer should round out the sound of your car's audio system, not dominate it. If your goal is to make people feel your bass three blocks away, be sure to patiently break in your sub for a few weeks before cranking the volume.
18-Inch Car Subwoofer FAQ
High-performing subwoofers range in price from a few hundred dollars to several thousand dollars. Building a high-quality, custom car stereo system on a budget can be tricky, as high-quality electrical components tend to be expensive.
An 18-inch powered subwoofer includes an amplifier, while a passive 18-inch subwoofer requires the addition of a separate amp.
The world's biggest subwoofer is the Danley Sound Labs' Matterhorn Subwoofer. Housed in a 20-foot-by-8-foot-by-8-foot shipping container, the Matterhorn has 40,000 watts of power, but it is not for sale.
Install your woofer and play music at a low volume for two to three weeks before testing its power. If you don't take the time to break in your new sub, you could end up with unwound coils caused by excess heat, or a torn suspension due to strain on new parts caused by turning up the volume too high right away.