Top 12-Inch Subwoofers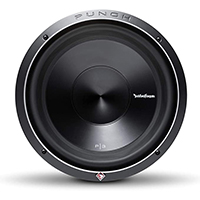 Rockford Fosgate P3D4-12
Pros
2- and 4-ohm models
1,200-watt peak power
Spider venting for more cooling
For sealed or vented enclosures
Cons
A little pricey
Wiring and batteries not included
This Rockford Fosgate subwoofer has a high power rating (1,200-watt peak/600-watt RMS) and a reputation for durability, deep bass and clear sound. It's from a trusted brand and is highly reviewed by users, though it's on the more expensive end.
The sub features spider venting to improve cooling, and it can be used in a sealed or vented enclosure. The sub comes in 2- and 4-ohm models, with a sensitivity of 85 decibels.
As of publishing, it costs $269.99 — keep reading if you're looking for more affordable options.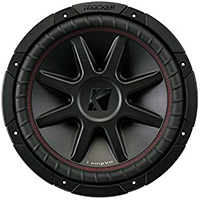 KICKER 12" 800 Watt CompVR
Pros
For sealed or ported enclosures
High-temp dual voice coils
Made from durable polypropylene
Up to a three-year warranty
Cons
Wiring and batteries not included
Only a one-year warranty on non-Q-class subwoofers
The KICKER CompVR 43CVR124 can handle up to 400-watt RMS and 800-watt peak power. Features like perimeter venting and high-temp dual coils keep the sub cool, and the cone and back bracing are designed to provide heavy bass.
This sub has a sensitivity of 86.9 decibels, a 4-ohm impedance and a frequency range of 25 to 500 hertz. Customers who bought this model were impressed with the bass and sound quality.
As of publishing, it costs $125.96.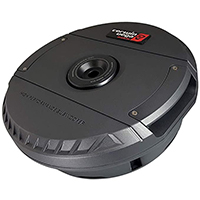 Cerwin-Vega VPAS12ST 12"
Pros
Easy to install
Adjustable input sensitivity
Remote control included
Thermal protection circuit
Cons
Only 600-watt peak power
Spare tire application only
Cerwin-Vega's 12-inch 2-ohm subwoofer has a slim design and customization features like adjustable input sensitivity, a phase switch and a remote bass knob. With an output of 600-watt peak/150-watt RMS, this sub provides plenty of sound for most vehicles.
This model is more expensive than competitors, but reviewers are typically very happy with its customization options, sound and heavy bass.
As of publishing, it costs $280.17.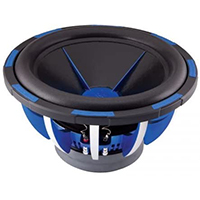 Power Acoustik MOFO-124X
Pros
2,700-watt peak power
Royal blue finish with accents
UV protection
Aluminum heat sink in dust cap
Cons
Only a 90-day warranty for self-install
One color option
Power Acoustik offers a powerful sub with a peak power rating of 2,700 watts and an RMS rating of 1,500 watts. It's a power-hungry sub with plenty of cooling features to maintain its temperature, and reviewers rave about the sound quality and depth of the base.
This model has a sensitivity of 85 decibels, plus dual 4-ohm coils. If you're wiring up the sub yourself, keep in mind that the manufacturer only offers a 90-day warranty for nonprofessional installation.
As of publishing, it costs $163.65.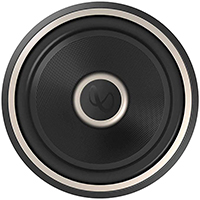 Infinity Kappa 1200W 12"
Pros
Flip a switch to reconfigure from 2 to 4 ohms
Two-sided ducted airflow for cooling
Three-year warranty
High sensitivity (91 dB)
Cons
Large mounting depth of 7 1/16"
Wiring and batteries not included
The Infinity Kappa 12-inch subwoofer has a great sound quality and a peak power of 2,000 watts and an RMS of 500 watts.
The sub was designed to keep cool while maintaining performance, a feature reflected in very positive reviews from people who bought the product. You can flip a switch to toggle between 2- and 4-ohm impedance, and you can enjoy a much higher sensitivity than average at 91 decibels. This sub also has a longer warranty period of three years.
As of publishing, it costs $125.50.
How We Found the Best 12-Inch Car Subwoofers
We compared dozens of online listings for 12-inch subwoofers to find the products that had the highest rating and the most desirable features. After comparing price, reviews, brand reputation and product details, we narrowed the list down to five top picks. Only those with 4 stars or more made it to final consideration, and the list was tailored to include multiple price points, brands and features.
Compare 12-Inch Car Subwoofers
| Brand | Model | Star rating* | Number of reviews* | Cost* |
| --- | --- | --- | --- | --- |
| Rockford Fosgate | P3D4-12 | 4.8 | 982 | $269.99 |
| KICKER | 43CVR124 | 4.7 | 257 | $125.96 |
| Cerwin-Vega | VPAS12ST | 4.7 | 222 | $280.17 |
| Power Acoustik | MOFO-124X | 4.6 | 204 | $163.65 |
| Infinity Kappa | KAPPA1200W | 4.7 | 185 | $125.50 |
*On Amazon, as of publishing date
What to Know About 12-Inch Subwoofers
When comparing subwoofers, there are a lot of sound and power ratings people throw around. These ratings are important in finding a subwoofer that suits your vehicle, your other equipment and your auditory preferences. You'll also want to consider the sub's size and mounting depth — plus its color if you're going for a specific aesthetic. Here are a few other things to consider when comparing models:
Power rating: Subwoofers have both a max power rating and a "root mean square" (RMS) rating that signifies the power it can continuously handle. The peak power rating usually ranges from 400 watts to more than 2,500 watts, while the RMS rating is generally half that range.
Impedance: Impedance measures the sub's resistance to the power supplied by the amp. This number is represented in ohms, with 2-ohm subwoofers demanding less power and a louder bass than a 4-ohm subwoofer.
Sensitivity: Measured in decibels, a sub's sensitivity reflects how loud it can get with the power it receives. If a subwoofer has a sensitivity of 89 decibels, it can produce an 89-decibel sound with one watt of power from one meter away.
Frequency range: The frequency range shows the lowest and highest frequencies the subwoofer can achieve, measured in hertz.
Bottom Line: What Makes a Good 12-Inch Car Subwoofer?
When it comes time to find the right subwoofer, the final answer really depends on your preferences. If you want a louder sound and aren't too picky about quality, a 2-ohm sub may be right for you. If you want a crisper sound, you'll want a 4-ohm model. Similarly, the sub's sensitivity, range and power rating will influence the quality of sound you wind up with. It's good to carefully consider all these details, plus the brand's reviews and reputation, before settling on a 12-inch subwoofer.
12-Inch Car Subwoofer FAQ
Twelve-inch subwoofers tend to range in cost from $100 to $500. On average, a subwoofer of this size typically costs around $200.
This varies between models and manufacturers. Lower-wattage models (around 600-watt peak power) are available, as well as models with max ratings higher than 2,500 watts.
Twelve-inch subwoofers can be very loud. The sound depends on the sub's impedance, sensitivity and power rating.
While there's no definitive answer to this, you can feel pretty confident that subwoofers with high power and RMS ratings will be pretty hard-hitting. Look for a model with at least 800-watt peak power.
Car subwoofers usually last four to seven years. This depends on environmental conditions and how frequently you use the sub.
Subwoofers can be added to almost any car. There are several location options (such as in the spare tire or under the seat) for installing these components, and multiple size options are available to fit any enclosure.