SlashGear Weekly Roundup Video - May 22, 2011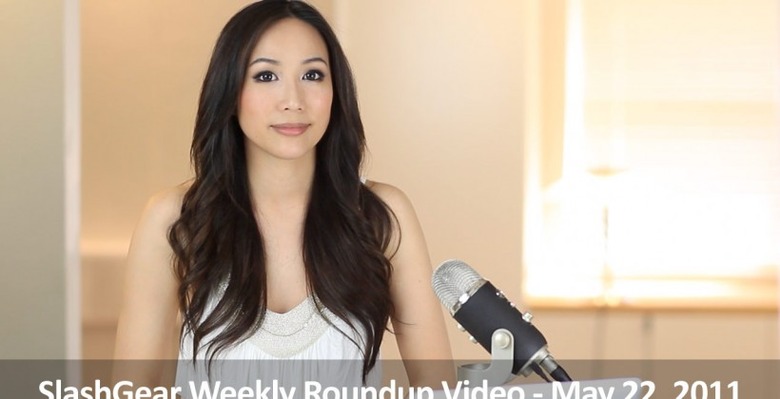 Gaming got some extra attention this week with speculation about the next-gen Nintendo Wii, a unique offer on the Xbox 360, and restoration issues for the PlayStation network. Android's WiFi security problem gets a fix, and the latest 3.1 Honeycomb update will be heading to the Asus Eee Pad Transformer and the Acer Iconia Tab A500 in June. Amazon is possibly ramping up a family of Android tablets, with the first two codenamed 'Coyote' and 'Hollywood' to hit the market before end of the year. Apple will be celebrating its 10th retail anniversary with a possible revamp dubbed Apple Store 2.0. The timelines for various smartphones and tablets have been revealed for the major carriers Verizon, AT&T, and T-Mobile. Continue after the jump for the roundup video and the full recap list.
[vms ff01bdc000083fd3c374]
Last week in gaming consoles...
Nintendo "Project Café" Wii 2 caught on video?
Nintendo 'Project Cafe' Wii2 Game Controller To Have Camera?
Microsoft email tips possible free replacement for older Xbox 360 consoles that can't support new game format
Microsoft Offers Free Xbox 360 with Select Windows 7 Notebook Purchases
As Sony struggles to resurrect its network...
Sony PlayStation Network suffers new hack
Sony hosting phishing site on own server as new hacks identified
Sony hacked again? This time it's So-Net
Android:
Android flaw could see Google & Facebook accounts snatched over WiFi
Google Confirms Android WiFi Security Fix Rolling Out Today
ASUS Eee Pad Transformer, Acer Iconia Tab A500 Getting Android 3.1 Honeycomb In June
Amazon Tablets 'Coyote' And 'Hollywood' Slated For 2011?
Apple:
iPad 2 supply bottleneck improving tips analyst
Foxconn iPad 2 plant explosion [Video] [Updated]
Apple Store 2.0 Top Secret Revamp Revealed?
Apple Store secret NFC payment upgrade tipped
Apple Back-To-School Sale To Start Next Week?
No NFC for iPhone 4S/iPhone 5 claim analysts
Apple iTunes iCloud Music Service Might Not Launch At WWDC?
Toshiba Reveals 367ppi LCD Display, Beats Apple Retina
Samsung:
Samsung Reveals Battle Plan Against Apple
May 24th Samsung Mobile Event Postponed
T-Mobile:
HTC Sensation unboxing & first-impressions [Video]
T-Mobile 2011 roadmap reveals HTC Doubleshot and G-Infinity, more
Samsung Hercules For T-Mobile, Like The Infuse 4G, But Dual-Core
AT&T:
HTC HD7S Windows Phone Heading To AT&T On June 5
Dell Streak Pro Honeycomb slate dropping June with Tegra 2 T20?
Verizon:
Verizon 4G LTE spreads: Nine new markets, Five boosted cities
Verizon To Drop Unlimited Data Plans, May Add Family Data Plans
LG Revolution To Launch May 26 With Netflix, Froyo, And LTE
Verizon HTC Trophy: Carrier's first WP7 device due May 26
Droid X2 Unboxing and Hands-on [vs. Droid X]
DROID X2 now Live at Verizon Online
Verizon DROID X2 by Motorola official: 1GHz dualcore
Verizon offers pre-orders on Xperia Play starting May 19
Sony Ericsson XPERIA Play, Arc To Get Android 2.3.3 And Facebook Integration Next Week
Sony Ericsson Reveals Two New Feature Phones, Txt Pro and Mix Walkman
Reviews, Unboxings, and Hands-ons:
Galaxy Tab 10.1 Review (Limited Edition)
HTC Flyer Hands-On and Unboxing [Best Buy]