Samsung Hercules For T-Mobile, Like The Infuse 4G, But Dual-Core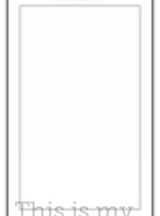 Remember the Samsung Infuse 4G with the ginormous 4.5-inch touchscreen recently announced for AT&T? Well, now it seems Samsung is readying another one of these big boys for T-Mobile. Codenamed Samsung "Hercules," this new smartphone is said to be nearly identical except that it will sport a dual-core processor and support faster HSPA+ speeds.
The Samsung Hercules still has quite some time before it's even slated for carrier testing and likely won't be accepted until mid-August. But that doesn't keep its specs from our prying eyes. Thanks to Thisismynext, we know that the device will indeed have a 4.5-inch 480x800 Super AMOLED Plus display and will come running Android 2.3 Gingerbread.
The device measures in at 5.16 x 2.76 x 0.37 inches, pretty much the same dimensions as the the Infuse 4G. It will have 16GB internal ROM, 1GB internal RAM, will be expandable up to 32GB via microSD, and will support NFC. It will have an 8-megapixel primary back camera with flash, capable of 1080p HD video capture, and a secondary front camera.
The Hercules seems quite similar to the Infuse 4G but differs in its supported network speed and in its processor. It will support Category 24 HSDPA (42Mbps) and Category 6 HSUPA (5.76Mbps) for a fast HSPA+ speed superior to that of the Infuse 4G or any other current HSPA+ phone sold in the U.S. It will have AWS and 850/1900MHz compatibility to support AT&T's 4G network should the merger go through. And, it will have a more powerful Qualcomm 1.2GHz dual-core processor.
Samsung's Hercules sounds awfully mighty, but it will pack a mighty price tag as well. The device is slated to be in the "over $350" category, although it's uncertain whether that means off-contract or not.
[via Android Community]