Samsung Reveals Battle Plan Against Apple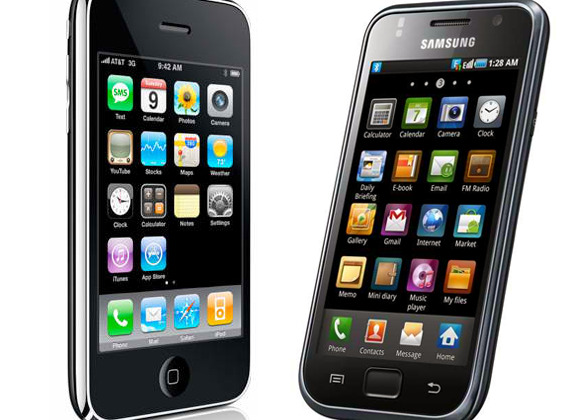 News on the legal battle between Apple and Samsung have simmered down now that both sides have already fired their artillery of claims and counter claims. But the tension between the two companies remains. Analyst Anton Wahlman reveals that Samsung hosted an event last night in Silicon Valley to go over several technology developments that the company plans to launch against Apple over the next year.
Samsung execs flew in from Korea for a battle plan session that included a bunch of slides showing the technologies the company plans to incorporate over the next year to gain market share especially in the areas of smartphones and tablets.
Tablet display technology is a significant battle ground, with Samsung's recent announcement at SID 2011 of a high density 2560 x 1600 resolution LCD display. The company plans to incorporate the display in a tablet by 2012 and is currently working with CPU/GPU providers to find a processor with enough power to drive the hi-res display.
As for smartphone displays, Samsung plans to tackle an area that Apple may never attempt to enter. And that is the dual-screen space where you'll find the likes of the Kyocera Echo. The dual-screen space still has a lot of potential and Samsung would certainly be able to learn from the shortcomings of the Echo and produce a far superior product, especially with its recent unveiling of a seamless folding AMOLED display.
Samsung also touched on technology in wrist-device displays such as bendable polymer-plastic displays that could fit around a wrist similar to a watch. However, they did not elaborate on whether it would be a standalone device or one that works together in their ecosystem of smartphones and tablets.
Other interesting technology battlefields brought up include Samsung's own version of AirPlay that will use WiFi-direct and WiFi-display architecture that can deliver 1080p content at up to 60fps. Also mentioned was the incorporation of RFID as is rumored for the iPhone 5, and a possible "Cloud" phone.
Samsung has several leading technological developments and has control of its own manufacturing, whereas Apple is more innovative but relies on OEMs and even depends on Samsung for various components. Will Apple's branding image and overall marketing clout keep it ahead, if Samsung really steps up its offerings and brushes up its image and service?
[via The Street]