Sprint Kyocera Echo Hands-on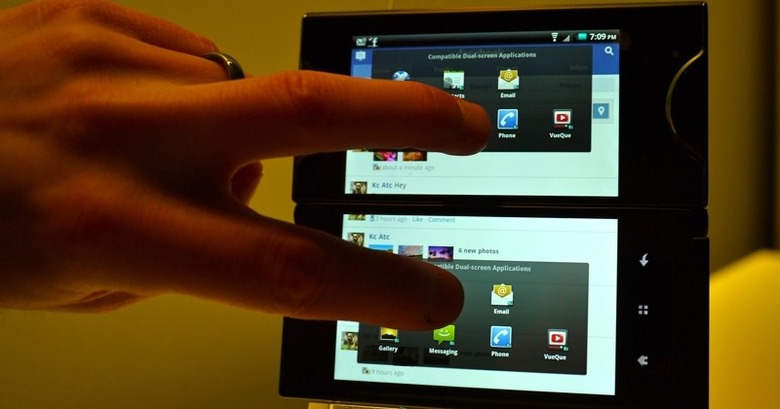 Sprint's Kyocera Echo is certainly eye-catching, you have to give it that. Packing two 3.5-inch touchscreens and a clever – if slightly convoluted – hinge, the Echo can be used in a tiny-laptop configuration, as a flattened slate or, if you don't mind a particularly thick device, as a single-display handset. Android 2.2 Froyo and some serious customization are in evidence too; check out our full hands-on impressions – and video – after the cut.
In terms of hardware, bar the double displays the Echo isn't particularly unusual, or even outstanding given its soon-to-be flagship status among Sprint's line-up. There's 3G but no WiMAX 4G, a mere 5-megapixel camera (with 720p HD video recording) and a 1GHz single-core Snapdragon processor keeping things moving. Each capacitive touchscreen runs at 800 x 480 resolution; side-by-side you have a 4.7-inch display running at 800 x 960, though obviously with a gap down the middle.
Build quality feels solid, and the hinge is a particularly interesting – and reassuringlysturdy – piece of work. Kyocera has apparently gone patent-wild on its various features, so we wouldn't be surprised to see the system show up in future devices. The touchscreens are responsive though don't – currently – support pinch-zoom multitouch.
Sprint Kyocera ECHO hands-on
[vms 8261f10d052e6e2c1123]
Since Android doesn't support dual-displays natively, Kyocera had to do some work to get the OS up to speed. Seven of the native Android apps have been modified to work in dual-display mode, allowing you to have, say, the browser open on the top screen and your email on the bottom. While you might expect that to slow down the 1GHz CPU, the Echo's multitasking system actually flips between the apps – in effect hibernating the one you're not using at any one moment – so that the end result is reasonably smooth. Tapping both displays simultaneously calls up the task manager.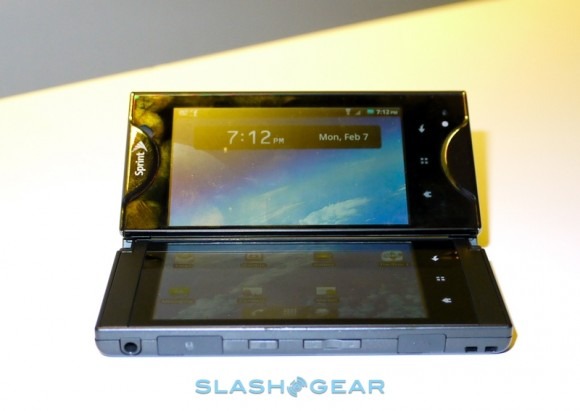 Unfortunately, third-party apps will have to wait until Sprint and Kyocera release the dual-display SDK before they can use the two panels to the full; until then, apps will merely run maximized across both screens. Still, it's useful to be able to have a full-smartphone's worth of display on show while still having an on-screen keyboard to use.
It's difficult to imagine the exact target audience for the Sprint Kyocera Echo. Power users will inevitably run into issues around battery life; neither carrier nor manufacturer are talking numbers yet, but the fact that a second battery (with a standalone charging dock) will be bundled in the retail pack doesn't bode well. Since the display is normally the biggest power drain, two panels likely means near to half the runtime of a regular handset. This isn't a slimline handset to slip into a pocket or purse, either, and with the second battery the whole arrangement is bulky.
Nonetheless, as with the interesting-but-flawed Libretto W100, there's something about twin touchscreens on a device that makes it inescapably appealing. Those geeks drawn in will likely find the $199 retail price to their taste as well, though that will have to be weighed against patchy dual-display functionality, battery limitations and the absence of 4G. We're not convinced the Kyocera Echo was worth Sprint's launch hype, but it's certainly got us curious.