Toshiba Libretto W100 hands-on [Video]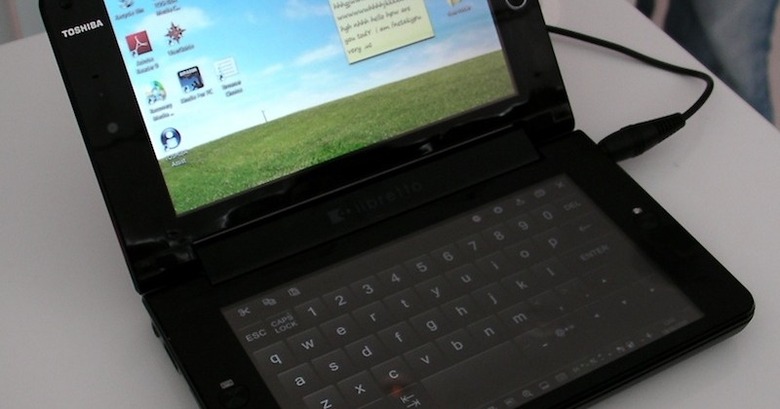 Dual-touchscreens, a clamshell book/netbook form-factor and a custom finger-friendly UI: the Toshiba Libretto W100 has broken the mold, and while the company concedes its resemblance to the Microsoft Courier renders, they're insisting it's a very different product. Based around two 7-inch capacitive touchscreen displays, a Pentium U5400 processor and a 62GB SSD, the Libretto W100 is the first such device to run Windows 7 and can be used either as a regular mini-notebook – complete with various on-screen keyboards – or as a digital book.
First impressions and hands-on video of the Libretto W100 after the cut
The design may be unusual, but the specs are relatively mainstream. As well as the 1.2GHz processor there's 2GB of DDR3 memory, WiFi b/g/n, Bluetooth 2.1+EDR and optional mobile broadband. You also get a single USB 2.0 port, microSD card reader, 1-megapixel webcam and a battery good for just 3.5hrs of use. The Libretto W100 measures 202 x 123 x 30.7 mm and weighs 819g, and has a built-in accelerometer to flip screen orientation.
Toshiba Libretto W100 promo:
As you might expect, Toshiba has had to do some serious software work in order to bring Windows 7 up to speed with the Libretto W100's form-factor. A different app can be running on each display – a browser in one and a document in the other, for instance, with content dragged from one screen to the next – or you can have a choice of virtual keyboards. These include a regular QWERTY layout, a simplified QWERTY which drops the separate numeric row and symbols, and a DialKeys-style split 'board intended to be used with the thumbs while holding the W100. Each supports haptic feedback, the Libretto vibrating slightly as you tap each button.
Toshiba also preload their LifeSpace suite, which includes a finger-friendly document browser called ReelTime that's a little like CoverFlow, displaying previews on the top screen, and a Bulletin Board app. The latter can be used to create multiple virtual cork-boards, navigated by swiping left or right, and onto which you can pin images, Post-It notes of reminders, calendar widgets and even files that can be dragged between the top display and the Bulletin Board. Meanwhile you can also snip screenshots or sections of the top screen and drag them to the Bulletin Board (see a demo in our hands-on video) together with take photos using the built-in webcam and pin those too. In all it's a similar concept – though less complex – to Microsoft's Courier idea of a virtual scrapbook.
Having spent some time with a pre-production version of the Libretto W100, there's plenty we like about the ultraportable but still some gaping holes that are easy to identify. Battery life and, a decent amount of RAM aside, the limited potency of the CULV processor mean the W100 is nowhere near an all-day device nor a serious Kindle or iPad rival for long periods of ereading. We're not convinced by the size, either; at around the same dimensions as a hard-back book, you'll need a big pocket in order to carry the W100 bag-free. Still, the dual-hinge seems sturdy – and a nice balance between being straightforward to open and position, and tenacious enough to hold the Libretto at the chosen angle – and the displays are bright. The touchscreens don't support multitouch, as far as we could tell, and needed calibrating since they were particularly picky about how exactly you tapped; more worrying, though, was a UI that proved less than intuitive at times.
Toshiba Libretto W100 hands-on:
[vms 25934ee377cfda20e414]
For instance, there's a dedicated keyboard button to the left of the lower display and a Home button to the right, with the latter supposed to automatically open up LifeSpace when in Windows mode. However it seemed inconsistent in its action, and often we were left trying to figure out the various unlabelled icons running along the bottom of the lower display. Even a Toshiba employee had trouble bringing up the Bulletin Board app; in the end we had to clear the keyboard and get to the regular Windows 7 desktop, then load the app from the Start Menu. Dragging apps between the two screens was straightforward, though we'd like to have been able to use a pinch-zoom gesture to maximise them rather than peck at the icons, but automatic screen rotation proved a little sluggish at times (though we can probably put that down to the pre-production status of the hardware). Outside of Toshiba's custom apps, of course, you're at the mercy of what support – or lack of – for touchscreen use that Microsoft or third-party developers have coded into their software.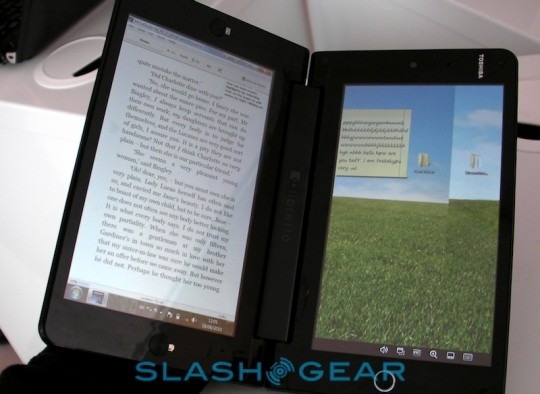 Still, Toshiba are upfront about their expectations that the Libretto W100 will be very much a niche product, and they seem to be using it more as a tester for the market by their ultraportable device team rather than a serious attempt to convince the mainstream. The biggest issue will likely be pricing: while the company aren't saying exactly how much the W100 will cost when it goes on sale in July 2010, we were told it would likely be somewhere in the £800 to £1,000 range ($1,180 to $1,480). That takes it out of the companion device market and drops it resolutely in among regular ultraportables that, while lacking the double displays, deliver more than twice the battery life and far more potent processors. A tough sell, then, but a concept we're hoping Toshiba stick with and refine into something more tempting – and affordable – to the mainstream.
Press Release:
Your world at your fingertips: Toshiba launches the dual touchscreen Libretto W100

London, UK, 21st June 2010 – Toshiba UK today announces the launch of the Libretto W100 – a compact, sleek, dual touchscreen laptop offering a unique way for users to create and consume content. Designed to provide a rich mobile computing experience, the new device combines a laptop-style clamshell form factor with dual touchscreen technology, creating an intuitive, easy to use and stylish device that enables users to utilise their content in a number of different ways.

The world's first dual-screen laptop to be powered by Windows 7, the Libretto W100 features two 17.8cm (7") touch-sensitive screens, providing a unique interface on which to enjoy web and computing applications. Simple to navigate and easy to use, Windows 7 utilises the W100's dual-screen technology to the fullest extent, allowing users to navigate menus, run applications side-by-side and interact between applications by easily dragging content from one-screen to another.

Toshiba launches the World's first dual touchscreen laptop to use Windows 7

Dual 17.8cm (7") touchscreens with LED backlighting provide intuitive controls and enhanced interaction

Unique form factor provides unrivalled flexibility, allowing users to enjoy content in a number of different ways

Thanks to the Libretto W100's unique form factor, users can easily separate the two screens and use them for different purposes. One screen can be used for content creation, like word documents or emails, while the other could be used to browse the web, social networks or multimedia programmes. Additionally, the device can also be used vertically thanks to an integrated accelerometer.

Powerful, connected and ready to go

Powered by Intel allowing users to run multiple programmes simultaneously. For example, when used as a laptop, users can transform the function of the lower screen to seamlessly switch between a selection of virtual keyboard options or other background applications.

The integrated 62GB SSD provides plenty of storage space for applications, documents and multimedia content. Users are also able to expand storage or quickly transfer files between devices thanks to the integrated MicroSD card reader and additional USB 2.0 port. The latest Wi-Fi connectivity allows users to get online from any wireless hotspot, and an optional integrated 3G module allows users to enjoy Mobile Broadband over cellular networks1, allowing users to remain connected to the web wherever they are. Additionally, Bluetooth connectivity allows users to pair the Libretto W100 with a range of optional peripherals.

The Libretto W100 offers a unique way to manage files, access stored content or create personal reminders, using Toshiba's LifeSpace applications. Using the Libretto W100's dual touchscreen interface, users have a quick, simple and intuitive way of navigating documents with ReelTime – a picture based timeline of recently opened items. Additionally, Bulletin Board allows users to drag favourite files to a virtual pin-board, or quickly bring up links or post-it notes for fast reference – content is ready and just a touch away.

The Libretto W100 will be available from late summer 2010.