Sony Ericsson Reveals Two New Feature Phones, Txt Pro and Mix Walkman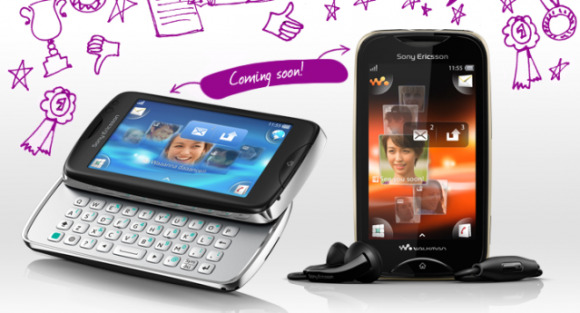 Earlier today we saw two new Sony Ericsson phones caught in the wild that may be successors to the XPERIA X8. One of the phones was labeled CK15i and was believed to have a slide-out QWERTY keyboard. Well, now Sony Ericsson may have just confirmed some of these rumors with an image they've posted on their Facebook page.
Sony Ericsson posted the image as part of their Facebook competition for fans to become the "world's first to review one of two new Sony Ericsson phones." Winners of the competition can receive a set of 10 phones for their family and friends. But to enter, the first task is to guess the name of the two phones that are shown. The options given are Sony Ericsson txt pro, and Sony Ericsson Mix Walkman, Text mini messenger and Mixing Mini, and Messaging pro and Mini Walkman.
Whichever one it is, it means that the CK15i we saw earlier certainly has the slide-out QWERTY and may likely be branded the Txt Pro. While the other phone that we had not seen until now will likely be branded as the Mix Walkman. The two phones should be running Android 2.3.4, but feature the unique four-corner UI with a single home button as seen on the XPERIA Mini Pro.
[via Android Community]