Sony Ericsson XPERIA mini and mini pro hands-on [Video] [Updated]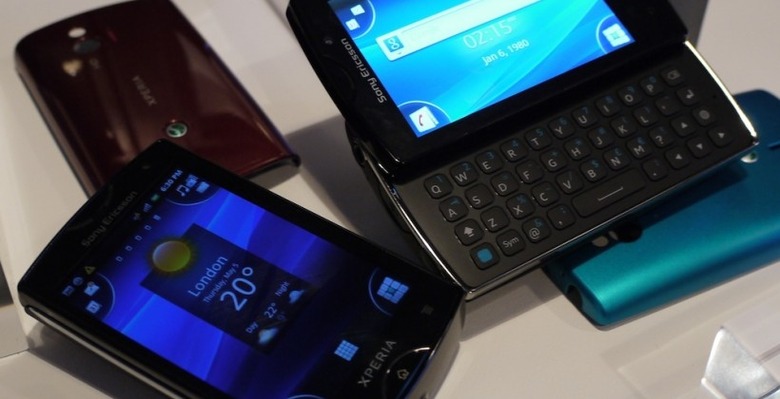 Sony Ericsson has just announced the XPERIA mini and mini pro Android smartphones, the latest in the company's super-compact line, and we've stopped by for a sneaky hands-on play ahead of their planned release in August 2011. Just like their predecessors they're built for those who don't want a 4-inch or bigger display and prefer their smartphone to be discrete; unlike those predecessors, they're not underpowered minnows.
They're obviously small – and that compact 3-inch fascia does leave them feeling on the plump side, too – but despite the plastic construction they don't feel cheap. The XPERIA mini pro snicks open with a reassuring, spring-loaded click, and the keypad itself is nicely sprung and reasonably responsive. Sony Ericsson may be constrained by size, but the company reckons its auto-correction software is more than a match for casual typos.
As for the displays, they're short on pixels in comparison to the latest and greatest in Android devices. 320 x 480 may be the biggest factor holding the mini and mini pro back, certainly as apps become more graphically rich and demand higher resolutions, though the same can't be said for the processor. Unlike the meager 600MHz chip of the first-gen mini, the second-gen phones have a 1GHz Qualcomm Snapdragon chip, and they seem to move through their menus and apps with the swiftness we've come to expect from the single-core. Of course it won't keep up with a modern dual-core, but Sony Ericsson's target audience isn't chasing speed but balanced convenience.
[vms 223c796cac288cced29d]
The updated "4X4" menu – which turns each corner shortcut on the homescreen into a pop-open four icon launcher – makes so much sense we wonder why Sony Ericsson didn't do it from the start. The much-vaunted Facebook integration certainly works in Sony Ericsson's demonstration, though whether users will find it to their taste will have to wait until the handsets reach the market.
We'll have more video with the XPERIA mini and mini pro shortly, but for now enjoy the initial hands-on and gallery (including a couple of just-because-it-looks-funny comparison shots with the Samsung Galaxy S II).
Update: We've just spent more time with the XPERIA mini's Facebook integration, and the system is actually surprisingly well put together. Rather than make a completely new app, as some companies have done, Sony Ericsson has based its system on the existing Facebook for Android app – that means a single login, rather than having two simultaneous apps trying to do similar things – and then extended functionality through Gingerbread.
In the gallery, then, you get not only the local photos and video, but albums pulled down from your Facebook profile and those you're tagged in. The usual Android sharing feature can be used to add shots to an album that you've taken with each phone's 5-megapixel camera. There's also contacts and calendar sync, with contact entries having tabbed views of their likes, interests, recent wall activity and photos/videos.
[vms a904aefc1d6ce93dc54b]
In the music player, a Like button allows you to instantly share what track you're listening to on your wall. There's also a media discovery app which pulls in content recently shared on your friends' Facebook walls, with any comments that have been left. Sony Ericsson says the new Facebook integration will be available for the XPERIA Arc and XPERIA Play in a few weeks time.