HTC Flyer On Sale Today At Best Buy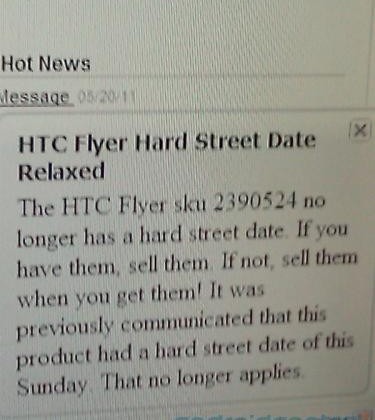 Are you waiting to get your hands on that HTC Flyer tablet? You may not have to wait anymore. We recently reported that the tablet would go on sale exclusively at Best Buy this Sunday, May 22nd. Well, now there's a leaked internal memo revealing that you can pick one up today.
The memo circulated to Best Buy employees notifying them that the HTC Flyer no longer had a hard street date. The memo clearly commands employees to start selling the device immediately. "If you have them, sell them. If not, sell them when you get them! It was previously communicated that this product had a hard street date of this Sunday. That no longer applies."
Best Buy is carrying just the WiFi version of the tablet, which will cost you $499. The optional stylus is an additional $80. But before you head out, there does seem to be a possibility that not all Best Buys already have them in stock. So, be sure to call ahead. Are you rushing out the door already?
[via AndroidCentral]