Galaxy Tab 10.1 Review (Limited Edition)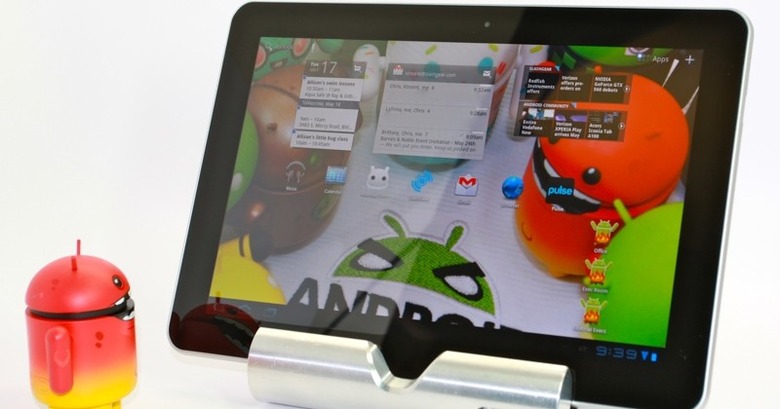 Samsung helped lead the Android tablet charge last year, with the original Galaxy Tab, a 7-inch slate which even Google admitted may have been released before the OS was ready. Now, with Android 3.0 Honeycomb tablets like the XOOM, G-Slate and Eee Pad Transformer on the market, Samsung is back with its second attempt, the larger Galaxy Tab 10.1. Heavily reworked – even after its first official appearance – in order to better compete with the iPad 2, Samsung has high hopes that this is the slender slate to knock Apple off its pedestal. SlashGear brought back the Samsung Galaxy Tab 10.1 Limited Edition white version from Google I/O 2011 this week; check out the full review after the cut.
Hardware
The Galaxy Tab 10.1 has had a complicated inception. Samsung first outed the slate at Mobile World Congress in February, running NVIDIA's Tegra 2 dual-core processor with a 10.2-inch 1280 x 800 display, 8-megapixel rear camera and 10.9mm thick chassis. At the time Samsung was talking about a March release, which has obviously since slipped; that's because, in the meantime, Apple announced its iPad 2.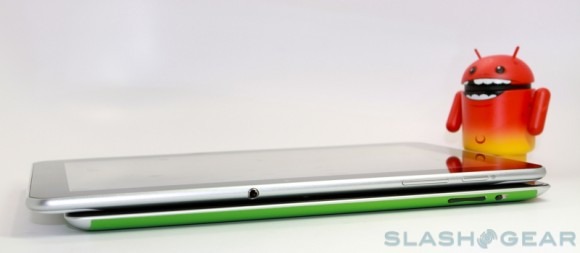 The second-gen Apple tablet was significantly thinner than its predecessor, at 8.8mm, and sent Samsung scurrying back into its labs to rework their rival to better compete. The end result – along with its smaller Galaxy Tab 8.9 sibling – arrived at CTIA 2011 in March, a waifish 8.6mm that bested the iPad 2's bulk by a scant 0.2mm. In the process it lost some megapixels, taking the camera down to 3-megapixels though still with autofocus and flash. The original tablet was rebadged the Samsung Galaxy Tab 10.1V, a Vodafone Europe exclusive.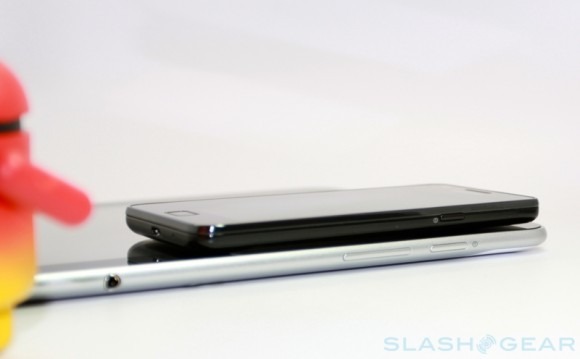 The Galaxy Tab 10.1 Limited Edition still keeps the 1GHz dual-core processor, a choice of 16GB, 32GB or 64GB of internal storage, WiFi a/b/g/n (dual-band), Bluetooth 2.1 and a 2-megapixel front-facing camera. Initially there will be WiFi-only models, with 3G versions arriving later in the year. It also has the excellent display of its siblings, with bright colors, strong contrast and great viewing angles.
Unlike the aluminum iPad 2, the Galaxy Tab 10.1 uses all plastic in its construction. The regular model will be dark grey, unlike the white of the Limited Edition, though both measure in at 256.6 x 172.9 x 8.6 mm and 595g. That makes it slightly longer and slightly narrower than the Apple slate, as well as 5g lighter. More importantly, perhaps, it's thinner and lighter than the XOOM (13mm/730g), G-Slate (12.8mm/630g) and Eee Pad Transformer (13mm/680g). Despite the plastic build it's reasonably solid and flex-free, and the Gorilla Glass front leaves us fairly confident it could survive being tossed into a bag without a case to coddle it.

Ports include a dock connector on the bottom edge – which will support 1080p HD with the right adapter, unfortunately absent – along with a 3.5mm headphone jack, though no dedicated HDMI or even USB. That leaves owners relying on whatever adapters Samsung offers for hooking up a wired keyboard and mouse, or using Bluetooth peripherals. Stereo speakers are on either side, rather than on the bottom edge as in the 10.1V. Physical controls are limited to power/lock and the volume rocker on the top edge. A microphone is on the bottom.
Software
We've already thoroughly reviewed Android Honeycomb, Google's tablet-centric OS, finding it a platform with plenty of promise though its fair share of rough edges. What sets this special edition Galaxy Tab 10.1 aside is that it comes without Samsung's TouchWiz UI adaptations. The eventual commercial release in June will see the Honeycomb interface tweaked with various widgets and other components.
[vms 31b55aa50c06529eaa21]
That given, we'll have to wait until retail units are available to find out exactly how well Samsung's customizations play out. From what we've seen already on various Galaxy Tab prototypes, it looks to strike a solid balance between usability enhancement and still leaving Honeycomb roughly intact. There are Live Panels, with weather, calendar and other content, a Mini Apps Tray for quick launching favorite apps, and the Social Hub app – pulling in Twitter, Facebook and other social networking content – familiar from the Samsung Galaxy S II. Finally there are the Reader, Media and Music Hubs, Samsung's download stores for digital content.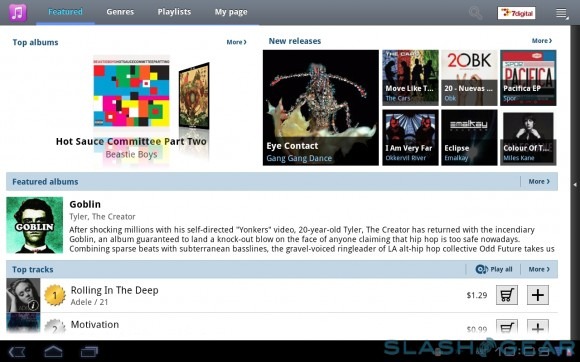 We'll revisit how well Samsung's custom software works when the Galaxy Tab 10.1 is officially released.
Performance and Battery
With the same processor as the other Honeycomb tablets we've reviewed, it comes as no surprise to find the Galaxy Tab 10.1's performance broadly in line. That means generally snappy reactions, though some periodic lag or hiccups that may well be Honeycomb in need of finessing. Benchmarking tool Quadrant came in with a total of 2107 with a CPU result of 6367.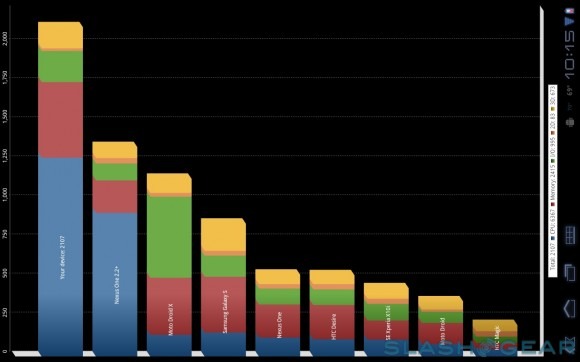 With no USB ports, you're stuck using the supplied Samsung cable to hook up the Galaxy Tab to your computer. We had issues getting it to play nicely with OS X, with the Tab getting stuck in Kies – Samsung's management app – mode and, while claiming to be connected, not showing up on our Mac. That put a limit on what we could side-load, and left us envious of the USB host support ASUS and others provide.
The 3-megapixel camera has autofocus and an LED flash, while the front-facing webcam musters 2-megapixels.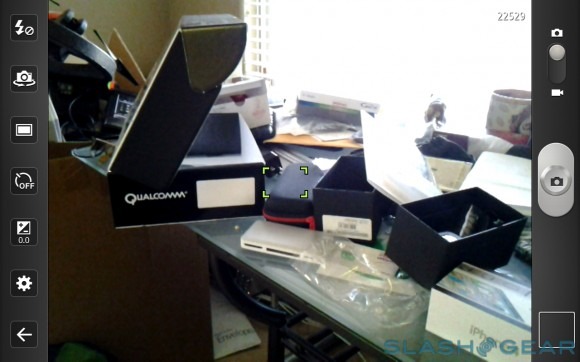 Neither is going to replace your point-and-shoot, or even your regular smartphone camera. Images from the main camera tend to be low on detail and high on noise in all but the best lighting, sufficient for Facebook but not exactly keepsake-quality.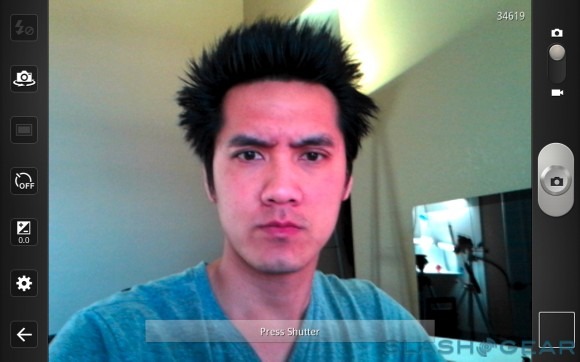 Video, meanwhile, is reasonable, pumping out 1280 x 720 clips that are relatively blur-free and show none of the gruesome dropped frames the Eee Pad Transformer. Samsung has tweaked the camera interface on its regular Tab 10.1, but you get the UI as Google intended it on this Limited Edition version.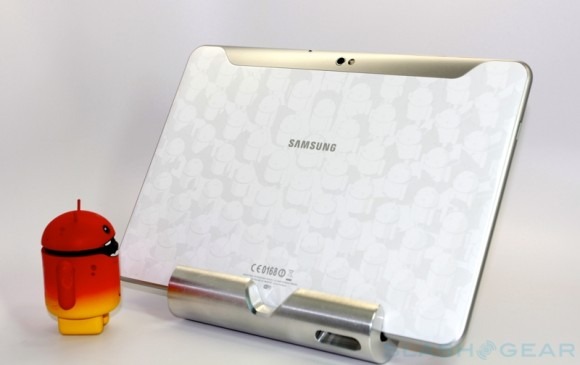 Battery life is, again, much the same as on offer from the XOOM, G-Slate and other Tegra 2 tablets. That means sufficient for a day of heavy use, or several days of mixed standby and browsing, media playback and general app use.
Pricing and Value
Samsung's first Galaxy Tab suffered when it came to price comparisons with the first-gen iPad. Cautious and conservative carrier subsidies in North America left the 7-inch tablet looking unfavorably expensive, especially with its voice call capabilities excised.
It hasn't let the same mistakes happen again. So far we've only seen pricing for the WiFi-only Tab 10.1, but Samsung has sensibly hit the same price-points as Apple. The 16GB Galaxy Tab 10.1 will come in at $499 while the 32GB model will be $599; Samsung hasn't confirmed the 64GB, but we're guessing at $699.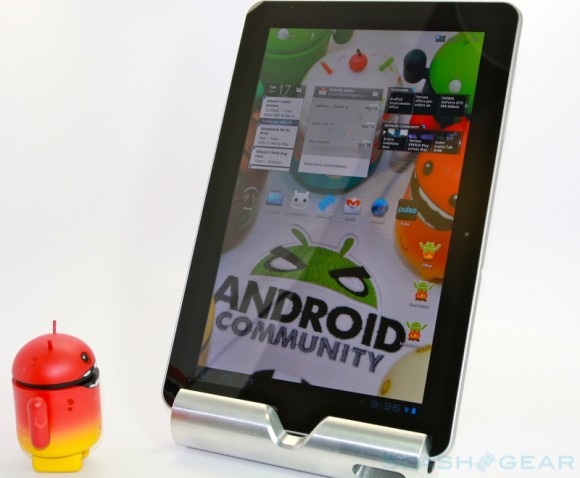 Of course, since Samsung confirmed those figures, ASUS has launched the Eee Pad Transformer. A surprise bargain at $399 for the 16GB model (factor in another $149 for its clever Keyboard Dock with the integrated battery) and so popular ASUS is struggling to keep it in stock, it undercuts both Galaxy Tab 10.1 and iPad 2 by a cool Benjamin, despite offering a beautiful 10.1-inch IPS display.
Samsung's slate is obviously thinner and lighter than the Eee Pad, but battery life is broadly similar (from the tablets alone, at least) and there's more connectivity on the ASUS too. While the Transformer's camera is, on paper, better than that of the Galaxy Tab, in practice it pumps out glitchy video and underwhelming stills, and so Samsung keeps the advantage there.
If Samsung can negotiate competitive subsidies for the 3G versions then it could gain back an edge, and we can't help but feel it's a more polished all-rounder than the Transformer slate alone. Nonetheless, $399 is hard to argue with.
Wrap-Up
With Honeycomb the common factor across the 10-inch Android tablets we've seen so far, differentiating between the slates comes down to more personal preferences. Weight, shape, thickness and material all play a huge part in how you feel about a tablet, something intended to be grabbed for a quick email check, curled up with on the sofa for an idle browsing session, or dropped into a bag for use on the move. It's no surprise that Apple spent so much time at the iPad 2 launch detailing the physical changes of the second-gen tablet: this is a segment where tactile attraction goes a long way to help justify what's usually an emotional rather than rational purchase.
On that front, the fact that the Galaxy Tab 10.1 is such a slight slate earns it a disproportionate amount of our approval. Yes, it lacks the ease of wired connectivity other Honeycomb tablets offer, and it doesn't have a clever battery-equipped Keyboard Dock like the ASUS, but the vast majority of the time it's bulk – or lack of – that makes the difference. Samsung has made a tablet that feels like a tablet should: science-fiction thin, quality display and lightweight.
The somewhat plasticky chassis reminds us of Samsung's recent smartphones, though is the inevitable compromise to the sub-600g weight, and Android still has its tablet-scale flaws, but overall it's the hand-feel, which convinces us on the Galaxy Tab 10.1. In fact the biggest competition on that front may be Samsung's own Galaxy Tab 8.9, offering the same screen resolution in a more compact form factor, which arrives later in the year. Feature-chasers should probably opt for the ASUS Eee Pad Transformer, but content-consumers looking for the most easily toted tablet will find plenty to like in the Samsung Galaxy Tab 10.1.
Our "crazy" Samsung Galaxy Tab 10.1 unboxing ceremony:
[vms c9f30cecb34f0c195b13]
Exclusive unboxing ceromony by Vic Gundotra, Google's Sr. VP of Engineering:
[vms 65bc9c748b5d2b99a6e9]