DROID X2 now Live at Verizon Online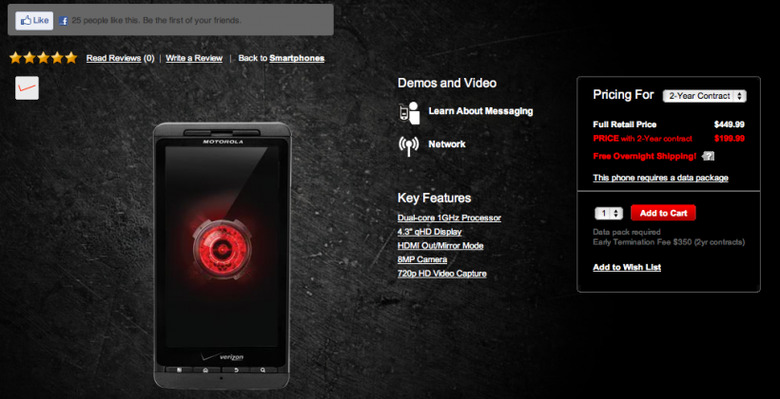 So you've got your eyeballs directed at the next brand new DROID device but you're not quite into the idea of making that a Samsung TouchWiz experience, yes? I mean you like the 4G and the big Samsung Super AMOLED Plus display on the DROID Charge, but you want a Motorola DROID, right? Have a look here, ye merry gentlemen and ladies, here comes the first dual-core 1GHz smartphone on the Verizon network.
This is only the online offering now, remember, the actual in real life store date is still May 26th. This device has a 4.3-inch screen, scratch resistant and anti-reflective glass (not quite Gorilla but I'm sure it'll be just fine) over a qHD resolution display. There's no front-facing camera but the back-facing camera is right up there with the big players at 8-megapixels and has the ability to record video at "HD resolution." This device will launch with Android 2.2 with a tiny promise of an update to 2.3 Gingerbread in the future.
We'll have a review of this lovely device up for your enjoyment and full consumption up before you know it! With it's HDMI mirroring and out, smart looks and the DROID branding up and down the back, how could a DROID fan resist? And that LED flash? Heck yes it's time to take some big fat photos and put them to the test. Meanwhile take the plunge at a cool $199 on a two-year contract at Verizon.