Our Picks for Top Portable Car Battery Chargers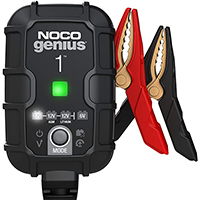 NOCO GENIUS1
Pros
Fully automatic
Works with cars, motorcycles and lawn mowers
Advanced battery maintainer
Integrated thermal sensor
Cons
Only works on batteries up to 30 amps
Charging may take a while
The NOCO GENIUS1 is a small 1-amp smart charger that will charge 6-volt and 12-volt lead-acid batteries in cars, marine applications and deep-cycle batteries. It also charges AGM, gel, flooded, lithium-ion and maintenance-free batteries.
The GENIUS1 features an integrated thermal sensor to detect ambient temperature so that it charges properly in hot or cold temperatures without overcharging or undercharging. It also has a feature that allows you to charge batteries that are completely dead.
This fully automatic portable battery charger works as a trickle charger, which means that it takes hours to charge a battery.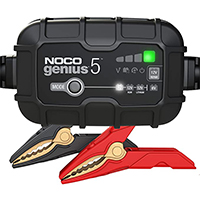 NOCO GENIUS5
Pros
Compatible with all types of vehicles
Fully automatic
Charges dead batteries
Relatively small and lightweight
Cons
Desulfation process can slow charging times
Some people find instructions confusing
The GENIUS5 features a battery maintainer, desulfator and trickle charger. It will charge 6-volt and 12-volt batteries for cars, boats and all of your toys. The battery charger works on maintenance-free, lithium-ion, flooded, gel and AGM batteries.
It comes with an integrated thermal sensor to sense the ambient temperature. This function allows you to charge the battery without worrying about it overcharging because of the outside temperature or undercharging in cold climates.
This charger also restores old batteries by detecting battery sulfation and acid stratification. With the force mode, you can charge a battery that is fully depleted.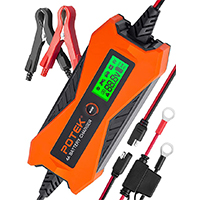 Potek 6V/12V 4A car battery charger
Pros
Features reverse polarity protection
Charges batteries from 2 to 120 Ah
Maintains all battery sizes
Features 11 stages to recharge the battery
Cons
Not waterproof or water-resistant
Must "scroll" through modes to find the different types of batteries
The Potek charger works with all types of batteries, including enhanced flooded batteries. It features an LCD screen so you can see the charging modes and has several safety features, including over-voltage protection, over-current protection, overcharging protection and over-temperature protection.
The 11 stages include diagnosis, pre-charge, desulfation, CC1, soft start, CC2, CV, analyze, repair, maintenance and recovery. It will charge batteries in cars, small trucks, lawn mowers, motorcycles, boats and more.
SUHU car battery charger
Pros
Easy to use
Charge batteries for cars, trucks, boats, lawn mowers and more
Compatible with most batteries
Battery desulfator to repair batteries
Cons
Up to three days for pulse repair
Temperature scale is only in Celsius
The SUHU car battery charger charges 12-volt and 24-volt lead-acid batteries. It will also charge deep-cycle and marine batteries, but it does not charge lithium batteries. The charger features automatic sulfating and acid stratification and has a pulse repair function to repair a battery. However, it cannot revive a completely dead battery, and it can't repair a battery with extensive damage.
This charger features automatic monitoring so that it stops charging when the battery is 100% charged. It also features automatic 12-volt or 24-volt detection. The case is durable and features an efficient design.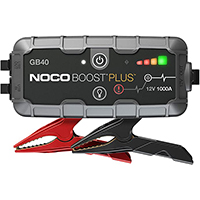 NOCO Boost Plus GB40
Pros
Compact size
Holds a charge for a long time
Heavy-duty clamps
GB40 recharges in about nine hours
Cons
For starting diesel engines with glow plugs, you need to let the glow plug light go off before you hook up the GB40
The NOCO Boost Plus GB40 will not only charge a battery, but it will also jump a dead battery. It's a compact unit that puts out 1,000 amps. You can get up to 20 jump-starts on one charge. It will jump or charge gas engines up to six liters (V-8 engines) and diesel engines up to 3 liters. It features a mistake-proof design and spark-proof technology.
This booster pack also works as a portable power bank and includes an LED flashlight. It also charges USB devices. The GB40 features high-discharge lithium technology, so it's safe to use in any climate. The rubberized casing prevents scratching your vehicle when you need to set it on the fender.
For such a powerful portable battery charger, it is surprisingly light. It weighs 2.4 pounds and includes heavy-duty battery clamps.
How We Found the Best Portable Car Battery Chargers
We chose these chargers based on their ability to charge several types of batteries, the extra features available on the chargers and recent customer reviews. We also looked for chargers that would also double as a jump-starter. For more, read our guides on how to find the
best extended car warranty
or
car insurance
.
Compare Portable Car Battery Chargers
Below, compare our top picks on whether or not they can jump a completely dead battery, amps, manufacturer's warranty and price.
| | Dead battery jump | Storage capacity | Limited warranty | Starting cost* |
| --- | --- | --- | --- | --- |
| NOCO GENIUS1 | Yes | 30 Ah | Three years | $29.95 |
| NOCO GENIUS5 | Yes | 120 Ah | Three years | $69.95 |
| Potek car battery charger | Yes | 2 to 120 Ah | — | $31.99 |
| SUHU car battery charger | No | 6 to 150 Ah | — | $29.99 |
| NOCO Boost Plus GB40 | Yes | Varies | One year | $99.95 |
*As of publishing date
Bottom Line: What to Look For in Portable Car Battery Chargers
When purchasing a portable car battery charger, be sure the charger has enough amperage to charge your vehicle's battery. If you are purchasing a charger combined with a jump box, be sure the jump box has enough cranking amps to turn your vehicle's starter over. Also take the size of the charger and its weight into consideration. If you plan to carry it around, you don't want it to be cumbersome.
Portable Car Battery Chargers FAQ
A portable battery charger is one that you can take with you on the road to charge a dead battery. It might have additional features such as an air tank, flashlight, USB charging ports and more.
A charger charges the battery over time. A jump-starter cannot charge a battery – it only provides enough juice to start the vehicle a few times before it has to be recharged.
On average, a portable car battery charger lasts four to five years.
Yes, but it is a gas-powered generator that provides enough electricity to charge the large batteries in an electric vehicle.
Yes, you can charge a car battery without removing it.