The Daily Slash: December 7 2010
Oh my goodness it really WAS Chrome OS like we had the freaky feeling it would be this morning! Take a look at the full Google Chrome Event Re-Cap and Analysis by our man in the field Ben Bajarin who was there to see it all go down! Then head through the massive list of links below looking for the [CHROME] tag to see all the sweet stuff! Then you're probably so Google crazy you'll want more so you can click around over to our exclusive Google Nexus S Hands-On (with video and pics!) Then take a peek at our review of the [Advent Vega] tablet, review of the movie [Black Swan], and read how Julian Assange was arrested and denied bail today, followed by an open letter by a mass of big names to the Prime Minister of Austrialia.
SlashLEAKS
In light of the current massive amount of important being placed on the WikiLeaks/Julian Assange situation, there's been an open letter to the current Prime Minister of Australia Julia Gillard penned and signed by a slew of writers, publishers, academics, lawmakers and so forth, amongst them Professor Noam Chomsky (pictured in a piece of art by Shepard Fairey below), Helen Garner, and Adam Bandt. This is a clip from that letter:
"We believe this case represents something of a watershed, with implications that extend beyond Mr Assange and WikiLeaks. In many parts of the globe, death threats routinely silence those who would publish or disseminate controversial material. If these incitements to violence against Mr Assange, a recipient of Amnesty International's Media Award, are allowed to stand, a disturbing new precedent will have been established in the English-speaking world.

In this crucial time, a strong statement by you and your Government can make an important difference."
Read the whole letter [here.]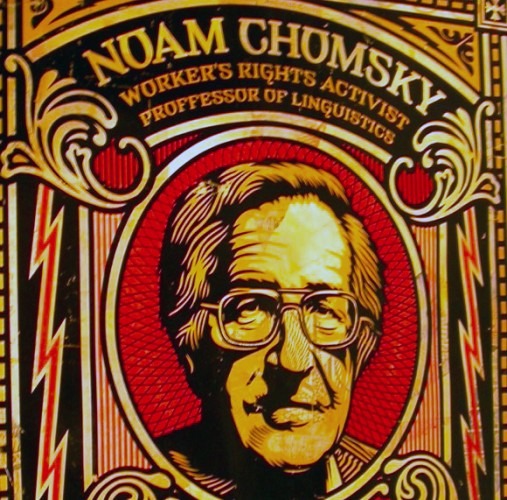 R3 Media Network
SlashPhone
Patriot Memory to Offer Class 10 microSDHC Memory Card
Windows Phone 7 Cut and Paste Caught on Video
ASUS E600 Windows Phone 7 Smartphone Make an FCC Appereance
Gingerbread OTA Update For Nexus One Available In A Few Weeks
Android Community
Add the new Gingerbread keyboard to your Android 2.2 device with these steps
New guide outlines packaging Tablet & Phone UI in a single APK
Students living in Campus Apartments buildings can pay rent from Android smartphones
KBB app for Android downloaded 50K times in less than a month
Google Maps for Mobile 5.0 incoming: 3D dynamic mapping, caching, more
Motorola Android Honeycomb tablet gets brief preview
Sweet FRG83D Update for DROID A855 from Verizon
White Droid Incredible Now Available at Best Buy
FireFox For Android Coming to the Android Market This Month
Comcast's Xfinity now available in the Android Market
Foursquare for Android Updated, bringing speed improvements and new Trophy Case
Samsung Nexus S Coming To Verizon?
Nexus S to get Super Clear LCD in Russia Instead of Super AMOLED
Android 2.3 Gingerbread Update Confirmed by HTC (sort of) [HOORAY EXPLOSION]
Optimus Mach (LG LU3000) Launched in Korea
SlashGear
Advent Vega [REVIEW]
Crazy Yoomi Duo iPad game is part app part real world board game
Large Pocket Shirt makes you look like The Little's
Quirky outs cool modular cooking utensil
DIY jog wheel controller uses old VCR head
Samsung outs new green memory with advanced chip stacking tech
Adesso offers new WKB-2000CB iPad case with wireless keyboard inside
Acer tosses out new Revo 100 media PC in the UK
Green Porsche Cayenne S hybrid gets federal tax credit
sWaP Rebel touchscreen phone watch is geeky fashion at its finest
Macy's saves millions migrating to green LED lights for 86 stores
16GB and 32GB class 10 microSDHC Cards surface from Patriot Memory
Apache Wave reboots Google's collaborative tool in open-source Incubator
Taiji dual-screen tablet and Win 7 slate shown off
iPad iOS 4.2 power loss leaves Connection Kit users in the cold
Amazon Kindle for Web full ebook access to get previewed today
Toshiba readying Windows 7, Chrome OS and Android tablets for CES 2011?
iPad 2 shipping Feb 2011 for April release tip insiders
Honeycomb Motorola Android tablet previewed by Andy Rubin
Netflix Chief Financial Officer Resigns
iPad Covers Made of Recycled Movie Theater Banners by Aire Trashion [COOL BEANS]
World of Warcraft: Cataclysm Live and Up For Sale Now! What are You Waiting for?!
Google Rolls Out Sandbox for Adobe Flash Player in Chrome Browser [CHROME]
App Submissions Begin for BlackBerry PlayBook Through BlackBerry App World
Google Chrome Event Re-Cap and Analysis [CHROME] [ON TIME ANALYSIS]
Google announces chrome notebook pilot program [CHROME]
Chrome OS Re-Announced at Google Chrome Event [CHROME]
Chrome Web Store Revealed at Google Chrome Event [CHROME]
Chrome Browser Updated at Google Chrome Event [CHROME]
Google Nexus S Hands-On [Video] [FEATURED]
Movie Review: Black Swan [COLUMN]
Flix on Stix Skips the DVDs, Puts Movies on Your USB Flash Drive
Scientists Using Ultrasonic Waves to Move Small Objects, Sonic Screwdriver Style
PopCap's Bejeweled 3 Now Available for $19.95 [Video]
Windows Phone 7 Limited to 15 Applications with Push Notifications at One Time
WikiLeaks' Julian Assange denied bail after UK arrest [RUH ROH]
Atasuki probe reaches Venus in search of strong winds
Michael Jackson Experience Delivers South African Horns to Pirates [VIDEO] [LOL]
To see more Daily Slash posts, click here: [The Daily Slash] or here: [SlashGear Morning Wrap-Up]