sWaP Rebel Touchscreen Phone Watch Is Geeky Fashion At Its Finest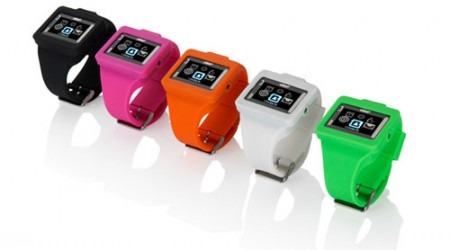 Geeks have had a lust for phone watches for years going back to the comic book days of Dick Tracy and his watch phone. There are a few watch phone offerings on the market today and a new one has just landed. The watch is called the sWaP Rebel and it looks a bit like one of those iPod nano watches that have been so prevalent lately.
The sWaP has a 1.46" TFT screen that is touch sensitive and the watch has a mini stylus for working that tiny screen. The watch comes in green, white, orange, pink, and black colors all with bands made from soft silica rubber gel with a smooth matte finish. One of the coolest features is the USB port that is on the end of the watchstrap allowing you to transfer data to and from the watch without needing any other cables.
The watch will work on all mobile phone networks in the UK except for 3. It weighs 65g, measures in at 205 x 45.5 x 17.52mm, and has a 240mAh lithium battery inside with up to 85 hours of standby and 160 minutes of talk time. The watch ships charged and ready to use with a set of earphones and a 2GB microSD card for storage. Other features include a video camera, still camera, FM Tuner, MP3 player, video player, and a calendar. The device can also connect to the web with WAP connectivity. The sWaP sells for £189.99 including VAT.