Adesso Offers New WKB-2000CB iPad Case With Wireless Keyboard Inside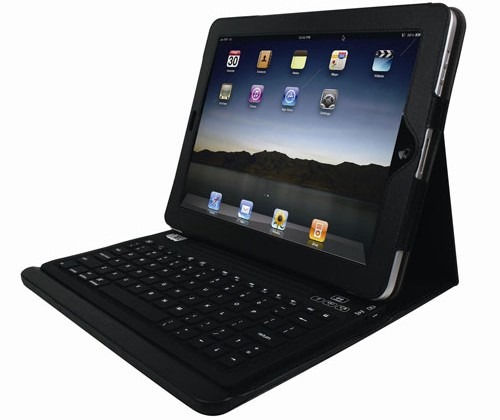 Adesso has all sorts of cool keyboards for different uses from gaming to HTPC use. The company has announced a new wireless keyboard and case combination for the iPad that will let you use the iPad more like a netbook than a tablet. The keyboard is the WKB-2000CB also known as the Campagno. The keyboard is also removable from the case for use with other Bluetooth devices.
The keyboard uses an integrated rechargeable battery and is waterproof in case you spill on the keyboard. Adesso promises that the ridged keys offer good typing feel and feedback despite being silent.
The case is faux leather with adjustable settings for the screen angle. The keyboard has 76 keys in a QWERTY layout and has a wireless range of 30 feet. The keyboard is 9.25 x 5.25 x 0.30 inches and the case measures 7.5 x 9.75 x 0.75". The battery is good for up to 40 hours of use and 60 days on standby. You can pick the case up right now for $79.99.