Top Radar Detectors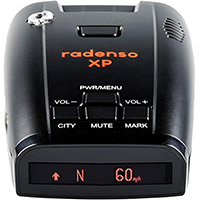 Radenso XP
Pros
Plug-and-play
Automatic sensitivity adjustments
Voice alerts
One-year ticket reimbursement guarantee
The Radenso XP radar detector features long-range and false-alert filtering. It is sensitive enough to alert you of radar up to several miles away while at the same time filtering out other signals that create false alerts with blind-spot monitoring.
The Radenso XP also uses GPS lockout technology to remember where you received false alerts on routes that you regularly drive. Once you determine the alert is false, you just press a button to add the lockout location. You can also set a minimum speed to mute alerts.
Additional features include a speed camera database, TSR filter for traffic sensors, Ka-band segmentation, multiple-threat display for up to three signals, three modes and VG2 undetectable stealth. It's not the cheapest on our list — keep reading for models under $200.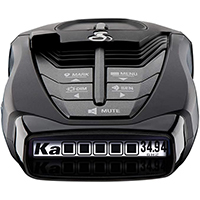 Cobra RAD 480i
Pros
Twice the detection range of earlier models
Speed and red-light camera notifications
Front and rear detection
Mounts on dash or windshield
Cons
Possible false alerts
Community alerts could be distracting
The Cobra RAD 480i features twice the detection range of the previous model. It also features IVT filtering for unwanted alerts, speed and red-light camera notifications and real-time shared alerts from the Cobra community.
The enhanced digital signal processing allows for rapid warnings, and Bluetooth connects you to the Cobra community. You also get millions of user-base traffic avoidance exchanges.
Additional features include front and rear detection, the iRadar app, early warnings and the mounts you need for the windshield or dash. As of publishing, it costs around $150.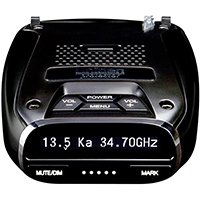 Uniden DFR7
Pros
Free updates
Voice alerts
Vehicle battery voltage
K-band and Ka-band filtering
The Uniden DFR7 laser and radar detector has long-range sensitivity that detects all radar and laser guns. It features advanced false-alert filtering and uses GPS to remember common false alerts, such as the automatic doors you see at retail establishments.
The DFR7 also alerts you to red-light and speed cameras via a pre-loaded location database. Firmware updates ensure that the Uniden DFR7 is never out of date. The OLED display is easy to read and features radar band frequency, maximum speed warning and numeric signal strength. It's a little more than $200 as of publishing.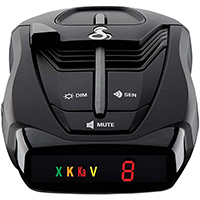 Cobra RAD 380
Pros
Good value
Next-gen IVT filter
LaserEye sensitivity
Digital signal meter
Long-range detection
Cons
No Bluetooth connectivity
The Cobra RAD 380 laser and radar detector features front and rear detection so you can see what's behind you. It also features an updatable IVT filter and advanced anti-falsing circuitry that reduces false alerts from vehicle avoidance systems.
Additional features include early warnings via the digital signal processing system, updatable software, a 12-volt power adapter and two ways to mount – windshield or dash. As of publishing, it's priced under $100.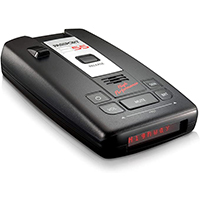 Escort Passport S55
Pros
Works out of the box
Community alerts
Clear audible alerts
Cons
A little pricey
Does not filter all radar
Not ideal for Honda or Acura
The Escort Passport S55 radar detector analyzes incoming signals and automatically adjusts sensitivity based on whether you are in the city or on the highway. A community of drivers shares alerts for speed cameras, red-light cameras, police radar and speed limits.
Additional features include audible alerts, Ka-band, K-band, X-band and POP warnings and a USB power cord. It's one of the most expensive models on our list, priced around $360 last we checked.
This model might detect the bumper sensors on Honda and Acura car models, which could trigger a false alarm. If you have a car from one of these manufacturers, consider one of our other top picks.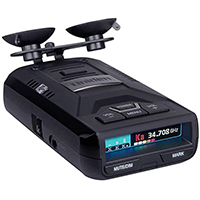 Uniden R3
Pros
Excellent K-band filter
Mute memory
Voice alerts
One-year extended warranty
Cons
Possibly distracting voice alerts and lights
Could pick up alerts on monitoring systems in other cars
The Uniden R3 is a long-range radar and laser detector featuring built-in GPS technology. It has false-alert filtering and remembers common false alerts caused by other radar products, such as automatic doors at retail stores and blind-spot monitoring systems and collision avoidance systems in vehicles.
This model also features pre-loaded red-light and speed camera locations. The database and firmware update so the alerts won't be out of date. It also features a multicolored display that makes it easier to read with a glance so you can keep your eyes on the road. As of publishing, it's priced at $304.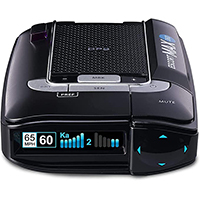 Escort MAX 360
Pros
360-degree alert arrows
AutoLearn technology
Dual-antenna system
Defender database
Cons
Expensive
No automatic updates or Wi-Fi
The Escort MAX 360 laser and radar detector features directional indication, extreme range and excellent response time. The front and rear antennas quickly scan for threats. The Escort MAX 360 also connects you to the user community Defender database that contains thousands of red-light camera and speed camera locations in North America.
Additional features include five levels of filtering, three driving modes, speed-based sensitivity, Bluetooth connection, cruise alert, directional arrows displaying the location of a threat and real-time speed limit data. Priced around $450, the Escort MAX 360 is the most expensive radar detector on our list.
How We Found the Best Radar Detector Brands
We looked at the features of several detectors, including whether they filtered out K-band, Ka-band and other "noise." We also looked at the range of the radar detectors and whether the manufacturer made improvements from an older model.
Compare Radar Detectors
| | Price* | Star rating* | Display type | Power source |
| --- | --- | --- | --- | --- |
| Radenso XP | $249.99 | 4.7 | OLED | DC |
| Cobra RAD 480i | $149.95 | 4.3 | OLED | DC |
| Uniden DFR7 | $215 | 4.5 | VFD | Corded-electric, battery |
| Cobra RAD 380 | $99.95 | 4.5 | LCD | DC |
| Escort Passport S55 | $363.09 | 4.4 | LED | Corded-electric, battery |
| Uniden R3 Extreme | $304 | 4.3 | OLED | Battery |
| Escort MAX 360 | $449.95 | 4.5 | LED | DC |
*On Amazon, as of publishing date
Bottom Line: What to Look For When Buying a Radar Detector Online
Before you buy a radar detector, research the various products on the market to find the best one for you. Here are a few tips to help you choose the right model.
Driving modes: If you do a lot of city and highway traveling, you should look into a radar detector and laser detector with driving modes.
Dual antennas: Models with dual antennas provide comprehensive surveillance.
360-degree scanning: Look for a radar detector that scans all around you so you know you're covered in every direction.
False alarms: Look for a model that is efficient at filtering out false alarms, such as radar signals from other vehicles.
Radar Detector FAQ
A radar detector is a device that looks for radar signals. It can detect police radars. It will also detect radar emitted from vehicles with blind-spot detection, automatic cruise control, and other safety features. Some radar detectors also detect the radar used in automatic doors in retail establishments. Many radar detectors have band sensors to avoid those types of detections.
The distance your radar detector scans depends on the specific device. An X-band radar can detect signals up to four miles away. A K-band radar detector can detect signals up to two miles away.
A radar device, such as a radar speed-sensing implement, emits radio waves to determine the speed of a vehicle. It measures the distance that the radar wave has to go before it bounces back, then calculates the speed of a vehicle based on the distance.
A radar detector detects these radar waves. It works like a radio receiver. The radar detector looks for a radar signal and warns you when it locates one.
Some radar detectors can detect speed cameras, but most rely on a system of a linked GPS and database to warn you of a speed camera in the area.
The radar detector needs to be able to clearly scan, so the best place for it is on the windshield or on top of the dashboard.
Sometimes. Radar detectors are legal in passenger vehicles in 49 of 50 states, however. Virginia is the one state where the devices are illegal.