Top Medical Alert Systems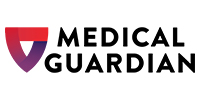 Medical Guardian
Pros
72-hour battery life
Waterproof devices
24-hour monitoring
Free spousal monitoring
Cons
Limited range
No fall detection on smartwatch
Medical Guardian offers home and mobile medical alert systems with 24/7 monitoring. The wearable devices have different features, so check that the one you choose has all the options you want. You can purchase additional wearable devices and wall buttons for an added cost.
Home systems start at $29 per month, and mobile systems start at $40 per month. Medical Guardian offers some savings and promotions, including free shipping, free activation and a free lockbox.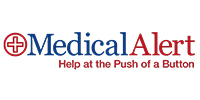 Medical Alert
Pros
30-day trial
24/7 monitoring
Automatic fall detection
No charge for help buttons
Cons
No smartwatch option
Semiannual pricing is more expensive
Medical Alert offers devices for home use, on-the-go use and fall detection. It also provides 24/7 monitoring and a mobile app. You can take an assessment online to determine which device is right for you.
Systems start at $19.95 per month with annual and semiannual pricing. Automatic fall detection costs an additional $10 per month.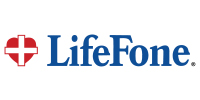 LifeFone
Pros
30-day money-back guarantee
24/7 monitoring
Automatic fall detection
Cellular and landline options
Cons
Add-ons can be costly
Limited water-resistant options
LifeFone has mobile and home-based medical alert devices, including necklaces, watches and bracelets with ranges of up to 1,300 feet. This company also offers 24/7 monitoring.
Monitoring plans start as low as $24.95 per month. Automatic fall detection can be added to a monthly package for up to $10 per month. LifeFone has no activation fees or ongoing equipment fees.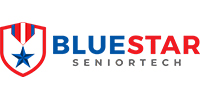 BlueStar Senior Tech
Pros
No activation fees
No contracts
Mobile app options
Save by paying upfront
Cons
No free trial
Some upfront costs
Limited fall detection
BlueStar SeniorTech has multiple medical alert systems, including options for home use, mobile use and a combination of both. It also lets you choose to pay monthly, quarterly or annually. The company gives discounts if you pay quarterly or annually.
In-home landline systems start at $29.95 per month, which includes monitoring. The mobile alert system starts at $39.95 per month with monitoring. The hybrid option starts at $44.95 per month with fall detection. You can also add fall detection to packages that don't already have it for an additional $5 per month.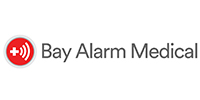 Bay Alarm Medical
Pros
30-day trial
Translation services
No upfront device fees
Vehicle crash detection
Cons
Smartwatch option available
Optional upgrades get costly
Bay Alarm Medical offers in-home, mobile and bundled packages, all of which come with 24/7 monitoring. Accessories include additional buttons, charms and lockboxes.
Packages start at $19.95 per month and range up to $29.95 per month. There are no activation fees, and you get a 30-day risk-free trial.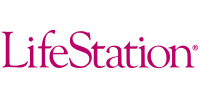 LifeStation
Pros
Free shipping
Optional add-ons available
No contracts
Waterproof devices
Cons
Fall detection costs extra
No activity monitoring
LifeStation offers medical alert systems for home and mobile use. Both options have 24/7 monitoring, and all of LifeStation's wearables are waterproof.
LifeStation's in-home medical alert systems start at $21.95 per month. Its mobile systems start at $37.95 per month. You'll need to call the company for more specific pricing, though.
How We Found the Best Medical Alert Systems
To find companies for this guide, we looked at 23 brands and pared them down to these six top medical alert systems. We evaluated their available medical alert devices, checking that each company offered fall detection and making sure they all had battery lives of at least 32 hours. We also looked at reviews from online sources, including ConsumerAffairs and Google, and only included companies with 500 reviews or more.
Side-by-Side Comparison of Medical Alert Systems
| Provider | Mobile systems with monitoring* | Home systems with monitoring* | Fall detection cost* |
| --- | --- | --- | --- |
| Medical Guardian | Starting at $40 per month | Starting at $29 per month | $10 more per month |
| Medical Alert | Starting at $34.95 per month | Starting at $19.95 per month | $10 more per month |
| LifeFone | Starting at $37.95 per month | Starting at $21.95 per month | Up to $10 more per month |
| BlueStar SeniorTech | Starting at $39.95 per month | Starting at $29.95 per month | $5 more per month |
| Bay Alarm Medical | Starting at $19.95 per month | Starting at $19.95 per month | $10 more per month |
| LifeStation | Starting at $37.95 per month | Starting at $21.95 per month | pricing not available |
*As of publishing date
What Is a Medical Alert System and How Does It Work?
Medical alert systems are electronic devices that contact help during medical emergencies. Some systems do this automatically after a fall or another event, but others require users to press a button when they need assistance. Once activated, devices either alert emergency services or another contact directly or patch users through to a monitoring service that coordinates a response.
Some medical alert companies let users identify loved ones as emergency contacts. This helps ensure friends and family are informed in an emergency.
Home medical alert systems typically include a base and a wearable device, such as a button pendant, bracelet or necklace. Mobile medical alert devices use GPS service and/or a cellular signal to provide emergency responses outside the home. Mobile systems are typically contained within a wearable device.
How to Choose a Medical Alert System
When choosing a medical alert system, first consider whether you want a home system, a mobile system or a combination of both:
Home systems have a stationary base that is generally plugged into a power source and a phone line. The user then wears a device that they can use to contact help and potentially communicate with a monitoring facility.
Mobile systems are generally contained in a watch, necklace or bracelet that the user wears. These systems rely on GPS and cellular service to maintain contact while users are on the go.
No matter what type of system you choose, make sure its wearables are discreet, comfortable and waterproof so you have protection while showering or bathing.
You should also decide whether you want your medical alert system monitored. Monitoring means representatives are available 24/7 to contact emergency services as needed. If a system is unmonitored, it should still alert 911 or the user's emergency contact, but there's no opportunity to customize the response in case of a false alarm or an unconventional emergency.
This also highlights the potential importance of two-way voice communication. With a monitored system, two-way talk lets users discuss their emergency with a representative so they can receive the exact help they need.
Finally, see if your medical alert company offers lockboxes. A lockbox is helpful because it lets your emergency responders enter your home without breaking down the door. You put a key in the lockbox, and the combination is kept safe with the medical alert monitoring company until emergency responders need access to your home.
Medical Alert System Costs
Medical alert system costs depend on a variety of factors. Some of the biggest pricing factors include:
The type of system (in-home or mobile)
Whether monitoring is included
Activation fees
Equipment fees
Add-on accessories
Fall detection service
Some medical alert companies require you to purchase your devices upfront, but others offer the option to rent the equipment as part of your recurring fee. Most medical alert system companies post their pricing online, but some require you to reach out for an individualized quote based on your or your loved one's specific situation.
Bottom Line: What to Know About Medical Alert Systems
Medical alert systems help users age in place safely and are especially helpful for people with disabilities, limited mobility or memory impairments. Medical alert systems can automatically contact emergency services at the click of a button or after detecting a fall, potentially saving users' lives. There are medical alert systems to match a variety of lifestyles, including options for those who are frequently away from home.
Frequently Asked Questions About Medical Alert Systems
Yes, medical alert systems can be beneficial for those who have Alzheimer's or other memory impairments. Because these people can easily get confused or lost, having an immediate link to emergency services can be critical.
Medical alert systems may offer a multitude of features. However, some are more important than others, including monitoring, wearable device options, fall detection, two-way voice capabilities and waterproofing.
Medicare does not pay for medical alert systems. However, Medicaid or Medicare Advantage may pay for part or all of the cost.
Many medical alert systems are very easy to install. Most only require a power source, but home systems that operate through landlines also need to be plugged into a phone connection.
Private insurance may cover all or part of the cost of a medical alert system. Medicare does not cover medical alert systems, but Medicare Advantage and Medicaid may help pay for some of the cost.
Yes. Unmonitored medical alert systems typically don't require monthly fees. However, this comes at the expense of live monitoring. If the cost is a concern, many companies offer annual pricing with discounts for paying in advance.
Many medical alert buttons are waterproof, but it's worth checking with your device's manufacturer before exposing it to water. Waterproof devices are particularly useful when the wearer is in the bathtub or shower because of these areas' higher fall risks.
Typically, medical alert systems are not tax deductible. However, there are some cases where medical alert systems could be considered a deductible medical expense. Consult with a tax preparer to see if your situation warrants a deduction.