Our Picks for Top Brake Pads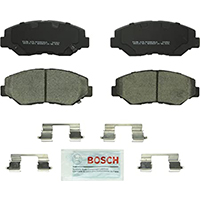 Bosch QuietCast Premium Disc Brake Pads
Pros
Available for domestic, Asian and European vehicles
Multilayer rubber core shim for noise reduction
Transfer layer for extended pad life
Engineered and manufactured in North America
Cons
Hardware kit not always included
Not for severe and medium-duty applications
Bosch developed these brake pads for general use across a variety of makes and models, though fitment is still vehicle specific. The multilayer shim provides increased noise insulation while giving the pad more strength. These pads also feature a copper-free ceramic material that's compliant with the EPA's Copper-Free Brake Initiative through 2025.
As of publishing, a set of these pads for the front brakes of a 2015 Honda CR-V costs $34.30 on Amazon. Synthetic lubricant and a hardware kit, where available, are included for installation.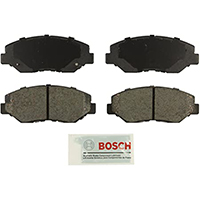 Bosch Blue Brake Pads
Pros
Matches OE design for simple installation
Rust-inhibitive coating
OE-style multilayer shims
Pads come wrapped in a protective shop towel
Cons
Hardware kit not always included
Not for severe and medium-duty applications
Bosch created its Blue brake pads as a value option, but they have the same testing and engineering process as the company's premium line. Unfortunately, Bosch doesn't rate the Blue line's friction pad life as highly as the QuietCast's.
Bosch Blue pads come in ceramic and semi-metallic materials. They feature original equipment-style multilayer shims for noise dampening and chamfers and slots that match the OE design for easy installation. These pads also come with a rust-inhibitive coating.
As of publishing, a set of these front brake pads for a 2015 Honda CR-V costs $29.13 on Amazon. Bosch Blue pads come with synthetic lubricant to reduce the resistance on the sliding contact points during installation. A hardware kit may also be included, depending on your application.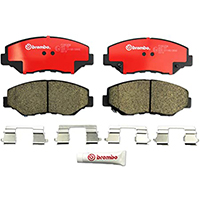 Brembo NAO Brake Pads
Pros
OE-equivalent
Hardware included for most applications
Brembo's option for comfort and durability
Patented solutions minimize noise and vibration
Cons
Can be expensive, depending on the application
Only for Asian and American cars
Brembo offers two lines of brake pads: Low Met and NAO. However, the company has over 100 friction materials across these two product families. We've chosen their NAO line as one of our top brake pads, but exact specifications and details may vary by application.
A set of these Brembo front brake pads for our sample 2015 Honda CR-V costs $45.65 on Amazon as of publishing. Brembo includes the hardware for most applications.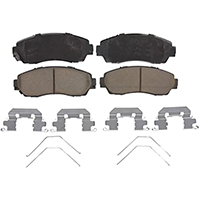 Wagner QuickStop Brake Pads
Pros
OE fit and form design
Application-specific design and materials
Undergoes post-cure process for even performance
Wagner OE25 zero-copper friction formula
Cons
Some reviews complain about noise
Not for performance use
Wagner QuickStop brake pads are manufactured to fit like original equipment, and the brake pad materials are formulated for each vehicle application. The company also uses a 100% post-cure process to help ensure the same performance throughout the life of the brake pad.
As of publishing, Wagner QS brake pads on Amazon are priced at $25.63 for a 2015 Honda CR-V. They come with stainless steel hardware and OE-style lubricant for most applications.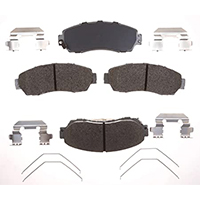 ACDelco Silver (Advantage) Brake Pads
Pros
Matches OE specifications
Company also makes GM Genuine Parts
Can be installed right out of the box
Gray backing plate prevents corrosion
Cons
Some reviews complain about noise
Your pads may come with a different material
You may know ACDelco for offering GM Genuine Parts, but the company also provides brake pads for all makes and models of vehicles. Its Silver line (formerly branded as AC Delco Advantage) comes in a variety of materials, but we looked specifically at the ceramic models.
As of publishing, front pads for our sample 2015 Honda CR-V cost $38.16 on Amazon. Hardware clip kits are included where applicable.
KFE Ultra Quiet Advanced Brake Pads
Pros
OEM fitment
Limited warranty
Thermo scorched for less break-in time
Slots and chamfers extend brake pad life on select models
Cons
Some reviews complain about noise
Some models do not have slots and chamfers
KFE Ultra Quiet Advanced brake pads use a ceramic formula. These brake pads are thermo scorched to reduced break-in time, and they are treated through a positive molding process for more consistent performance. KFE brake pads do not use asbestos.
A set of front brakes for our sample 2015 Honda CR-V are $25.95 on Amazon at the time of publishing. KFE doesn't specify whether it includes any hardware or installation aids.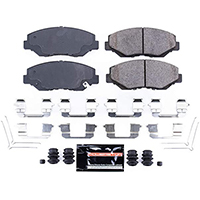 PowerStop Z23 Evolution Sport Brake Pads
Pros
Carbon fiber-infused ceramic material
Dual-layer rubberized shims
Includes hardware, brake lubricant and pin bushing kit
30-day, 500-mile warranty
Cons
Some reviews complain about fit
Break-in procedure
PowerStop Z23 Evolution Sport brake pads feature a carbon fiber-infused ceramic material that increases braking power. The backing plate is powder-coated to help resist rust, and the rubberized shims, chamfers and slots help your vehicle's brakes stay quiet.
As of publishing, the Amazon price for a set of these front brakes is $38.99 for a 2015 Honda CR-V. PowerStop provides stainless steel hardware, brake lubricant and a pin bushing kit for installation. The company also recommends a break-in procedure to evenly distribute friction material. This isn't a negative on its own, but it's something you should be aware of in case you don't have the patience for such a procedure.
How We Found the Best Brake Pads
We looked for brake pads manufactured to last longer and reduce noise, including brake pads made for performance applications. We also considered fading and whether the brake pads were made in the style of original equipment for simpler installation.
What to Consider When Buying Brake Pads
Here are a few things to keep in mind while you shop around for brake pads:
Brake pads are sold in pairs. This means you have to purchase sets for your front and rear axles separately.
Front brakes and rear brakes are different. Your vehicle has different needs for each pair, so be sure to order the correct sets.
There are also three main types of brake pads on the market today:
Organic brake pads: Organic brake pads, also called non-asbestos organic (NAO) pads, are standard on most cars in the U.S. However, they tend to wear faster than ceramic and semi-metallic options and aren't as good for performance driving. Low-metallic NAO pads are also available for those who want improved performance in this category, though.
Ceramic brake pads: Ceramic pads offer improved braking performance over organics while still being quieter and cleaner than most other brake pads. However, ceramic pads are also the most expensive type on average, and they don't work as well in extreme cold.
Semi-metallic brake pads: Semi-metallic pads provide superior stopping power at the cost of increased noise, more brake dust and greater wear on the other components of your braking system.
Bottom Line
Choose a brake pad that fits your driving style and environment. While each vehicle's brake system is designed for that particular vehicle, you do have some leeway with choosing brake pads as long as they fit your vehicle. Switching from organic pads to semi-metallic pads should give you better stopping power, while changing from semi-metallic pads to ceramic pads should cut down on noise. Just make sure they're properly installed and watch for signs of wear down the road.
Brake Pad FAQ
The simple answer is to replace your brake pads when you start to get signs of wear. The first sign of wear is usually a squeaking or squealing sound that happens whenever you press the brake pedal.
As your brakes start to wear down, a metal tab or burr may be exposed. The tab rubs the rotor, causing a squeaking noise and giving you a signal that it's time for a replacement. Holding off on getting new brake pads can lead to vehicle damage and reduced stopping power.
There are other ways to estimate when your vehicle will need new brake pads, but they're often less useful. Mileage isn't a great measuring stick because brake wear depends on your driving habits. You can also physically measure your brake pads, replacing them when they wear down to 3 or 4 millimeters, but this isn't a convenient tip for most people.
Brake pads function by clamping down on brake rotors. The friction of slowing your car down wears on the pads and produces significant heat, both of which can cause your brake pads to deteriorate over time. Some pads may last longer than others, but pads are designed to wear out with regular use.
Good brakes are quiet and feature ample stopping power and a pad that doesn't damage your vehicle's rotors. For most people, ceramic brake pads provide all of these benefits. However, those who drive in the mountains, take their daily driver to the racetrack, or are hard on the pedals might be better off with semi-metallic brakes.
It depends on what type of driving you do. Ceramic brake pads are usually quieter, but if you do a lot of stopping or you have a medium- or heavy-duty vehicle, semi-metallic brake pads provide better stopping power.
The difference is relatively simple:
Brake pads are flat pieces of material, whether organic, ceramic or semi-metallic, that are part of a disc brake system. When you step on the brake pedal, the pressure clamps the pads to your vehicle's rotor discs, bringing you to a stop.
Brake shoes are part of drum brake systems. Drum brakes are rare in contemporary vehicles, but they were more common in the past. The pressure from a drum brake system pushes the brake shoes outward against the inside sides of the drum to bring you to a stop.
Several things can happen if you don't change your vehicle's brake pads:
First, you won't be able to stop as well if the pads are low. This comes with obvious safety risks.
Second, the tabs on the pads will score the rotors to the point where you'll have to replace them. This will also cause an uncomfortable squeaking, grinding noise whenever you apply pressure to the brake pedal.
Third, thin pads could also cause the caliper pistons to overextend, which means that you'll also have to replace the calipers.