SlashGear Evening Wrap-Up: August 6, 2012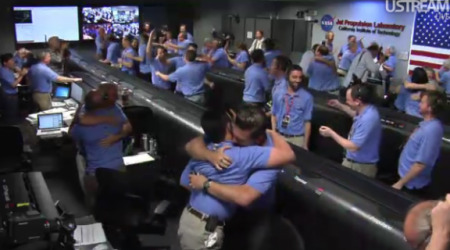 We're back to Monday folks, but thankfully this particular Monday provided us with a lot of interesting news. Of course, Apple and Samsung's court battle is still raging on, with Samsung today claiming that Apple pressured 3G experts to change evidence. Apple detailed the icons it accuses Samsung of ripping off, while Samsung made a case for the uniqueness of its handsets up on the stand. Samsung was looking pretty decent there for a while, until an expert Apple witness took the stand to say that the iPhone and the original Galaxy S were "substantially the same." Ouch.
But enough about boring old courtroom drama, because today Apple and Samsung's lawsuit was eclipsed by another event: NASA's Curiosity rover touched down successfully on the surface of Mars today. It was a huge event, and we've got plenty of related posts for you to read through. If you missed the live stream, you can watch this video of the Curiosity team as they react to the rover's landing. There are also a few images from the surface of Mars to check out: after sending back the first image from the landing, NASA received even more images from the surface of Mars. There was also this shot of the descent taken by NASA's Mars orbiter, which we have to say is pretty awesome. Did you know that Curiosity will be leaving behind tags as it travels across Mars? It is, and it's doing so in Morse code.
In other news, Samsung has announced that the Galaxy Note 10.1 will indeed be hitting shelves this month. That announcement was accompanied by a new promo video for the Galaxy Note 10.1, and after watching it, we wonder if Android users care more about functionality than they do about specs. We also caught a glimpse of what appears to be Samsung's plan for Jelly Bean updates on various Galaxy devices, so you may want to give that a look. Apple co-founder Steve Wozniak gave some warnings about becoming too reliant on the cloud, and it turns out that Steve Jobs actually liked the idea of an iPad Mini. Speaking of Apple, it appears that the company's entire mobile line is going to get new dock connectors, and YouTube has been banished from iOS 6, but we tell you why that may not necessarily be a bad thing.
Get ready ultrabook enthusiasts, because Lenovo's new ThinkPad X1 Carbon will be launching by the end of the month. Demonoid has been shut down by Ukrainian authorities, much like MegaUpload was by the US earlier this year. Finally, the PS3 is getting a bunch of collections at the end of this month, with Sony announcing today that the God of War Saga and the inFamous Collection will be launching alongside the Ratchet & Clank Collection on August 28.
That about does it for the evening wrap-up, so now that you're all caught up on the news from the day, head out and enjoy the rest of your Monday evening!