Has Functionality Finally Caught Up With The Android Spec Race?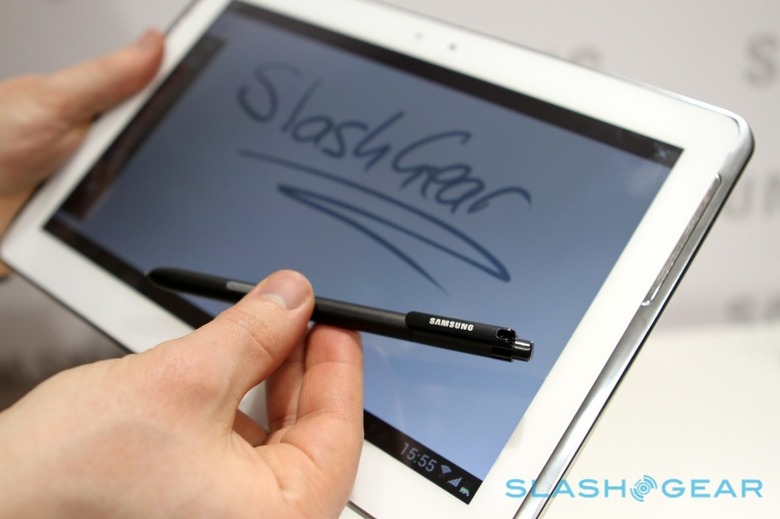 Samsung has woken up to context: the Galaxy Note 10.1 has a fast quadcore processor and twice as much memory as most rivals, but listen to Samsung's pitch and you'd hardly know it. Instead of the usual breathless glee over hardware and technical abilities, the Note 10.1 tells you exactly what it can do with all that's under the hood. Namely, bring the stylus back in style, and create a compellingly different approach to tableteering, distinct to what Apple's iPad offers.
In a sense, Samsung has done what Microsoft threatened to with the Courier concept: create a tablet which is singularly at home when it comes to digital note-taking and researching. True, it doesn't have Courier's slick folding dual-screen design – though I can't help but wish Samsung would bolt two Galaxy Tab 7.7 slates together, throw in some proper digitizers, and make the super-slim clamshell of my dreams – but it ticks the important boxes. Flexibility of how apps occupy the screen; precise digital inking; easy snipping and collation; and a platform that's as useful in consuming content as it is at allowing its creation.
[aquote]Samsung has woken up to the fact that context, not cores, matters[/aquote]
Samsung has wisely woken up to the fact that it's context, not cores, that makes a device successful. I've written about that before, as a challenge the Android hardware industry (and the chip manufacturers whose silicon powers those devices) faces as a whole; in short, it's easy to wax lyrical about how potent your processor is, and how many pixels it can push, but it's a lot tougher to explain to a consumer why that should be important to them. It's something Apple does well with the Retina display on the new iPad: not just resolution for the sake of it, but explaining why it has a positive impact on photos, text and video.
The promo video for the Galaxy Note 10.1 loses marks for not using an actual device – renders have a horrible tendency to cover up what lag actually exists – but otherwise it's a great success. Samsung doesn't dwell on geek-frotting elements like how many cores are present, or what the resolution is, or how much RAM is inside, unless they have a legitimate impact on usability. Instead of meaningless "lifestyle" posturing, it's all about how the apps actually work with the hardware and provide more value than if you bought, say, an ASUS Transformer or an Acer Iconia Tab.
Now, that's not to say that the Note 10.1's clever split-screen software will remain its own prized possession. One thing that has become commonplace among Android devices is that fancy software quickly gets ripped and baked into unofficial ROMs, sharing the goodness among other devices. In some cases that's even before the official implementation has hit shelves; Samsung's own experience with its Flipboard exclusive on the Galaxy S III, ripped from a test build and shared before the new phone went on sale, springs to mind.
Samsung's edge, though, is in the combination of hardware and software that makes the Note 10.1 special. Yes, S Note and other other custom apps will likely work – or be made to work – on non-Note tablets, but they'll lack the precision and flexibility of the special stylus. That's a strong motivator to buy the official product, and something – in a world of identikit hardware – we rarely see.
The Note 10.1 still has to live up to its promises – we'll have to wait for the first reviews before we see if the stylus is accurate enough, and the hardware capable enough, to deliver true split-screen usability and replace our paper notebooks – but Samsung has given it a starting advantage few Android tablets ever manage.