Steve Jobs secretly "very receptive" to iPad mini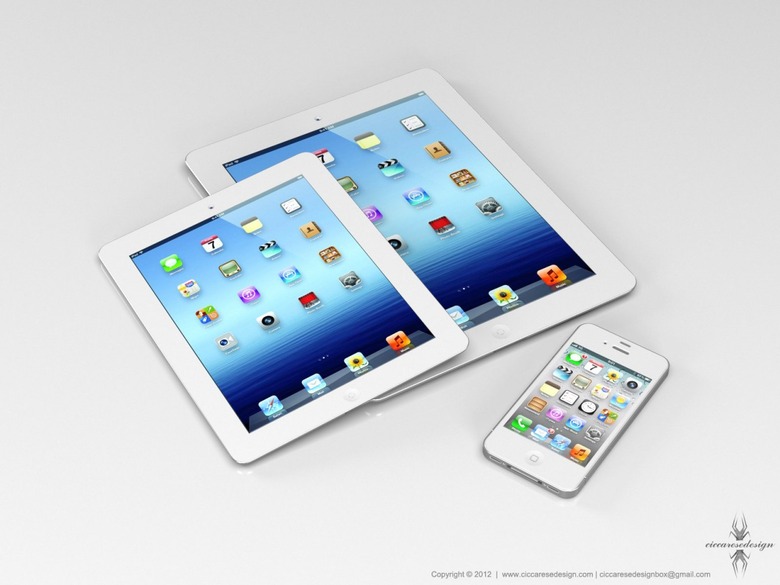 Steve Jobs' famed dismissal of 7-inch tablets may have been more misdirection than authentic dislike, with internal emails shared during the Samsung lawsuit revealing the founder was "very receptive" to a smaller iPad. The tablet tidbit was revealed during testimony by Scott Forstall, Apple's senior VP of iOS software, in the San Jose court, with Jobs' attitude described by senior vice president of Internet Software and Services Eddy Cue after he himself had an epiphany of sorts following some quality time with the original Samsung Galaxy Tab.
Jobs had made headlines with comments back in October 2010 that users would need to sandpaper down their fingertips in order to use 7-inch slates, which the outspoken CEO described as "tweeners" falling in-between phone and true tablet. As of January 2011, however, high-level mutterings around smaller iPad possibilities already appeared to have been considered to have earned Jobs' approval. In an email from Cue to Tim Cook, Scott Forstall and senior VP of worldwide marketing Phil Schiller, CNET reports, several positive use-cases are cited based on a third-party editorial piece on the iPad and smaller models.
"Having used a Samsung Galaxy [Tab]," Cue writes, "I tend to agree with many of the comments [in the editorial] (except actually moving off the iPad). I believe there will be a 7" market and we should do one." Despite Jobs' public attitude, Cue says he "expressed this to Steve several times since Thanksgiving and he seemed very receptive the last time."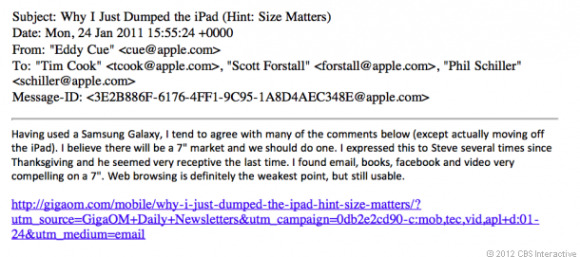 According to Cue's own experience, "email, books, Facebook and video [are] very compelling on a 7". Web browsing is definitely the weakest point, but still usable." Jobs' original criticisms had been that "this [7-inch] size isn't sufficient to create great tablet apps, in our opinion," something which the GigaOm disagreed with.
Whether Cue's enthusiasm actually resulted in a smaller iPad project is unclear, though it's worth noting that rumors of a 7.85-inch model have persisted over the past months. Such a tablet could have half the resolution of the current new iPad – i.e. run at the same 1024 x 768 as the original iPad and iPad 2 – it's suggested, making for easier app transitions from the 9.7-inch model.
Jobs was known for his proclivity to misdirection, publicly insisting one thing while Apple simultaneously beavered away on the opposite behind the scenes. Comments on video not being something suited to portable music players – then countered with a video-capable iPod – have often been cited as evidence of that. The growth of smaller tablets such as Google's Nexus 7, not to mention budget ereading slates such as Amazon's Kindle Fire and larger phones like the Galaxy Note, have seen the tablet segment change significantly since those original 2010 comments, however.
Forstall declined to comment on future iPhone or iPad plans as part of his testimony.
[Image credit: Ciccaresedesign]