It's a massive day for posts, where even SlashPhone has a fresh blast of news on this pre-holiday day. Lots of sales, lots of products being introduced. And then there was Black Friday. So much Black Friday you're going to explode! Luckily, we've got a column for you by the fabulous Don Reisinger titled Black Friday Is Never Good For MY Tech Addiction. Of course, if you just can't get enough of the Black Friday goodness, we've got a littering of links to sales below plus one list-tastic post by the name of The SlashGear Black Friday Deal Guide of Complete Excellence, an ever-growing post where you'll not only find a batch of odd sales you almost certainly find listed anywhere else, but a split between offline and online so that you might choose to sit at home and chill or rough it out with the maniacs! Then we've got a lone review, one single review for the most amazing Samsung 256GB SSD 470 Series SSD. Stay tough, and be thankful for what you've got today (and tomorrow!) on The Daily Slash!
SlashINTERNATIONAL
"U.S. aircraft carrier heads for Korean waters" is not the first thing I wanted to read today when I went looking on an update for the situation unfolding between North and South Korea. If you're the sort of person who keeps up with these sorts of events, or are at least a person who reads The Daily Slash on a daily basis, you're aware that yesterday North Korea shelled a South Korean island, leveling a number of buildings and killing two civilians. Today, a U.S. aircraft carrier is on its way over there to… maybe sit around and have a glass of tea. Today the U.S. government expressed its belief that the North Korean aggression was an isolated incident that had to do with leadership change in Pyongyang (N.Korea's capital), and that it hoped China would use its influence to stop additional "provocative behavior." Further, Rueters reports:
North Korea said the shelling was in self-defense after Seoul fired shells into its waters near the disputed maritime border. The North's KCNA news agency said the South was driving the peninsula to the "brink of war" with "reckless military provocation" and by postponing humanitarian aid.
So now the USS George Washington, capable of carrying 75 warplanes and a crew of over 6,000 has left a naval base south of Tokyo Japan and will be joining exercises with South Korea from Sunday to the following Wednesday, so says U.S. officials in Seoul. Read the full story over at [Reuters] and remember when you're chewing on your roasted bird tomorrow that you should be thankful we're not in more war than we're already in and hope, wish, or pray for a peaceful solution to this terrible situation.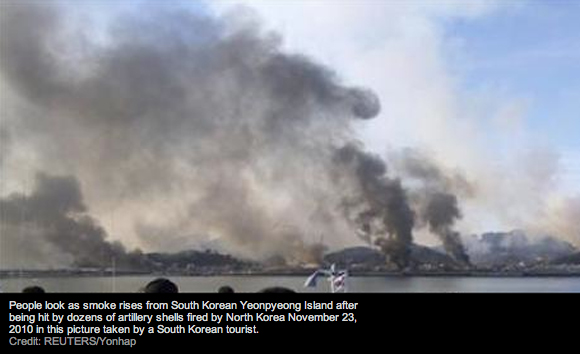 R3 Media Network
SlashPhone
Verizon Wireless Add More Devices Into The Black Friday List And BOGA
HTC DROID Incredible Free Via Dell, Plus $25 Gift Card
Verizon Announced DROID Essential Packs For Holiday Offers
Opera Mini had 76.3 million users in October
UberTwitter Beta hits the iPhone
Android Community
Droid Incredible Free From Dell, Shipping, Activation, and a Gift Card Included
Yelp adds check-in offers for Android
Laptop Magazine reviews Viewsonic ViewPad 7 tablet
PC World runs down the best apps for Black Friday on Android
Motorola Defy coming to Telstra in Australia
FlightView Elite now available in Android Market for $3.99
OpenFeint brings 8 new titles to Android
Open your garage with your Android device [NEATO]
Samsung Epic 4G Game Gripper Available Now [NEATO]
PlayStation Phone arriving December 9th?
Creative ZiiO Android Tablet hits the FCC
DROID 2 Global gets officially announced, sort of
SlashGear
HTC PB92300 hits FCC: new video calling Aria?
Sony 3D pro camcorder gets new video demo
LG HDTV NetCast update adds BBC iPlayer, Facebook, Twitter & more
Back to the Future Delorean gets the Flash Rods treatment [HE HITS ONE TREE THEN IT'S LONE PINE MALL]
Acer outs first 3D notebook in Japan
Movea turns your iPhone 4 into an Air Mouse for HTPC use
iPad waterproof case called Drycase unveiled [DUNK IT IN]
FreeOneHand iPad holder and stand is odd [JUST A POLE]
Android data theft exploit to be plugged in Gingerbread [Video]
Andy Rubin to release Android 2.3 Gingerbread on Dec 6?
Stern unveils limited edition version of Avatar pinball game [PINBALL FOREVER]
GoSmart Clip hangs your smartphone on the steering wheel [WHA…?]
ColorWare add new MacBook Air to line-up [BRIGHT]
iOS 4.3 due Dec 13 with News Corp "Daily" recurring subscription APIs?
Chinese gamer reportedly pays $677 per minute for IMAX-style big screen play [WORTH IT]
PocketBook Mirasol ereader due Q3 2011; IQ701 touchscreen tablet tipped
$89 Kindle 2 for Amazon's Black Friday sale
Foursquare Mocks TSA Airport Screenings with "Baggage Handler" Badge [GG]
Content Rating System Coming to Android Market
Koostik Wooden iPhone Dock for Olde Fashioned Sound Amplification
Facebook to Trademark the Word "Face"
The SlashGear Black Friday Deal Guide of Complete Excellence
Microsoft Might Fund Halo Movie, Wants Your Mom to See It [AWESOME FRIGGIN AWESOME]
Black Friday Is Never Good For My Tech Addiction [COLUMN]
Nissan Reveals Fuel Efficient ECO Pedal System
PSP and UK TVs Updated by Sony to Work with Qriocity Streaming Movies
Pigeon Food Will Soon Turn Bird Crap Into Soap [LOLS]
List of GameStop Locations Open at Midnight on Black Friday
Obama Signs Another iPad in Europe [WHAT A COOL GUY]
Samsung 256GB SSD 470 Series [REVIEW]
Microsoft drop Drive Extender from Windows Home Server refresh
SlingPlayer Mobile for iPad released [UPDATE: ONLY works with Slingbox SOLO and Pro-HD]
To see more Daily Slash posts, click here: [The Daily Slash] or here: [SlashGear Morning Wrap-Up]