iPad waterproof case called Drycase unveiled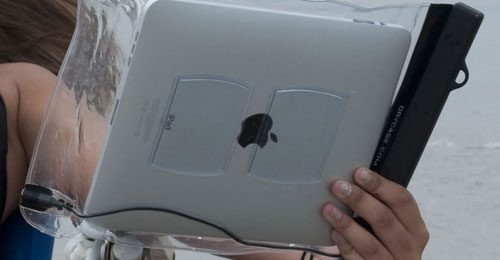 It's cold across most of the US right now so we aren't thinking about the beach for the most part right now. If your holiday travel plans include a trip to a warmer climate with a beach and you want to take your iPad, we have a new case for you.
The case is called the Drycase and a new size will fit the iPad and other large electronic devices of similar size. The thing is really a large bag that has clear plastic and a closure on top that keeps water away from the iPad. The thing is water resistant and will protect your device from water, sand, snow, and spills.
The case has a special waterproof jack that lets you hear audio from your device with your normal headset. The jack also supports a mic so you can use VoIP functionality or voice recognition apps as well. The back of the case has industrial strength Velcro-style fastener for connecting the iPad and the case to a boat or surface in an environment where the iPad is likely to get wet.