PocketBook Mirasol Ereader Due Q3 2011; IQ701 Touchscreen Tablet Tipped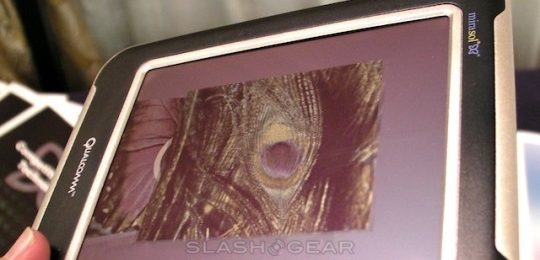 PocketBook has apparently accidentally confirmed that it will be launching a new ereader, Mirasol, at CES 2011 next January, that as the name suggests will use Qualcomm's mirasol e-paper technology. According to sources at the company, the Mirasol reader will reach the market in Q3 2011, and the color display costs around 1.5x what a monochrome E Ink panel would be. Meanwhile, PocketBook also has a touchscreen tablet in the works.
That tablet, the PocketBook IQ701, has a 7-inch TFT color touchscreen, and runs Android 2.0. The company is positioning it as a mobile entertainment/ereader hybrid, with WiFi and Bluetooth connectivity; there's no word on when it might reach the market, but we're guessing it'll be sooner than the Mirasol.
We've been tracking Qualcomm's mirasol panels since their early, tiny inception back in 2008; more recently, the company has been talking about video-capable ereader devices with longer battery life than could be achieved even with an E Ink display. The exact specifications and functionality of the PocketBook Mirasol are unclear, however, but it's said – in current prototype form – to do 12fps video.
Qualcomm mirasol prototype demo:
[vms 4bd07f9bb215d59ef556]
[via The Digital Reader]
Press Release:
PocketBook USA, the North American division of PocketBook International, will display their entire line of e-reader products at the 2011 Consumer Electronics Show (CES) in Las Vegas, January 6-9.

One of the world's top five producers of electronic reading devices, PocketBook sells more than 50,000 e-readers each month through offices in the USA, Germany, Russia, China and the Middle East with a distribution network covering more than 20 countries worldwide.

The company will showcase six different product models — PocketBook Pro 602, Pro 902 – standard models, PocketBook Pro 603, Pro 903 – premium class models, PocketBook IQ701, and Mirasol – PocketBook's newest model.

The IQ701 offers a number of different features including a seven-inch color TFT touch screen with WiFi and Bluetooth connectivity. Functioning on the Android 2.0 operating system, this model is best suited for customers seeking entertainment in an e-reader. The newest PocketBook model, Mirasol, features Qualcomm's full-color Mirasol display which is based on a reflective technology.