Movea turns your iPhone 4 into an Air Mouse for HTPC use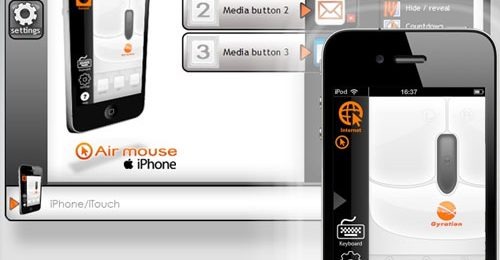 Back in 2008 we talked about the Movea Air Mouse that would allow you to mouse on your HTPC or when giving a presentation with actually having a desk to mouse on. This sort of tech is very important in the living room where mouse input is needed, but hard to pull off in most instances.
Movea has announced a new app that will turn your iPhone 4 into an Air Mouse for presentations and for HTPC use. One of the coolest things about the app that runs your iPhone into the Air Mouse is that the app is dirt cheap. You can pick it up on the App Store for $1.99. When that Air Mouse first debuted back in 2008, it sold for $99.
The app works with MotionTools software for the Mac and PC and lets the user customize, activate, and control desktop apps with a flick of the wrist. The app allows for scroll, pan, and zoom. It also allows pen drawing, image stamps, and a highlighter function. The cursor of the mouse can also be turned into a laser pointer or pen with the software. Gesture recognition also allows a swipe to launch apps and you can skip songs in a playlist as well.