LG HDTV NetCast Update Adds BBC iPlayer, Facebook, Twitter & More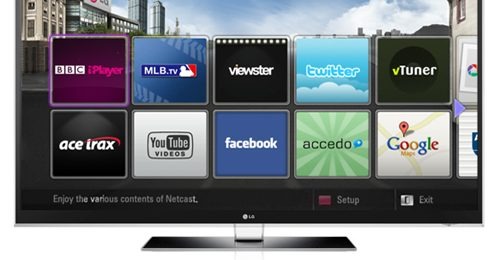 LG UK has begun pushing out a NetCast update, bringing services like BBC iPlayer, Twitter and Facebook to owners of its web-enabled HDTVs. The update will be installed automatically when a broadband connection – either wired or wireless – is active, and includes movies on demand from Acetrax, Google Maps access and internet radio to the sets.
The new services join YouTube video access, Google Picasa gallery browsing and other content. LG recommends a 2MB connection, both for the upgrade and for the content itself.
The full list of compatible LG HDTVs is below, with LED and LCD models getting the NetCast update from today while plasma models will follow on later in the month. LG expect all models to be upgraded by December 1.
LED TV
LE7900 (32, 37, 42, 47, 55")
LE5900 (32, 37, 42, 47, 55")
LCD TV
LD690 (32, 37, 42, 47, 55")
PLASMA TV (to be updated by 1st December 2010)